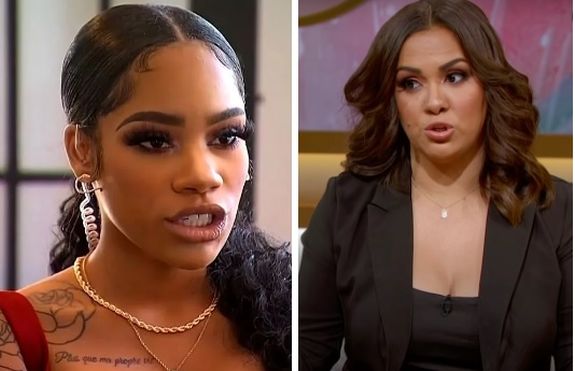 The Ashley kicked up a hornet's nest on Friday when she broke the news that a major fight went down on the set of Teen Mom Family Reunion Season 2 set, resulting in Ashley Jones and her mother Tea, as well as Briana DeJesus and her mother Roxanne being kicked off the show.
The major players in the story— Ashley, Tea and Briana— as well as several other cast members took to Instagram after The Ashley's story broke to weigh in. Ashley confirmed that she did, indeed, spit at Briana, but claimed Roxanne tried to throw a chair at Tea.
Briana came back, claiming that Ashley is pregnant (something that Ashley had not disclosed and has not yet confirmed or denied.)
Allow The Ashley to recap the latest events…
Briana took to Instagram Stories to claim that she plans to press charges against Ashley before exposing that Ashley is pregnant.
"I was going to keep this under wraps because that is a part of the NDA we all signed and also bc I am going to press charges. I tried to spare u extra grief knowing that ur pregnant now but I am going to stand by what is right," Briana wrote. "My mother simply addressed an issue and instead of 'Pastor' Tea taking FULL accountability– she couldn't handle being in the hot sea and projected and tried to step to my mother.
"Everything else doesn't even matter at this point. Ur true actions shined bright that night and now every cast mate that was there (who also witnessed what happened) will vouch for me. Stop lying. #LetTheClipPlay"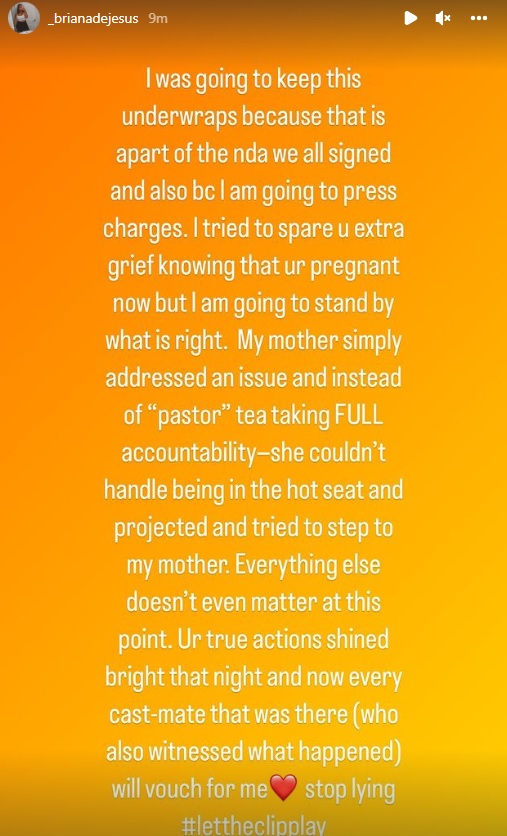 Briana claimed Ashley brought up the fact that Bri had once threatened to spit on Kail (whom Ashley is friends with). Briana again confirmed that the spitting took place, stating that "bodily fluids went flying all over the place…"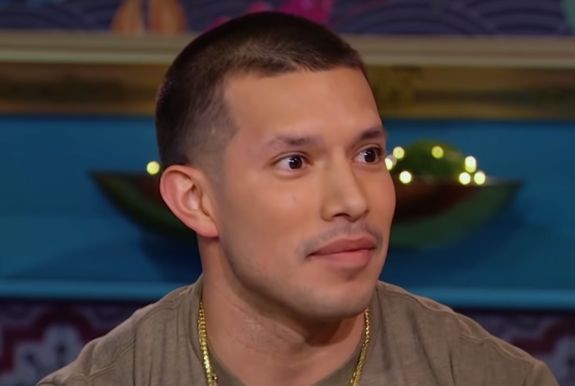 "Also, after bodily fluids went flying all over the place…u had the nerve to say something among the lines of 'who are u gonna spit on now' which I recall me saying something to [Kail] about that…so were u 'protecting' ur mother or was that u still trying to fight that white woman's battle who used u? Make it make sense…"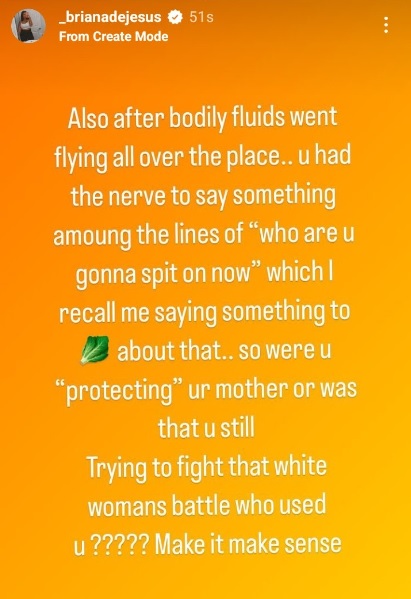 Finally, Briana took a zing at the fact that Ashley's husband Bar Smith is in jail right now, after being captured last month on a warrant.
"The only person u ever beat up was yourself (on the Internet) so I guess spitting is normal to u…in the state of Oregon it's considered assault. Enjoy being behind bars just like hubby rn," Bri wrote.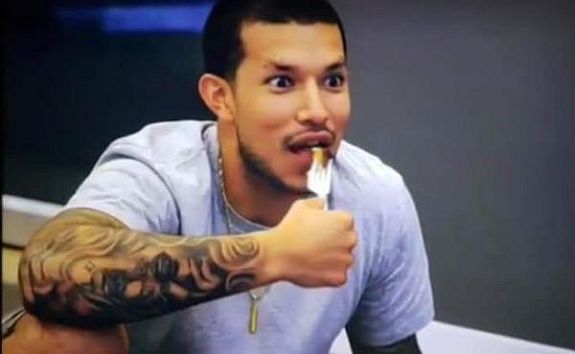 Ashley later confirmed that she is, indeed, pregnant and had some choice words for Briana for exposing her pregnancy prematurely.
"And as for me being pregnant, yes I am thank you," Ashley wrote. "But did you not get an STD by the same man [Luis Hernandez] who you asked to sign over parental rights? Loser."
"You said you could count how many times he's seen your child on one hand, I hope you counted how many pills you took to clear up that c**chie."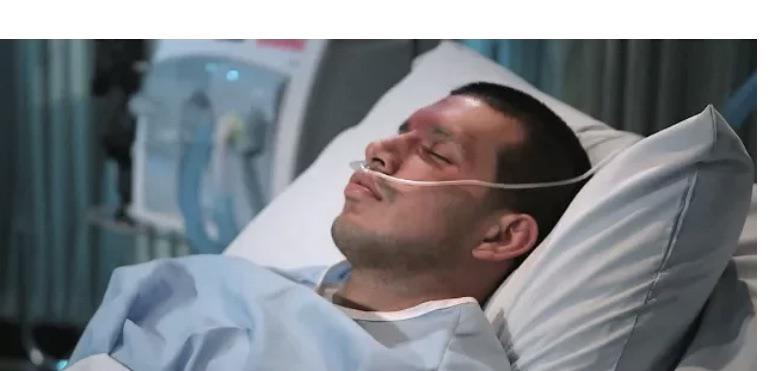 Briana came right back, posting, "Ur still with a man that hits u (allegedly speaking) and now ur having another baby with him? And he's in jail and CPS came to ur house? And ur fighting, knowing ur pregnant? That's endangering the welfare of an unborn child. Girl suck my imaginary d**k backwards."
Ashley clapped back once more.
"And lastly, you can't shame me about anything I've been open about," she wrote. "You can't shame me about something me and my man went through because we still here, 8 years later. Find a man and then you'll see the trials and tribulations of a real relationship."
Earlier, Ashley posted a photo of her and her mom with their luggage.
"If you come for my mom and physically try and attack her or push up on her I will always step in," Ashley wrote on Instagram Stories. "You get what you get cause to me you've started a war."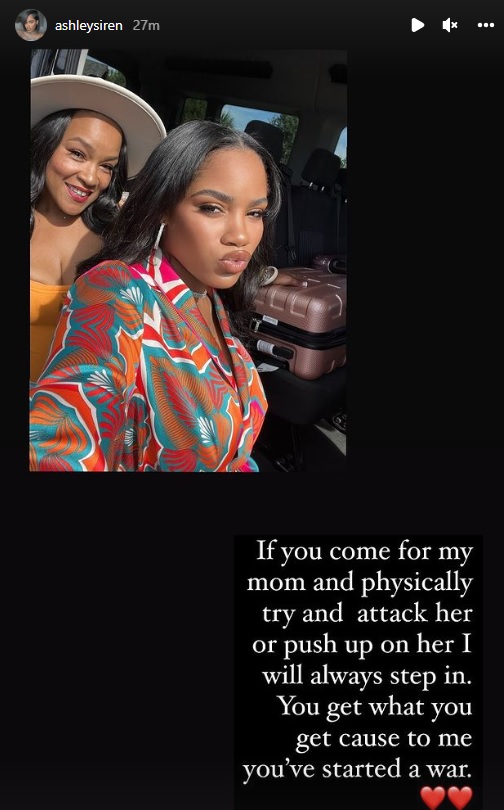 She also commented on the Teen Mom Shade Room's Instagram post about The Ashley's article, claiming there is more to the story.
"I love how [Briana and Roxanne] started it and it's still me and my mom who [being called] the aggressors," Ashley wrote. "Let me say this, you come for my mom or try to physically attack her and you gone get what the f**k you get. That's on period. This article has a lot of false statements…
"This isn't true and when the footage comes out y'all will see how it all went down," Ashley wrote. "Roxanne tried to throw a chair at my mom and that's how it started…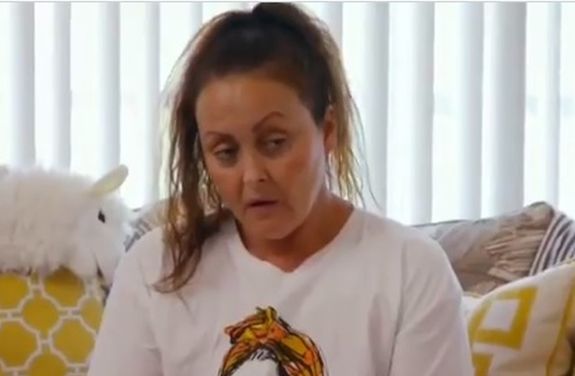 Someone else brought up the fact that Briana once threatened on-camera to spit on Kail, writing, "threatening and actually [spitting] is two different things. Spitting is the lowest thing you can do."
Ashley seemed to be confirming that she did, indeed, hock a loogie.
"Just because she threatens and I do means nothing. Attacking someone's mom is what's low," she wrote.
Tea got on Instagram Stories to say that, "You can only be quiet for so long when folks is pickin' at you. And you know they pickin' at you."
Ashley's mother-in-law, Shen Williams, also weighed in on the situation, condemning Ashley's alleged actions. (Shen was not at the Reunion and appears to be at odds with Ashley at the moment.)
"Spitting on someone is not a big fight. It's disgusting and the worst thing u could do to someone!" she wrote on Instagram Stories.
Ashley then responded to Shen's comment on the Teen Mom Shade Room's post, insinuating that she previously gotten into a physical fight with Shen, too.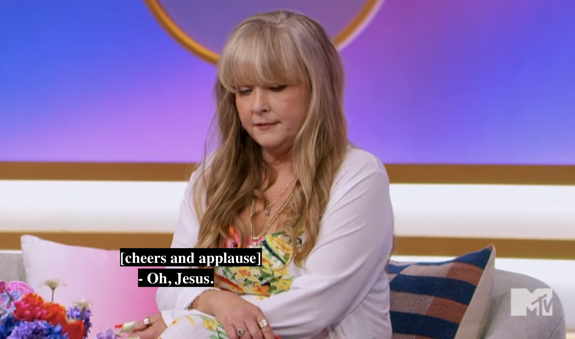 "And as for Shen talking s**t in the comments, the last time she stepped out of line in person she got rocked in the face and been crying about it ever since. Her only relevance is speaking on things pertaining to me, however I was a perfect daughter-in-law when I was paying her rent."
(Tea later publicly asked Shen not to "do this" so that they could "have peace.")
Next, Jade Cline entered the chat. She took to Instagram to add her thoughts on the Ashley/Bri/Roxy/Tea brawl. She sided with Briana, calling Ashley and Tea's behavior "embarrassing" and "disgusting."
"I seen stories leaked about 'TMFR' and a lot of s**t isn't accurate…me and ALL THE GIRLS SEEN WHAT HAPPENED," Jade wrote. "I've stayed in my lane a lot online but what y'all won't do is act like Bri was the problem. Ashley and her mother are bullies and don't know how to act.
"Their behavior was embarrassing. All of us here are DISGUSTED. For Ashley to spit in someone's face is NASTY. It speaks LEVELS on her character. Her and her mom are not victims they are aggressors."
Jade claimed that the rest of the cast did not want Ashley and Tea to stay after the incident.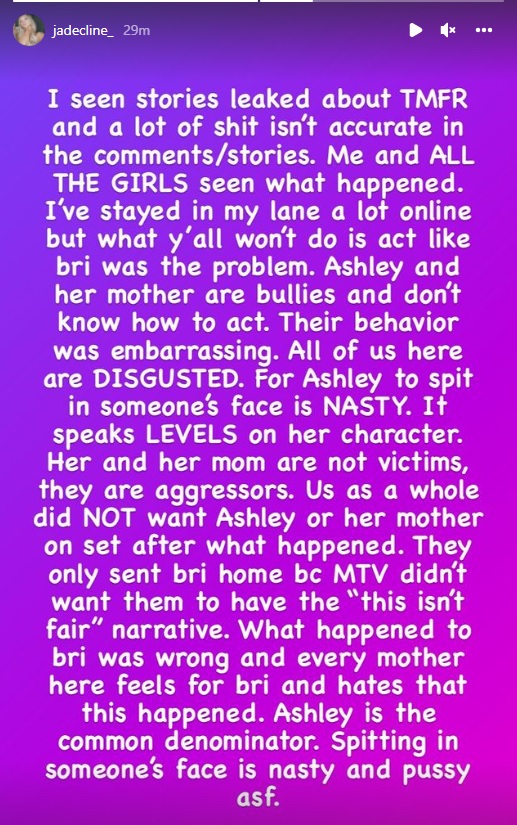 "Us as a whole did not want Ashley or her mother on set after what happened. They only sent Bri home bc MTV didn't want them to have the "this isn't fair" narrative. What happened to Bri was wrong and every mother here feels for Bri and hates that this happened. Ashley is the common denominator. Spitting in someone's face is nasty and p**sy as f**k."
Ashley then came back to address the fact that Bri is claiming she plans to press charges against her. She also gave additional details of what went down between her and her mom and the Dejesus women.
"I don't do that police a** s**t but I'll see you in court if you wanna go there since you and your mom both threw glass at me and mine," Ashley wrote.
She also claimed that she was around Roxanne and Briana while staying at the holding hotel. (The cast stayed a different hotel for a few days after arriving in Oregon, before moving to the resort.)
"They didn't say a word. All of a sudden when we are having a cast dinner and cameras and security are present Roxy decided to address my mom," Ashley wrote. "Roxy said her [piece] and when my mom offered her, Roxy said, 'Shut up, I don't give a f**k what you have to say.'"
Ashley claims that when Tea told her she can't speak to her like that, Roxanne picked up a chair and acted like she was about to hurl it at Tea.
Ashley confirmed The Ashley's report that the second round of fighting happened later that night in the kitchen.
"Roxy bumped my mom in the kitchen and then said, 'I'm not saying excuse me' [and] that set everything off again," Ashley wrote. "Bri thought it was a good idea to address my mom instead of getting her own and that's how her and I got into it."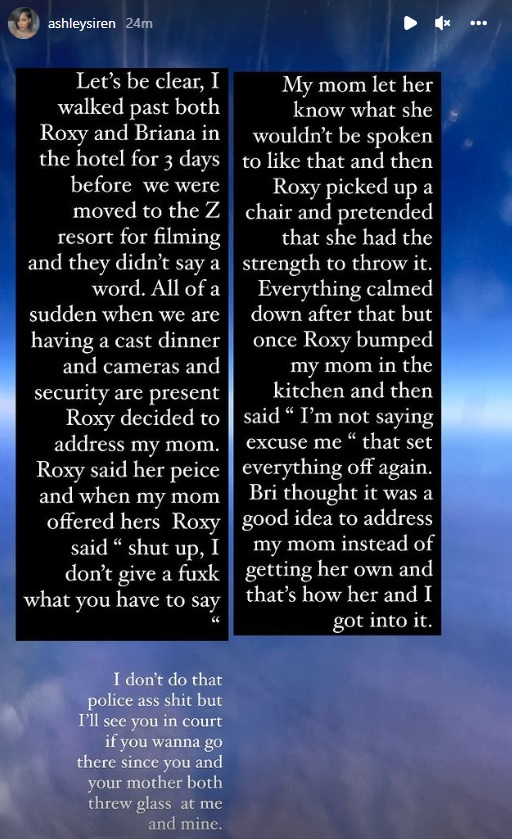 The Ashley will continue to update this story…
RELATED STORY: EXCLUSIVE! Giant Fight at 'Teen Mom Family Reunion' Season 2 Taping Gets Briana DeJesus, Ashley Jones (AND Their Moms!) Sent Home! Get Details!
(Photos: MTV; Instagram, WEtv)