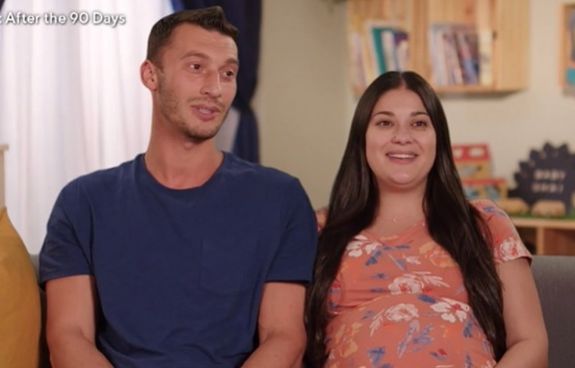 The Brovarnik Family just keeps growing!
On Friday, 90 Day Fiance star Loren and Alex Brovarnik announced that they recently welcomed their third child, a baby girl. According to a post on Instagram, the baby was born on Tuesday, September 6 at 11:40 p.m. In his Instagram post, Alex called the baby "our anniversary gift," as she was born on the couple's seventh wedding anniversary.
Loren and Alex— who are already parents to sons Shai, 2, and Asher, 1, — were thrilled to find out that their third child was a girl. They chose the name Ariel Raya for their daughter.
"Finding out the gender in the delivery room was even more special than we could have imagined," Alex wrote. "Thank you to my better half @lorenbrovarnik for making me the happiest man alive."
Baby Ariel was born via C-section and, judging from photos posted in a slideshow on the couple's Instagram accounts, had to spend some time in the NICU.
View this post on Instagram
The Loren & Alexei: After the 90 Days stars— who we first met on Season 3 of "90 Day Fiance"— announced the pregnancy in May. The couple revealed that they hadn't planned on having another baby so soon after their son Asher was born in August 2021.
"This was quite a shock, to say the least. And while we're entering a whole new chapter, I'm very excited," Loren told Entertainment Tonight in May. "We aren't going to find out the gender until the baby is born. I'd be lying if I said I wasn't terrified, I am. But nothing we can't handle. We can't wait to meet BabyB this fall!"
"My dream of a soccer team is slowly becoming a reality," Alex joked.
View this post on Instagram
Loren and Alex received plenty of well wishes from their fellow "90 Day Fiance" cast mates.
"Congratulations, Brovarniks! So exciting!" wrote Kalani Faagata.
"Congratulations to both of you," Paola Mayfield commented. "Many blessings to your family."
"Mazel Tov!" wrote David Toborowsky
It is unknown if Ariel will be the last child for Alex and Loren. During a January episode of their spin-off, 'Loren & Alexei: After the 90 Days,' the couple disagreed about the number of kids they wanted to have. While Loren said she was not up for having more than three kids, Alex said he wants four total.
RELATED STORY: Two "90 Day Fiance" Season 9 Couples Reveal They Are Expecting Babies This Fall
(Photos: Instagram; TLC)