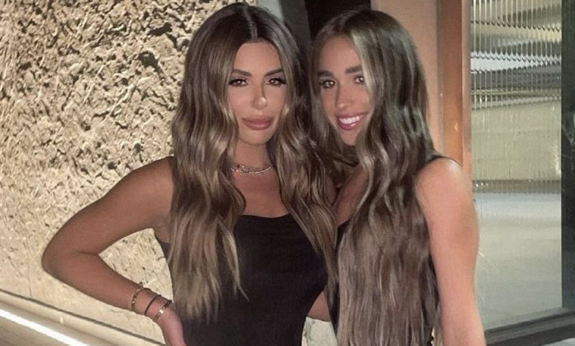 Former Bravo-lebrities Brielle and Ariana Biermann are attempting to make their return to reality TV.
As longtime fans of Bravo may recall, the Biermann sisters made their reality TV debut in 2008 on Real Housewives of Atlanta with their then-single mom Kim Zolciak. After Kim met and married husband (and former NFL player) Kroy Biermann, the family went on to land their own spinoff, Don't Be Tardy, which aired for eight seasons before being cancelled in 2020. (Kim and Kroy's four younger children were featured on the series, too.)
People revealed this week that the sisters–- now 25 and 21 years-old, respectively–- are trying to land a series of their own, following them as they leave their parents house in Atlanta and move to Los Angeles to launch their own haircare line.
The show is being developed under the working title Cut Off, as the series will also focus on the fact that Brielle and Ariana will no longer be financially supported by their famous parents.
"Skeptical of their ability to fend for themselves and take their new venture seriously, Kim plans to put her girls to the test by completely cutting them off," a description for the proposed series reads. "For the first time in their lives, the sisters will have to pay their own bills, live on a budget, do their own laundry, and cook and clean, all while staying out of trouble.
"With the help of their friends, the Biermann duo will have to rely on each other to see if they have what it takes to make it on their own."
Though 'Cut Off' will reportedly follow the Biermann sisters as they fend for themselves financially for the first time, Brielle told TooFab in 2017 that aside from a free place to live, she receives no financial help from her parents.
" … just because I live at home doesn't mean my parents are paying for everything," she said. "People think they're paying for my vacations or my food or my car or my clothes or my makeup. People think I freeload off my parents, and I don't. I actually have different sources of income. I'm very independent and I take care of myself aside from a roof over my head."
Still, Brielle insists living in a new city with a limited budget "will be a tough road ahead," admitting that she and Ariana "are a mess."
As for Ariana, who was arrested in August on suspicion of driving under the influence of alcohol, she claims that she's wanted to live in LA her "entire life" and doing so with Brielle "will be the adventure of a lifetime."
"We're excited to bring fans along as we launch our business and take a new city by storm," she said.
Produced by Magnolia Entertainment, 'Cut Off' will reportedly be taken to potential networks and streaming partners soon.
News of Brielle and Ariana's new series comes less than a week after their mom took to Instagram denying reports that the Biermann family's $2.5 million Georgia home had been foreclosed on for just $257,000. In an Instagram Live video shared by @bravohousewives, Kim gave "haters" a tour of her foyer while responding to the recent claims.
"My house was not sold for $257,000," Kim said in the video. "If you guys think that I would let my home, that we put millions and millions of dollars [into], go for $257,000, you're an idiot, OK? For real."
Kim added that she would remain in the house until she decides to leave.
"So, what are you going to do, haters, when I'm here for Christmas, and I'm here for my birthday, and I'm here for all those amazing dates," she asked. "I'm here until I f**king want to move out. Until I decide I don't want to live here anymore. So enjoy the view, haters, cause you're going to be seeing it for quite some time."
(Photos: Instagram)