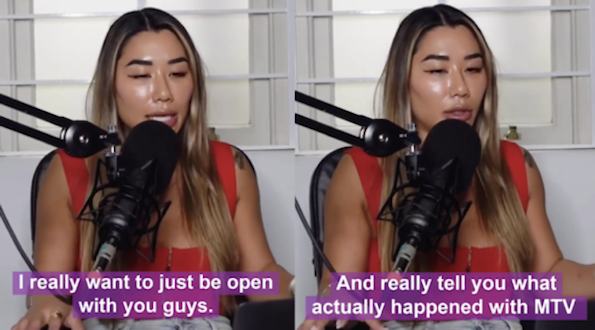 More than two years after being fired from MTV for posting a series of offensive tweets about the Black Lives Matter movement, The Challenge star Dee Nguyen is telling her version of what happened.
Dee talked about the experience on the premiere episode of her new podcast, The Deevine, telling listeners she wanted to "be open" and tell everyone "what actually happened with MTV."
" … [MTV is] where all the amazing life experience things happened, like, I was at the highest of my highs, but then I was also at the lowest of my lows," she said at the beginning of the episode. "One thing I do regret is how it all came to an end."
As The Ashley previously reported, MTV announced in June 2020 that it had "severed ties" with Dee after the former Geordie Shore star posted offensive tweets about the Black Lives Matter (BLM) movement.
As a result of Dee Nguyen's offensive comments on the Black Lives Matter movement, we have severed ties with her. Out of respect for our Challengers, we'll air our season as planned. We strongly condemn systemic racism and stand with those raising their voices against injustice.

— The Challenge (@TheChallenge) June 9, 2020
"As a result of Dee Nguyen's offensive comments on the Black Lives Matter movement, we have severed ties with her," a statement posted to the official 'Challenge' Twitter account read. "Out of respect for our Challengers, we'll air our season as planned. We strongly condemn systemic racism and stand with those raising their voices against injustice."
(At the time of her firing, Dee was appearing on the current season of 'The Challenge' and MTV's solution for this was to hack up remaining episodes in an effort to remove as much footage of Dee as possible. The network's decision did not go unnoticed by 'Challenge' fans, who called out MTV on social media for cutting out major scenes without addressing it.)
For those unfamiliar with the controversy involving Dee, it ignited while she was participating in her 'Challenge' co-star Wes Bergmann's "Friends and Benefits" show on Patreon. As part of the show, some 'Challenge' stars moved into a mansion in Kansas City and filmed their interactions and charity work.
Around this time, Dee responded on social media to someone criticizing her for participating in the "Black Out Tuesday" movement. The critic told Dee to, "Wake up! People are dying," to which she responded, "People are dying every f**king day. U don't know me or what I do. I suggest you wake the f**k up and get off social media."
"IDK why some of you think I'm anti-BLM," Dee posted in a follow-up tweet. "I've been saying that since the day I lost my virginity."
While she claimed on her podcast that one tweet ended her career on TV, Dee told listeners there were things that led up to her firing off the infamous tweet and while she previously apologized for her actions, she doesn't take back her words.
" … Even though, to this day, I stand by that tweet," she said. "I never f**king said anything racist, I never said anything that was like, what I said verbatim, if you go back and look at my tweet, 'I don't know why some of you think that I'm anti-BLM, I've been BLM since the day I lost my virginity,' okay?
"The timing was probably wrong and f**ked up because this was when, like, all the protests about George Floyd was going on, but f**k, what I said was in no shape or form racist and the hate and abuse and the shit that I caught after that tweet was sent was so wrong," she continued.
Dee went on to "call out" the backlash she received from 'Challenge' cast members– some of whom she believed were her friends– claiming she remembers "vividly" fighting with two cast members in particular. While Dee did not name the cast members in question, she was presumably talking about Bayleigh Dayton and Bayleigh's husband, Swaggy C, who both appeared alongside Dee on The Challenge: Total Madness.
"This is not how you support BLM," Bayleigh said in response to Dee's tweets. "I'm disgusted and disappointed. This is not a trend. This is life or death for us. Posting for clout about the death of Black people? Shame on you #deenguyenMTV."
While Dee denied posting "for clout," she and Bayleigh continued to go back-and-forth on Twitter, with Swaggy C eventually jumping in, promising to "air her whole shit out." He went on to call out Dee for texting him and telling him to keep talking about about her because she was thinking of storylines for Season 36.
"Everything is not for f**king clout and drama," Swaggy C tweeted. "The f**k. CLOWN. I'm bout to air her whole shit out. Using BLM for clout."
Swaggy C then accused Dee of not doing any charity work until it was for Wes' Patreon show, pointing out that Dee was only in Kansas City because she was unable to return home to Australia due to COVID-19 travel restrictions.
On her podcast this week, Dee slammed the two former cast mates– whom she referred to as "prolific Black people" at one point– for making her out to be a villain and a horrible human being, despite having a close friendship with her during filming.
" … when I was on a show with you, like, I f**king told you about shit that I never tell anyone," she said. "You know me, you know my f**king heart, and for you to turn and say, 'Oh, you're f**king racist and all that shit,' and bringing my family into it, saying I was a f**king coke head and stuff … that f**king sucked. And that's why it f**king hurts to talk about this shit because we always had this camaraderie on TV."
Dee said she didn't understand why her cast mates didn't pick up the phone and ask her about the tweets before responding to them on a public forum. She also noted that when the incident occurred, it was "peak COVID, peak George Floyd, peak BLM, peak all this shit that was happening" in America, and she was stuck in a country that she couldn't leave.
"I wanted to be home, I didn't want to be in the f**king U.S.," she said. "I was only there to travel. My goal was to be there for 3 months with my friends and come home, that's what I wanted."
Instead of people seeing her side of things, Dee said "they just saw their anger," which they then projected onto her.
"And I get that. I get that, like, the people on these shows, like, the Black people in America, like, they have been through some things," she said. "I understand that, I know history, I know what's going on. But I felt like they f**king used me as a tool to catapult their own f**king careers, or their own political image, because they were Black people, because they needed to talk about BLM, because they needed to be righteous, like, 'We are the champions for Black people of America everywhere because what happened to George Floyd is so f**ked up, and we need to do more.'
"Yes, do more, [I'm] all for that, but don't f**king use me as a scapegoat and tear me down to benefit yourselves, and that's what f**king sucked," she continued.
Dee added that she wasn't bothered by the things random people were saying about her on twitter, but felt betrayed by the things said about her by those who knew her personally.
Bayleigh and Swaggy C have yet to respond to the comments made on Dee's podcast.
RELATED STORY: 'The Challenge' Star CT Tamburello Files For Divorce From Wife Lili Solares: Get Exclusive Details About Their Split!
(Photos: Instagram; Twitter)