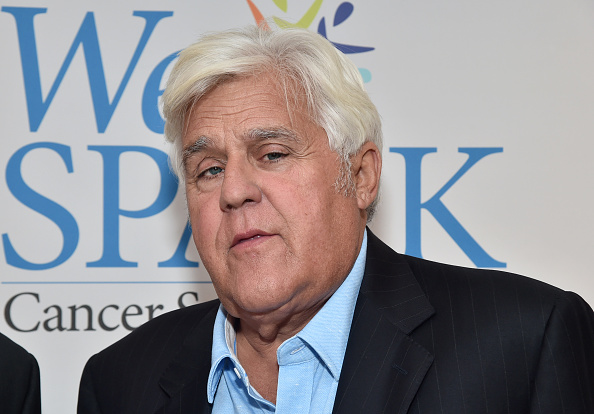 Jay Leno— famed late night talk show host and star of shows including Jay Leno's Garage and You Bet Your Life— was seriously burned on Saturday in a freak accident involving one of his many cars.
TMZ broke the news on Monday that Jay was spending time inside the Burbank, California, garage where he stores his more than 180 high-end, vintage and sports cars, when one of the cars suddenly burst into flames without warning. Jay was reportedly seriously burned on the left side of his face, according to the site, but his eye and ear were spared.
Jay was rushed via ambulance to the Grossman Burn Center in Los Angeles, where he was admitted into the hospital and remains as of press time.
After TMZ posted about the fire, Jay released a statement via NBC News confirming that he was, indeed, burned.
"I got some serious burns from a gasoline fire," he said. "I am ok. Just need a week or two to get back on my feet."
The Grossman Burn Center also released a statement about Jay's condition.
"Jay wants everyone to know that he is in stable condition and receiving treatment at the Grossman Burn Center for burns that he received to his face and hands from a gasoline [accident] in his garage over the weekend. He is in good humor and is touched by all the inquiries into his condition and well wishes. He wants to let everyone know he is doing well and is in 'the best burn center in the United States.'"
TMZ reports that Jay has cancelled his upcoming engagements, including a scheduled appearance this past weekend at The Financial Brand conference. According to the conference's website, Jay was scheduled to do a stand-up comedy performance to open the Las Vegas event on Sunday, but, according to TMZ, the event's organizers informed attendees that a "very serious medical emergency" prevented Jay from being there.
After his gig as the host of The Tonight Show ended in 2009, Jay went on to star on Jay Leno's Garage, a show about his extensive collection of vehicles. In 2021, Jay helped revive You Bet Your Life, co-hosting the classic quiz show with former 'Tonight Show' band leader Kevin Eubanks.
On Monday, the show's official Instagram account wished Jay a speedy recovery.
"As some of you may have heard, Jay has been hospitalized after an accident in one of his LA garages, but you bet your life he's going to recover from this: 'I got some serious burns from a gasoline fire. I'm ok just need a week or two to get back on my feet.' In the meantime please share your well wishes to brighten his spirits…," the post read.
(Photos: Getty Images; Instagram)