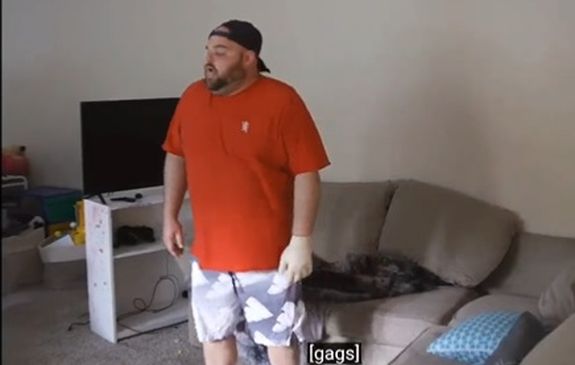 Oh hey there! Welcome to another crap-tastical episode of Teen Mom: The Next Chapter! On this episode, Amber discovers that her ex Andrew has turned her Indianapolis Barbie Dream Home into a urinal, while Catelynn goes to the hospital (and no one but Cheyenne, ironically, actually cares).
Let's get started!
This episode kicks off in Los Angeles where Cheyenne is taking Ryder to pick out a dress for The Wedding Of The Century that we've been hearing about for entirely too long. Zach is riding along for this excursion, and by riding along, we mean napping in the passenger seat.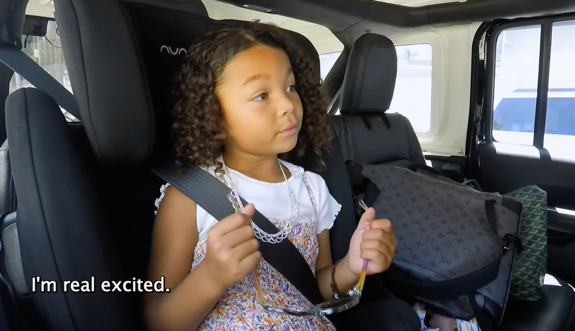 Once they get to the dress shop, Cheyenne warns the dressmakers that Ryder has a long list of demands and the dressmakers already look exhausted– rightfully so.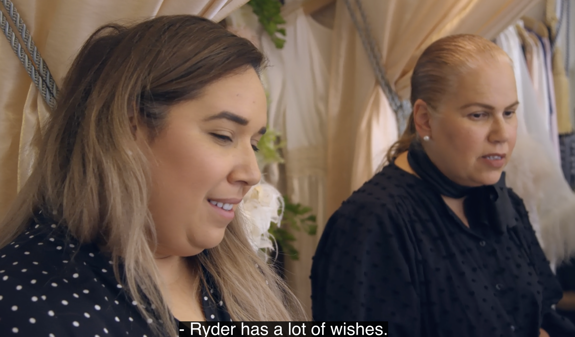 The women at the dress shop head to the back and pull out the first princess-y child gown they see, present it to Ryder, and despite the dress looking nothing like the one Ryder demanded on her wish list, she's thrilled because it's big and it twirls.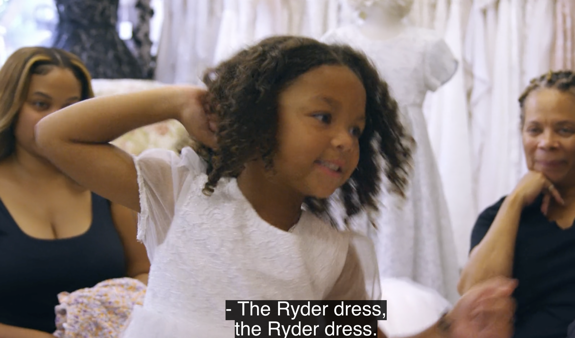 Back in the car, Ryder begins telling Cheyenne about an upcoming trip she's taking with her dad to Atlanta–- one which Cheyenne is completely unaware of. Ryder claims Cory has already booked a flight for her and they've already begun packing. Meanwhile, Cheyenne says Ryder can't go on the trip because she'll be in school. Ryder insists that Cory has everything squared away with school, but Cheyenne is more focused on Cory not talking to her about it first.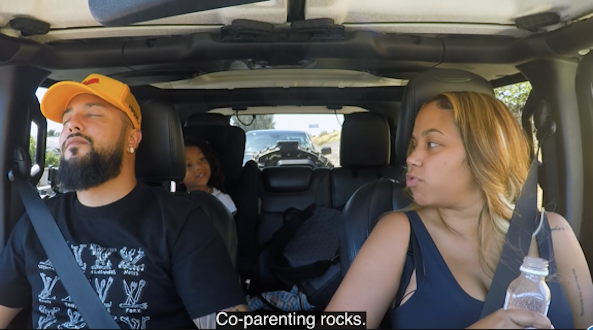 Next, we hightail it up to Indiana, where Amber is telling "the gals" that she won't see her son James for a month, now that he's moved to California with his dad Andrew. "The gals" offer half-ass sympathy comments. (I'm sure Amber's puppets were much more comforting.)
Over at Gary's farm, everyone's acting like poor James is being thrown in a Turkish prison, never to be seen again.
"Did you girls enjoy your last visit with James?" Kristina asks Leah and Emiliee, who both look disturbed.
Leah says she did, although the farewell visit was "weird."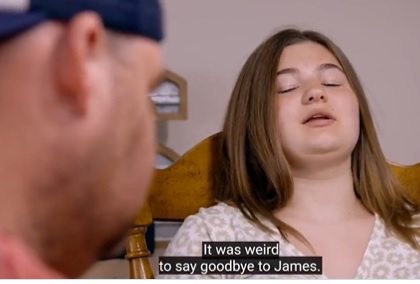 Leah is sad that her visits with her little brother will soon be reduced to seeing his face on Gary's broken iPhone screen via FaceTime. Gary and Kristina have no idea when or if Leah will see James again, but Gary assures Leah he'll figure out a way to get her to see her brother.
Can we get a spin-off show featuring the Shirleys (plus their teenage daughter Amber) Beverly Hillbilling their way across the country, heading to see James in Cal-i-forn-ee (swimmin' pools, movie stars…). Of course, they'll have Ambie's beloved couch strapped up to the top of Gary's jalopy, and her puppets clinging to the banjo GarBear has stashed in the back.
Oh, imagine the hijinks that would ensue! Let's put a pin in that idea and come back to it, MTV!
Anyway, back at Amber's RENTAL, she invites a rando friend over to talk about how miserable she is…as you do. Amber says her last visit with James was extremely sad for everyone involved. She says that being in prison was a picnic compared to the pain she was feeling knowing her son was leaving.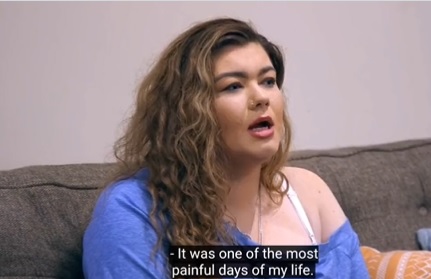 Amber says she knows she's going to have to shell it out (and actually shovel herself off that three-piece sectional) on the regular if she wants to see her kid.
Now that Andrew's no longer in the state, Amber is going to be able to finally leave her RENTAL and move back into her "big ass house." (As we know, Ambie allowed James— and Andrew by default— to live in her home for the past few years.) Amber says she's going to go back to the house for the first time in three years to see if Andy left anything–clothes, household items, machetes— that she may want.
When we check in with Jade this week, she's happy to remind viewers of the "big fat rock" she's now sporting on her hand after accepting Sean's marriage proposal. She tells "the gals" that she will be planning her nuptials in the coming months. They all "congratulate" her (while secretly plotting to ensure that their own screen time isn't cut for Jade's nuptials).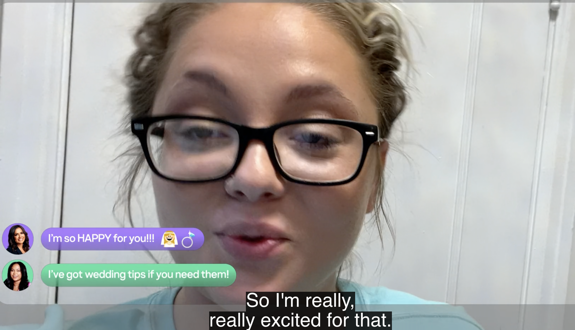 Before setting a date–- and undoubtedly convincing Christy not to wear a white gown of her own on the big day–- Jade is focused on sending Chloeey off for her first day of preschool. Jade says sending Kloughee to school is bittersweet because, while she's finally getting some time away from her kid, she'll have no one to blame her frustration on while Cloe is gone.
(Sean gets a free pass for another month or until Jade is no longer blinded from staring at her bling– whichever comes first.)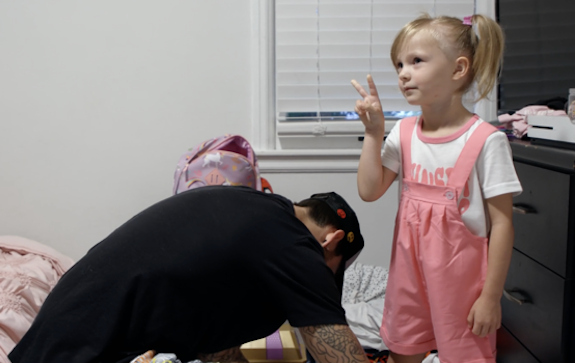 While getting ready to go, Kloey begins to cry as she tells her parents she's nervous about her first day. Jade and Sean assure her that she'll have a good time and even promise to walk her into school and hang out until she's comfortable.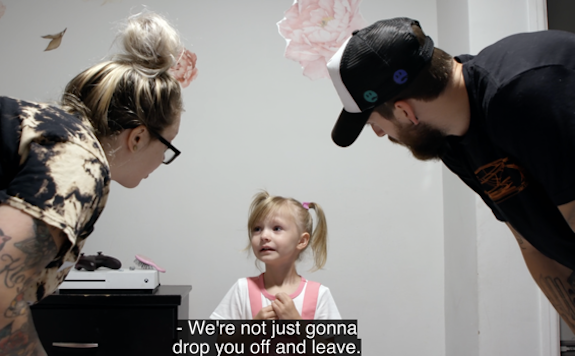 As they load up into the car, Sean tells his daughter, "not to worry, dude" while repeatedly asking why she's "freaking out." Once they're on the road, Khloeii tells her parents it looks like it's going to rain, so maybe today isn't the best day to make her preschool debut. (I see little Klo-y has pulled that one out of the Amber Portwood Book of Excuses!)
She worries that, with the potential rain and all, the playground might be closed, so she tells her parents to spin the car around.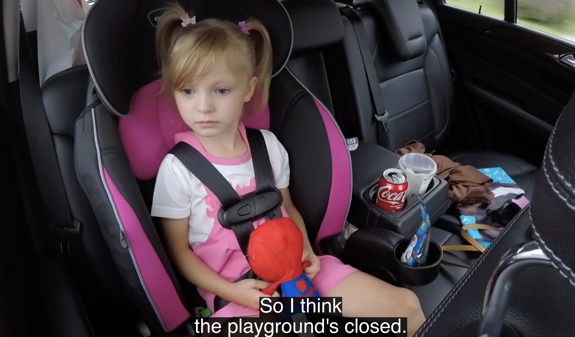 Jade tells Khlloe nice try, kid not to worry, and that it will probably stop raining before playtime arrives.
Jade pulls into the school and she and Sean escort Chloughee into the building. Afterwards, Sean and Jade come back to the car and Jade breaks down in tears claiming she doesn't want her little girl to grow up yet.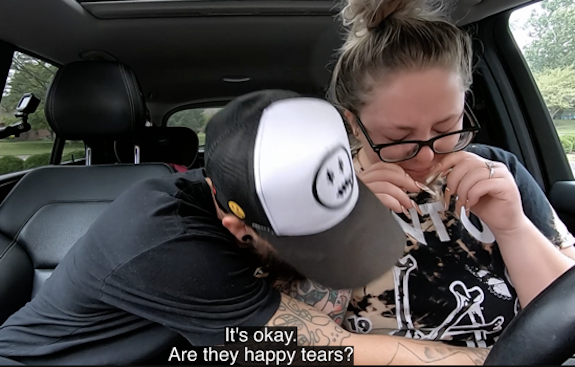 Finally, we check in with Catelynn, who is in the hospital. She explains to "the gals" that she had an inner ear issue that was radiating pain all over her head. She is also experiencing a half-numbed tongue. She got a whole bunch of tests done and is waiting to see what the results are.
And guys, get this: she's doing this without a single therapy horse!!
Catelynn calls Tyler to inform him that she will not be coming home, because she's spending the night at the hospital to get an MRI.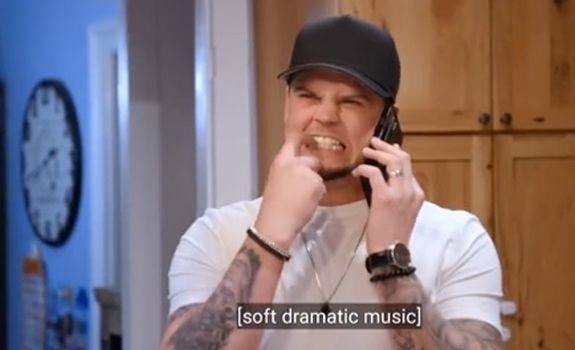 Cate says the doctors need to rule out MS, so she's worried.
Back at the Octagon 'o' Triggers, Ty's mom Kim calls to chat. Ty tells her it's business as usual here— kids with no pants on are jumping on the furniture and whatnot— so he's doing OK, despite Catelynn being in the hospital.
The next day, Cate says that none of the doctors have bothered to look at her test results, so she will have to spend the night again.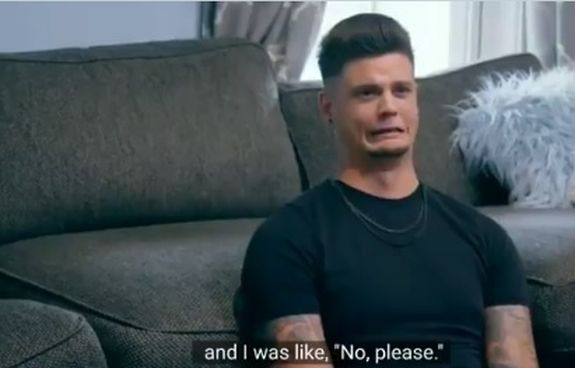 Cheyenne calls Cate while she's in the hospital. Cate explains that she's been having weird sensations in her face and tongue. Cate says the doctor thinks she has Bell's Palsy.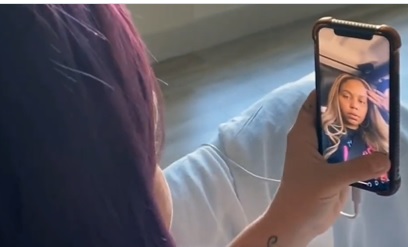 Later that day, Cate is released from the hospital. The Not-Carlys are relieved to see her (but not as much as Tyler is!) Cate tells them that it was, indeed, Bell's Palsy and that the doctor gave her some pillseseses to take to get it to go away.
Back in Los Angeles, Cheyenne is drawing with Ryder and forcing Zach to participate, because for some reason, she can't have her future husband out of her sight for longer than 10 minutes. (She's probably worried he'll commit some sort of felony if he's left to his own devices.)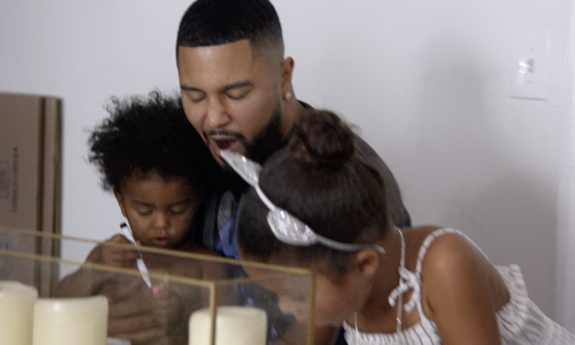 Cheyenne says Cory is coming to pick up Ryder shortly and when he arrives, they need to talk about Ryder's schedule– specifically, the trip to Atlanta she's supposedly taking. Cheyenne says Ryder has "dropped a few bombs lately" regarding her travel itinerary, and Cheyenne says it all began after they swapped schedules with Cory.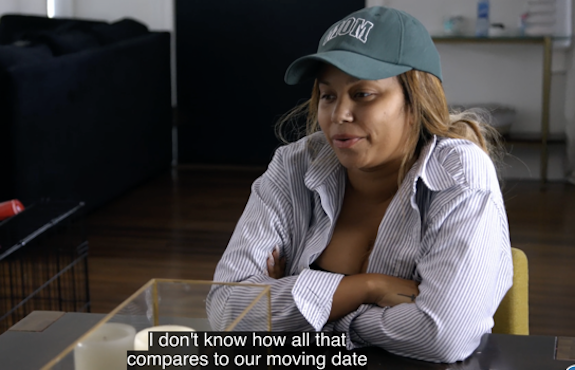 Cheyenne says they need to work out a schedule that works better, to which Ryder reminds her mom that she "can't just take over…you're both parents."
Has Ryder been hanging out with Dr. Drew or…?
Moments after Cory arrives at Cheyenne's house, he gets an earful about Cheyenne's "concerns" regarding Ryder's upcoming trip to Atlanta and how it could conflict with her school schedule or— worse— one of Cheyenne's 25 bridal showers. Cory confirms that the dates do, in fact, conflict, yet he still plans to fly Ryder out to Atlanta for a week while he's filming a movie. Cory says he'll go home and double check the dates for everything, to which Cheyenne reminds him of the most important date of all: her wedding.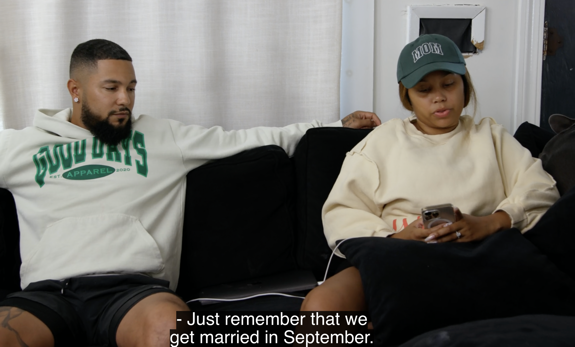 Back in Indiana, Jade and Sean are in disbelief at how quiet their house is without them having a kid around to yell at. Sean says he worries that since he went to rehab, Kloeee will think she's not going to see her dad for a long time, but Jade tells him not to worry. She also says Chloie was so upset at school because she just enjoys hanging out with her parents so much.
Sure, Jan Jade.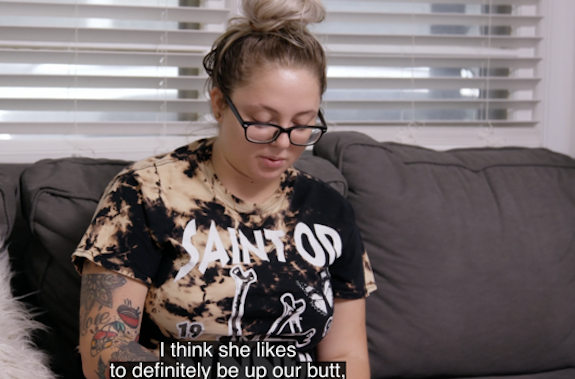 Jade and Sean then head out to pick up Khloeiii and surprisingly, Jade allows Sean to take the wheel–- a decision she soon regrets after Sean runs a red light. Jade calls Sean out for doing so, only for Sean to claim that he saw the light turn red too late and didn't want to slam on the breaks. The two go back and forth over the red light debacle, with Jade insisting that she will be the one to drive home.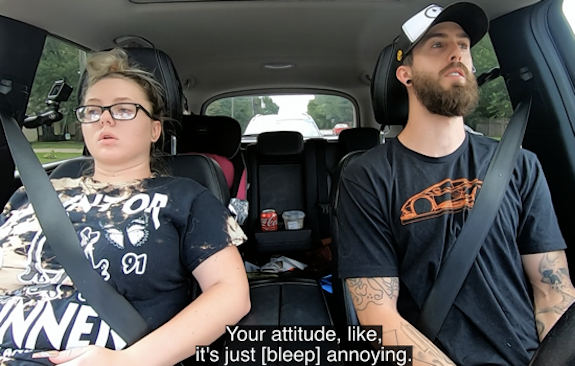 After retrieving Clouey from school, Jade and Sean pepper her with questions and proceed to drive home in awkward silence. Later, Sean apologizes to Jade for arguing in the car and Jade reminds him that he pulled something similar days earlier. Despite this, the two pat themselves (HARD) on the back for being able to work through their issues and be "mature."
Meanwhile, at Gary's place, Gary tells Kristina that someone "thinks she's king of the hill." I swear to the Baby Jesus God Leah that I thought he was talking about Amber, but he was actually referring to his dog.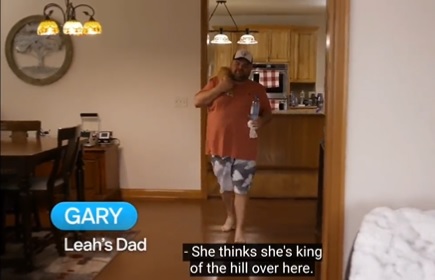 Gary (and the dog) sit down on his trusty Lazy Boy recliner and are just maxin' and relaxin' in pure comfort when it's brought up that Amber wants him and Kristina to go with her to inspect her house, to see what it looks like after Andrew and James have moved out. Kristina— being the absolute SAINT that she is— agrees instantly to go with Amber for emotional support.
Kristina brings up that the house was the scene of "the incident" (i.e. Portwood was ragin' and swinging weapons around and got arrested), so it might be difficult for Amber to be there again, especially without James.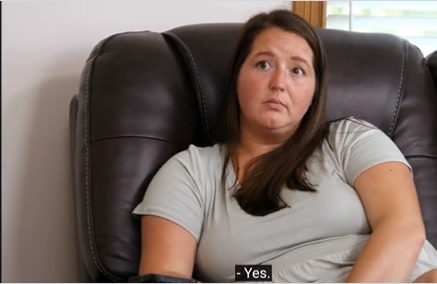 Gary and Kristina say that Leah wants to go, too, and that she has been a great support to Amber throughout this time.
The next day, Gary and Kristina and the girls go to pick up Amber (who, being the King of the Hill and all, naturally takes the front seat of the car while poor Kristina slums it in the back.) Leah is very supportive of Amber, telling her it's OK if she's upset today, given the circumstances.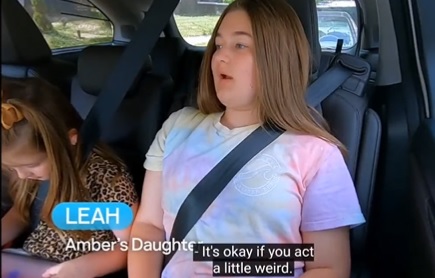 Amber is genuinely appreciative that Leah and the Shirleys have all agreed to go with her to the house. She thanks them all and you can tell that Leah is really happy to know that she's helping her mother get through a hard time. She tells Gary that she's grateful that they have such a good relationship (unlike her and that dern Andrew!)
No one knows what the hell to expect when they walk through the door of Ambie's house. Will there be charbroiled puppets strewn about the place? Will Andrew have MTV promo photos of Amber hung up all over the house with machetes through them? The tension mounts as they get closer to the house…
When they pull up, everyone is shocked to see how overgrown the bushes and trees are out front.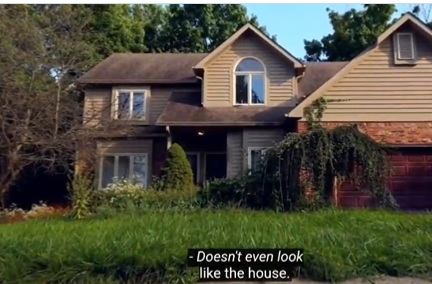 Gary offers to go open up the house, telling the ladies to wait in the car. (I guess he wanted to make sure that the home was free of squatters and/or Matt Baier before he let them in?)
It's time for everyone to enter the house. Kudos to MTV for choosing some very "Michael Myers-esque' background music for this scene. It really adds something!
Gary opens up the side door and everyone files in. The second Gary walks in, he begins to gag, stating that the whole place reeks of urine.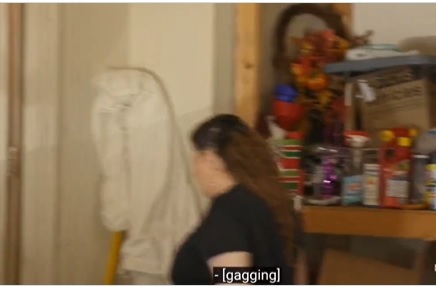 We then get our first look inside Amber's home. Andy is obviously not a great housekeeper, as there are old clothes, trash and apparently pee-soaked blankets thrown everywhere. Kristina points out that there are "tons of stains" on the floor.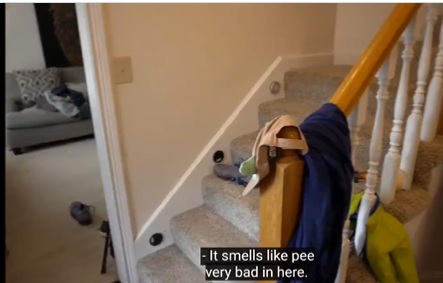 Everyone is disgusted by the condition of the house. Amber is horrified to see her things— her beloved couch!— trashed and covered in pee. Gary starts sniffing random blankets around the house (as you do) and discovers that the urine scent is coming from a sloth blanket on the couch. He gags when he realizes Andrew's been curling up on the couch right next to the Quilt 'o' Piss.
Upstairs, Amber has discovered that her jetted bathtub is now full of dirt and bugs and pubic hair and whatnot.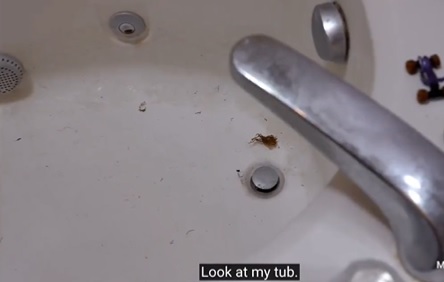 Good ol' Gar takes control of the situation, promising Amber that he'll get a team in there to clear out Andy's dirt, pubes and crap. Amber says she's feeling sick, knowing that James had been living in such filth all this time.
We then learn the fate of Amber's once-beloved giant sloth toy. He's lying on the floor, next to the filth. (OK, why does this upset me the most about this scene? What's wrong with me?)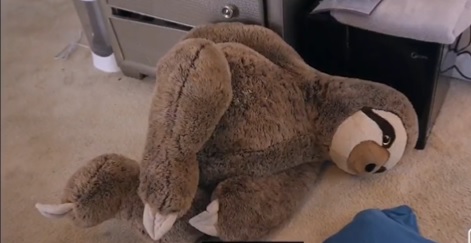 That's all for this episode of 'Teen Mom: The Next Chapter!' To read more of The Ashley's recaps, click here!
(Photos: MTV)