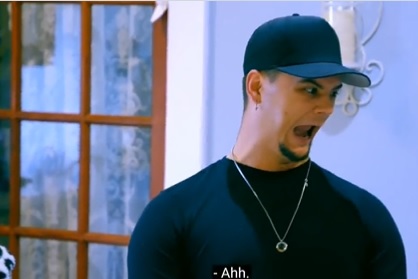 Oh, hey there! Are you looking for an hour of riveting reality TV to watch? If so, you may want to leave now. But, if you're like The Ashley and have nothing better to do than watch 30-something chicks with no jobs talk about how hard life is— even though they've managed to stretch a decades-long career out of their stretched-out teenage hymens— then you've come to the right place!
We kick this episode off in Michigan, where Catelynn and Tyler are attempting to wrangle their gaggle of Not-Carlys. The oldest Not-Carly, Nova, recently told Cate that she is "sad." (Surely Producer Larry is on the phone off-camera calling up "Therapy Horse 4 U" to get another batch sent to The Octagon 'o' Triggers.)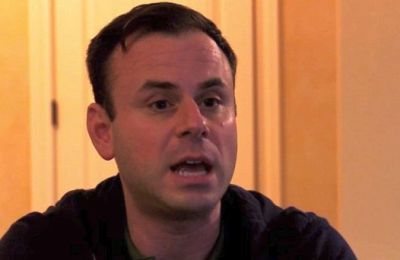 Cate tells Ty that Nova is sad because she misses Carly, her biological sister.
Sure, she does….and sure she said that out of nowhere. I'm sure there were no producers talking to her about how it must be "really, really sad not to get to see Carly a lot." Surely she came up with this idea all on her own…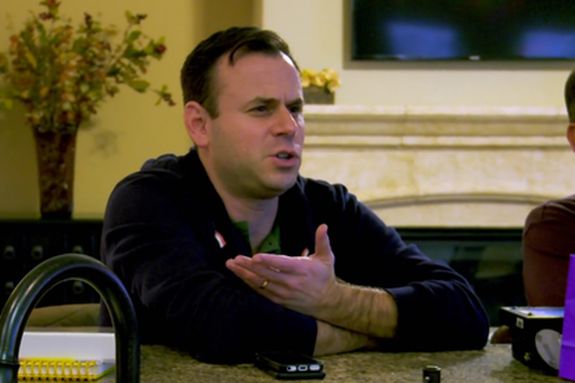 Catelynn says that Not-Carly doesn't understand why Carly doesn't live at the Octagon. This is a new thought for Catelynn, who tells us she never thought about how their decision to place Carly for adoption all those years ago would affect all the other Not-Carlys she would later give birth to.
Tyler says that the thought never crossed his mind either that his future Not-Carlys would wonder about the adoption.
Um…really? REALLY?! You people have literally milked 115 seasons of this horrific show out of that decision. You never thought your kids might want to know what happened and why MTV sends a camera crew to their house each month (and more-importantly, a check)?
We then get to watch clips of a young Catelynn (with her braces and sideways hair) and a young Tyler (with his popped collars and sideways hat) discussing the adoption with Carly's parents, BrandonNTeresa. We watch as the Whitebreads basically agree to anything and everything to get Cate and Ty to sign on the dotted line and give them the kid, all while Adoption Counselor Dawn tells Cate and Ty that they get to make all the rules.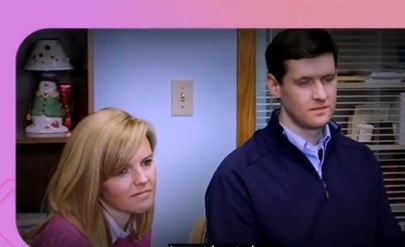 Cate and Ty then go talk to the Not-Carly in question, who explains that she's sad that she has a sister out there she can't see much.
"Imagine getting split up from your sister!" Nova tells Tyler, who looks absolutely enchanted by the thought of being split up from his sister and the rest of the Baltierra clan.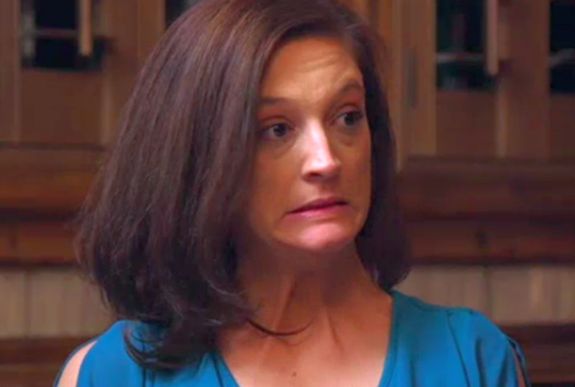 Cate tells Nova that she was only 16 when Carly came flying out of her hooter, and that's why she had to give Carly up.
"That is NOT a grown-up! You should be like 40 or something!" Nova exclaims.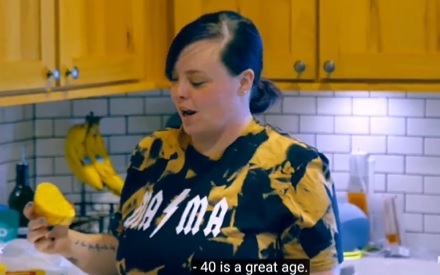 Not-Carly wants to know why the hell a 16-year-old Catelynn thought it was OK to get the Spawn of Tyler lodged in her underage uterus. They explain that they were making "bad choices" and being irresponsible when they did that.
(I suppose that's a better way to explain it than, "Your dad forgot to buy a rubber at the Chevron station before he came over to April's Little Trailer 'o' Horrors, so we just went ahead and banged it out anyway while your Grandma was passed out from drinking too many off-brand malt beverages.")
They explain that, when Catelynn got pregnant, they hadn't finished school and had no jobs.
Some things never change, eh?
Not-Carly still wants to know how Carly got into her mom's baby chute, so Tyler explains that he and Cate had to "mate" to make her.
JESUS GOD LEAH. I do not want to picture Catelynn and Tyler "mating." You can't make me do this. I never thought I'd long for an episode about Ty's vasectomy but here we are…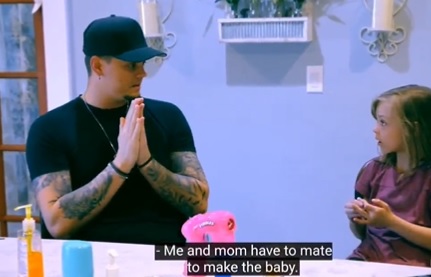 All this talk about Carly and mating and teenage knock-ups and whatnot gives Cate an idea for a storyline. She tells Tyler she would like to convince The Whitebreads to let them see Carly soon, even though they don't normally see Carly every year.
Catelynn tells "the gals" that she's going to try to put together a visit with Carly soon, so she will definitely be getting some screen time soon.
Next we check in with Ashley. She and Bar are at (where else?) a random park with Holly, but instead of swinging and sliding about, they sit Holly down at a picnic table to break the news that they have to move to another state so that Ashley can become a nurse. Being the absolute ray of sunshine that she is, Holly is completely fine with the decision and doesn't even bring up the fact that her mom could absolutely attend a school closer to home if she really wanted to.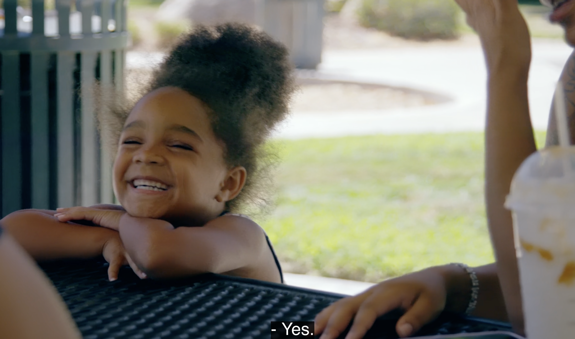 With Holly on-board with the move, Ashley says the only person they've left to break the news to is her mom, Tea, whom Ashley predicts will be "highly emotional about the situation."
Tea? Highly emotional? I find that hard to believe!
Moments later, we see Ashley and Tea meet up for smoothies so that Ashley can rip off the Band-Aid like the future nurse that she is. Ashley wastes no time in blurting out, "I'm moving out of state in two weeks to Nevada," seconds after her mom sits down. Tea asks what the plan is for Holly, and appears somewhat surprised to learn that Ashley and Bar plan to take their daughter with them to Nevada. (Well, to be fair, this is 'Teen Mom' so ditching your kid and skipping town is always in play…)
Tea also wants to know what the plan is for Holly's "support group"– aka the family she will be leaving behind in Modesto. Ashley isn't worried and reminds her mom that they're only a phone call away.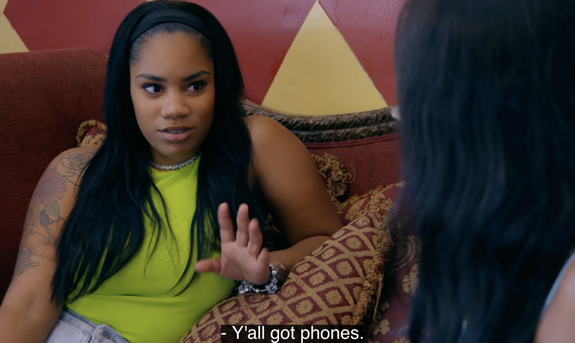 Tea says she's proud of Ashley for pursuing her nursing degree, but thinks it's sad that Holly has to be uprooted in order for it to happen.
Next we check in with Leah, who left the holler for a quick vacation in Florida with the girlseseses, Jaylan, and Jaylan's family. Leah says spending time with "the whole family" made her consider the possibility of having another kid even more than before. If you ask us, it was the JayBot 3000's graceful pool jumps that convinced her. I mean…who wouldn't want to drop trou and get busy after witnessing…whatever this is: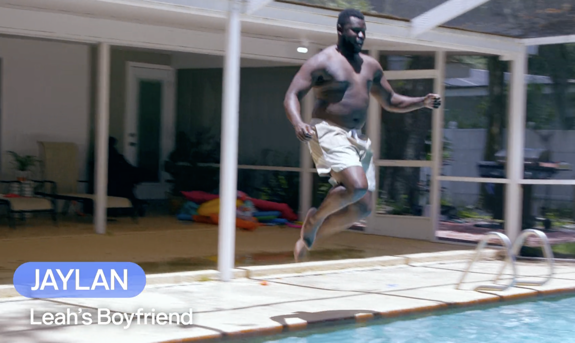 (I'm not gonna lie: I watched Jaylan's dainty dash into the pool about 50 times and it was never not funny.)
After Jaylan's family heads home, Jaylan says he knew Leah earned his dad's approval when Leah paid the bill for the trip his dad hugged Leah goodbye. (I suppose the dad was just thankful Leah didn't break up with Jaylan right then and there after seeing his tip-toe cannonball?)
Leah says it was nice seeing Jaylan interact with his family during the trip, and that it made her fall in love with him even more.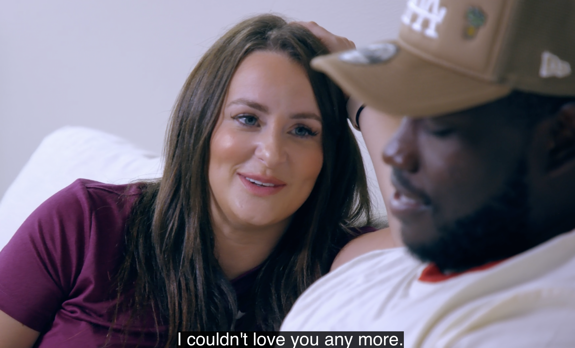 As for Jaylan, he tells Leah he's "blessed" to be a part of her girlses' lives. Jaylan doubles down and announces that he's ready to be a father because he "loves doing it"–- fatherhood, we presume–- despite having never done it.
Next, we head to Tennessee, where, to The Ashley's complete dismay, it's time for yet another storyline about a shooting.
NO…PLEASE…GOD…NO…
That's right, folks! Somehow Maci has convinced these people to film her talking about crap that happened to other people. (Apparently there were no more storylines they could squeeze out of the whole PCOS thing?)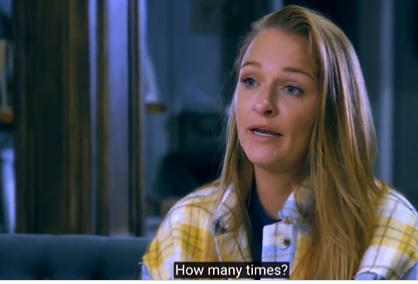 We see headlines discussing the shooting in May that killed 21 people at a Texas elementary school. They start playing the music that tells us this is about to be a Very.Special.Segment featuring Maci Bookout, martyr and storyline scrambler.
How the hell did they allow a tragic and horrible shooting to become a "Maci storyline?" This is beyond disrespectful and just plain dumb, I'm sorry.
What follows is the most-scripted conversation between Maci and Taylor talking about the shooting. Seriously, get the hook. If she doesn't have a storyline, don't put her in the episode!
Maci Googles some "resources" to help her fight gun violence in our schools. I don't know about you all, but I feel much better knowing that Maci "Beer Bong" Bookout is on the case!
Over in Los Angeles, it's time for Cheyenne's weekly wedding countdown. On top of planning her over-the-top nuptials, Cheyenne and Zach still haven't moved into their new home and Ryder will be starting kindergarten soon. Cheyenne yet again tells viewers how stressed she is.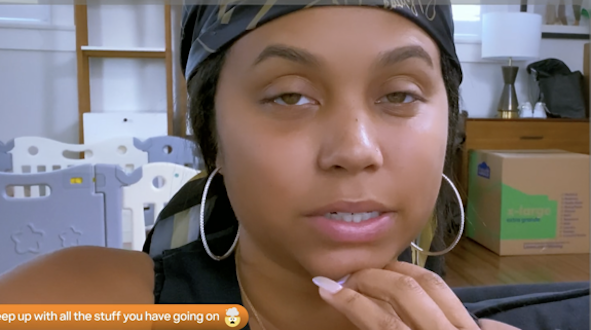 Cheyenne demands Zach sit down listen to her bitch about all the wedding/house crap she has to do. (I mean, they still have to get THE HELICOPTER! Who's gonna get the helicopter?!)
Zach tells Cheyenne to not get so worked up. This comment does nothing to comfort Cheyenne who instead, reminds Zach that they still don't have a closing date on their house.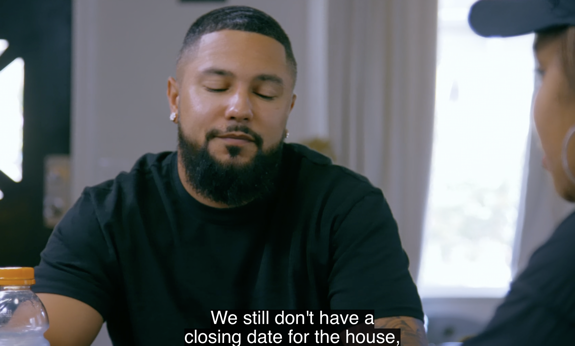 In an effort to wrap up the conversation, Zach assures Cheyenne that everything will work out and that they'll "be all right."
After a sad excuse of a pep talk from Zach, Cheyenne heads to her wedding dress fitting where she is pleasantly surprised to find that the beading on her dress "helps the body." (That trip to the surgeon didn't hurt either…but I digress…)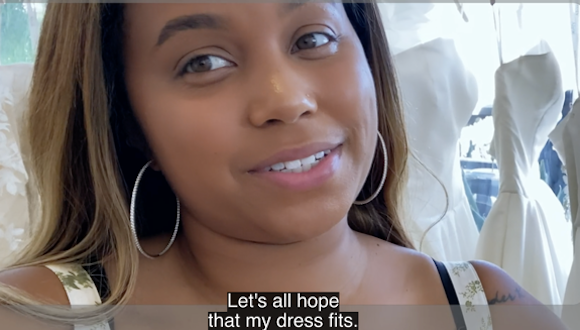 Back in Michigan, the Not-Carlys are screechin' and screamin' through the Octagon, and Catelynn is not having it because Adoption Counselor Dawn is on her way over to negotiate a visit with Carly.
Catelynn shovels the screaming Not-Carlys into a pile on the couch and tries to make everything look normal before Dawn arrives.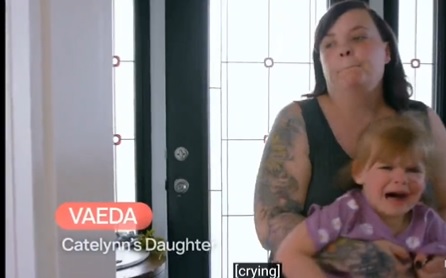 Adoption Counselor Dawn arrives and she's just full of fun stories. She reminds Cate and Ty of the time where they were making the excruciating decision to place their unborn baby for adoption, and Cate's mom April had purchased a bassinet and left it in Cate's room to try to convince Cate to keep the baby. She tells this story with a giant weird smile on her face, by the way.
Good times!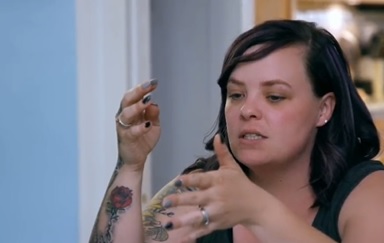 They tell Dawn that the Not-Carly misses Real Carly, and ask if Dawn can call up Ma and Pa Whitebread and have them bring Carly for a visit. It seems that the Whitebreads may have already turned down a visit request once this year, because Dawn says that it's "worth asking again."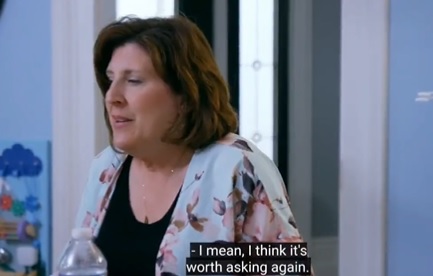 Later, Nova is gnawing on some sort of fried wing-like object, as Ty and Catelynn talk about a text they recently received from Teresa. Ma Whitebread tells Cate "thanks but no thanks" on the offer for a visit. She blames it on them being so busy with "kid stuff."
Tyler can't believe that BrandonNTeresa don't want to visit with them. I mean, who wouldn't want their family discussed on a crappy MTV reality show?
Tyler's getting downright pissed! He starts talking about the terms and conditions to the Carly adoption and he says The Whitebreads aren't holding up to their part of the bargain!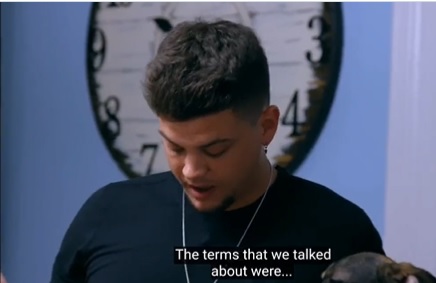 They talk about the time in recent years that Dawn brought out the handy-dandy adoption paperwork that teen Ty and Cate signed in regard to their future with Carly.
Tyler starts yelling that he was a minor who wasn't all "learned" and whatnot to know what all these fancy contract words meant! He yells that he knows it was BrandonNTeresa prompting Dawn to bust out the paperwork in order to get Ty and Cate to pipe down and quit yelling on TV that they were swindled. Tyler said that he never wants that paperwork thrown in his face again.
"Don't you dare use my 16-year-old, very volatile, very emotionally vulnerable state of mind against me at the age of 26!" he yells.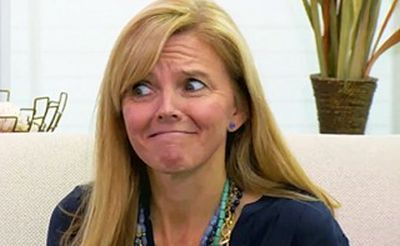 When we check back in with Ashley, she and Bar are busy packing up their house and preparing to move. Ashley says she's already gotten an apartment in Las Vegas, but hasn't physically seen it.
After a quick(ish) seven hour drive, Ashley and Bar arrive in Las Vegas and head to their apartment. Within seconds of walking in, Ashley complains about having to downsize to such a small place, though she says the apartment will do while she's in school.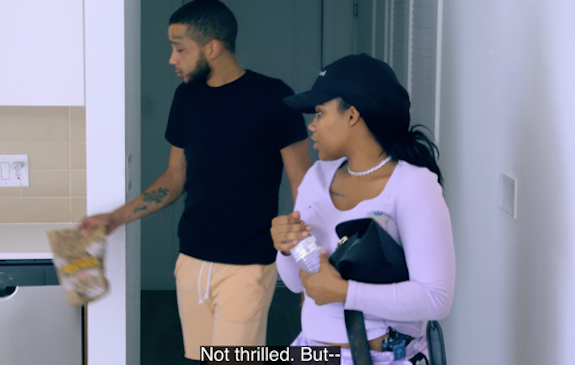 Ashley later tells "the gals" how stressed she is from all the packing, driving, unpacking, etc. She calls the whole ordeal "a humbling experience," and says she's trying to remind herself that she's doing the right thing.
Ashley seems to throw this positive mindset out of the window later, telling Bar, "I hate it here"– here being the apartment, not Las Vegas as a whole. Ashley says she isn't a fan of how small and loud their apartment is, and that she already misses living in an actual house. She also isn't down with the small closet situation she and Bar are now faced with.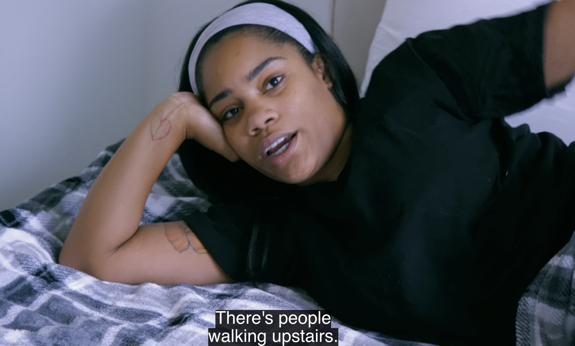 Bar tries to put a positive spin on the situation, telling Ashley, "I'm from the projects, this little bit of space don't mean nothing to me."
Ashley tells Bar her biggest concern is making sure she isn't "uprooting" him and Holly…despite having already done just that. She then starts to get emotional as she worries Bar and Holly won't be happy in their new place. Bar says as long as Ashley and Holly are cool, he's happy, and he encourages Ashley to just give it time.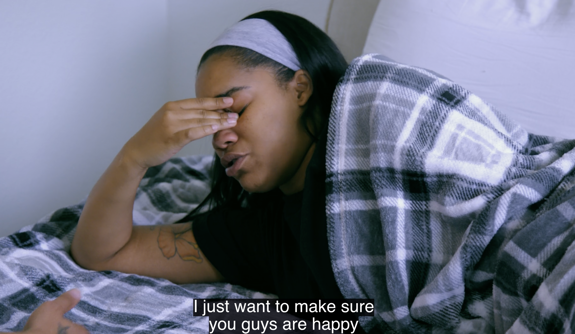 Back at Cheyenne's house, the wedding to-do list is still not done, and Cheyenne is now equally stressing about potentially having to drive Ryder an hour to school everyday if she and Zach are unable to close on their house soon.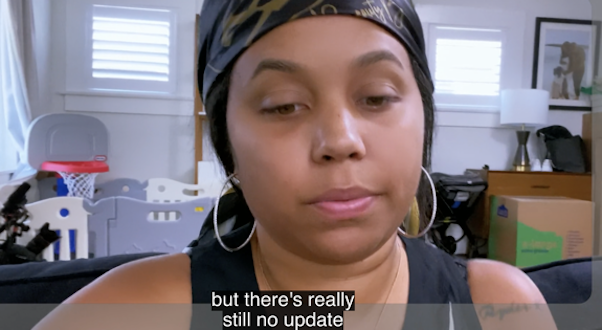 Unfortunately for Cheyenne, after talking to their realtor, Zach finds out the closing date has been delayed once again. Needless to say, Cheyenne isn't happy to hear this news. In an effort to keep Cheyenne's complaining at bay, Zach suggests they switch schedules with Cory so that Ryder would be with them on the weekends and with Cory during the week. Cheyenne isn't convinced that Zach's idea is a good one–- mostly because it wasn't hers–- however, she says they can talk to Cory and think about it.
Back in Tennessee, Maci tells "the gals" that she and Taylor are meeting with a volunteer from a gun safety group…or something. The gun safety group manages to find one person who is not humiliated to have their face shown on this port-a-potty of a show. The person is going to give Maci and Taylor "tips" about having conversations about school shootings with the mulleted Oopsie Babies.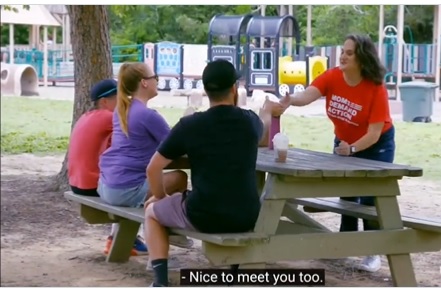 Jill, the lady from the organization, talks about shootings and whatnot. Her "tips" for explaining shootings to kids are to basically just, like, tell them…and stuff.
Awesome!
Then…(JESUS GOD LEAH) Jill asks Maci and Taylor if they've personally been impacted by gun violence.
No….nooooooooo….Jill why the hell you gotta ask that?
Of course, Maci brings up The Great Gas Station Shootout (again).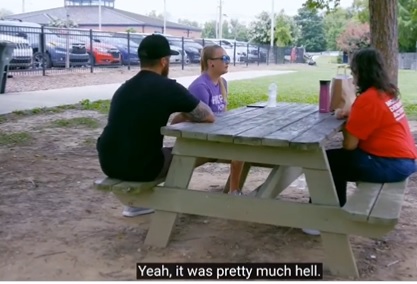 Man, I miss having Ryan and Mackenzie on this show. I long for the days of letter-writing and playing "Is Ryan Chasing the Dragon Or Just Lazy?"
Jill is literally no help at all. That was a complete waste of a segment. (But, hey, on the bright side, it wasn't about Tyler's testicles…although that may have at least been more interesting.)
Back at Maci's MTV Mansion, they collect all the Oopsie Babies and make them sit in the living room so that Maci can talk to them about what she's "learned."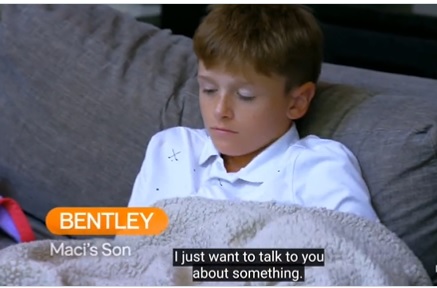 The kids inform Maci that they do "bad guy drills" at school to prepare for when a "bad guy" comes into their room.
Bentley just sits there, knowing he has to get through this Very.Special.Moment before he can escape to his room to go preen his mullet. He seems super-uninterested, but this is a Maci segment so who can blame the kid?
Mercifully, Maci's Hail-Mary-of-a-segment ends and it's time to check back in with Leah. After returning home from Florida, Leah sits down with her friend Shelayne to tell her how "f**king fun" her vacation was.
Shelayne and Leah go on and on about about how great Jaylan is with Leah's girlseseses, which brings Leah to talk about how willing she is to marry Jaylan and possibly pop out a mini JayBot or two. Shelayne asks Leah if she's trying to make it down the aisle before making a baby. (Wait, what? Is that even an option for the girls on this show?!)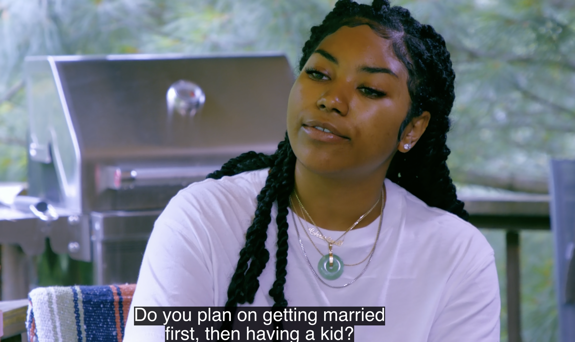 Leah says she and Jaylan will probably have a kid before they get married, "so I still look good in my wedding dress." Leah and Shelayne continue to chat about Leah and Jaylan's wedding and future child and laugh over the fact that Leah isn't even engaged at this point. Later on, Leah says it's exciting to be "planning to have a baby" for the first time in her life.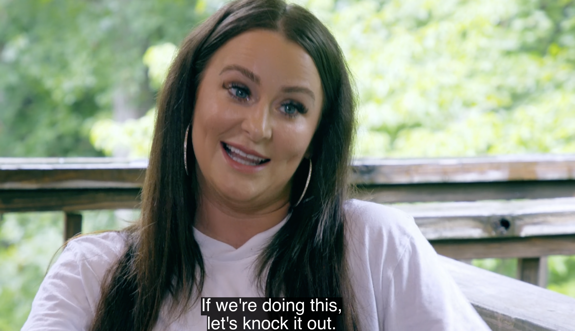 Over in LA, Cheyenne begrudgingly talks to Cory about the potential schedule switch when Cory stops by the house to drop off Ryder. Cheyenne explains that currently, her commute to Ryder's private school would be an hour, to which Zach interjects to say it would actually be a two-hour drive.
Cheyenne tells Cory she doesn't want to do that to herself Ryder, and proposes they switch schedules for a month or two. Cory has no problem with the switch, telling Cheyenne and Zach to "say goodbye to your weekends."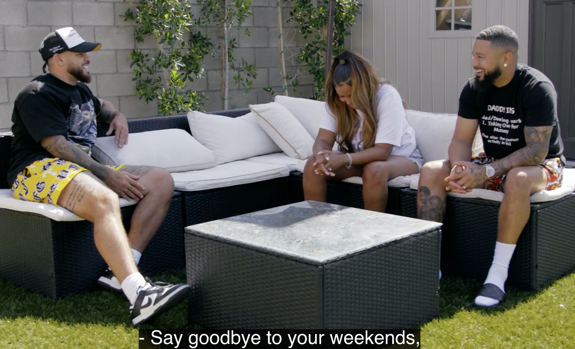 That's all for this episode of 'Teen Mom: The Next Chapter!' To read The Ashley's previous recap, click here!
(Photos: MTV)