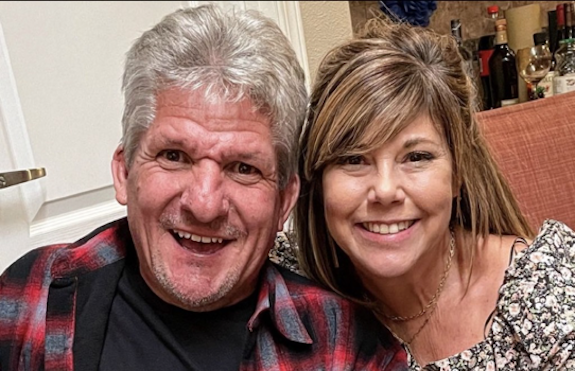 The ongoing feud between Matt Roloff and his children has reportedly gotten so bad that Matt's longtime girlfriend, Caryn Chandler, has decided to move to Arizona full-time in an effort to escape the drama. The Sun recently broke the news that Caryn plans to rent out her home in Oregon and relocate permanently to the home in Arizona that she and Matt purchased as a vacation home in 2018.
As The Ashley previously told you, Matt's decision to sell a portion of Roloff Farm has resulted in a family feud between he and his twin sons Zach and Jeremy–- some of which has been playing out on the current season of Little People Big World. (Matt has since announced that he is pausing plans to sell a portion of the farm and former Roloff family residence in order to open up the home for short-term rentals instead.)
Matt and his twin sons remain at odds, and fans have seen Matt's girlfriend of five years, Caryn, get pulled into the family feud. On a recent episode of the TLC series, Caryn was accused of encouraging Matt not to sell the farm to his twin sons, resulting in Zach and wife Tori Roloff proclaiming they have no intentions of introducing their newborn son Josiah to their father's girlfriend.
The latest feud has resulted in Caryn not only planning to quit appearing on 'Little People Big World,' but also planning to relocate from Oregon to their vacation home in Surprise, Arizona.
The couple purchased the home from Caryn's parents in 2018 for $375,000, and while they often spend time at the two-bedroom, 2.5 bathroom home, a source claims Caryn will be moving there full-time "likely by January."
"She's been wanting to relocate there for so long, and she and Matt often stay at their vacation home on weekends, but this would be permanent," the source added. "[Caryn] is moving first without Matt to get settled in. She's going to rent her house out in Oregon. They want to start planning for the future."
While Caryn is unsure if Matt plans to walk away from the TLC series as well, she "definitely" will be leaving the show as she "wants to get away from all the drama going on with the family."
"She's letting [Matt] make his own decision about it, but she'd rather not be involved anymore," the source continued.
In addition to the short-term rental renovations currently happening on the farm, Matt is building "his dream house," which is set to be complete in April 2023. Matt doesn't plan to live in the new home full-time, though he will stay there whenever he's in town working with youngest son Jacob Roloff on the farm.
Caryn will also continue to spend time on the farm, however, she is "making Arizona her base."
Caryn has not publicly addressed the fact that she does not intend to return to 'Little People Big World,' and Matt recently confirmed that plans for Season 25 have yet to be discussed with TLC.
RELATED STORY: Zach Roloff Says He's "Not Okay" With His Feud With Father Matt Roloff Being Aired on 'Little People Big World'
(Photos: Instagram)