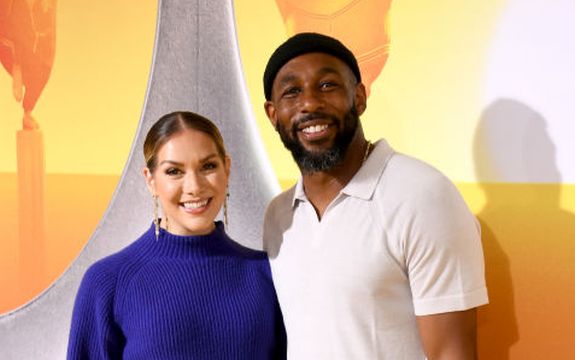 Trigger Warning: This story contains mentions of suicide.
Stephen Boss— better known as tWitch— and his wife Allison Holker were set to star in at least two different shows for HGTV at the time of his death by suicide on December 13.
Deadline broke the news on Tuesday that the So You Think You Can Dance? judge and his wife were in the process of developing a reality show called Living The Dream for the network. The show was reportedly going to feature tWitch and Allison helping first-time home buyers find a house.
In addition, the couple— who share three children— were set to begin filming a second, limited series for HGTV in which tWitch and Allison would be overseeing the build of a full-sized Malibu Barbie Dream House. A location in Santa Clarita, California, had already been chosen for the build, with filming of the series set to begin in January.
HGTV issued a statement about the shows on Tuesday.
"We are taking the time to consider different scenarios," an HGTV spokesperson told Deadline. "But for now, our primary focus remains on wishing our best to Allison and the entire Boss family during this difficult time."
View this post on Instagram
It is unknown if either show will move forward.
Allison and tWitch had both appeared on other HGTV shows, with Allison serving as the host of Design Star: Next Gen (a show that tWitch guest-judged on). The couple also made an appearance on HGTV's House Party in 2021.
As The Ashley previously reported, tWitch's death has been ruled a suicide.
Around 11:15 a.m. on December 13, paramedics reportedly received a call for a medical emergency at an Encino, California, hotel, where tWitch was found dead from an apparent self-inflicted gunshot wound. He was pronounced dead at the scene. He reportedly left a suicide note, which, according to TMZ, discussed some past challenges tWitch had dealt with.
(Photos: Jon Kopaloff/Getty Images; Instagram)