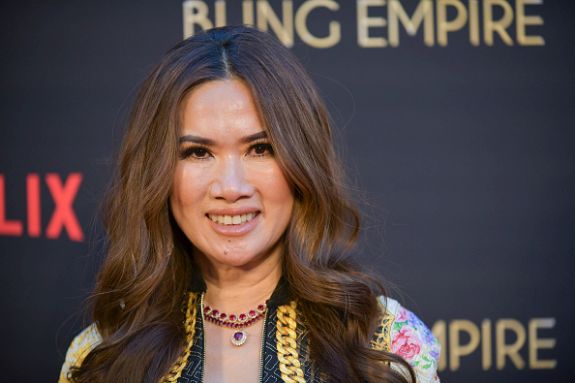 ---
A former personal assistant of Bling Empire star Mimi Morris is coming forward, claiming the Netflix reality star failed to pay her for the hours she worked, didn't give her rest or meal breaks, and committed various labor law violations, all while "intentionally inflicting emotional distress" on her.
Taylor Lynn Patterson filed legal papers last month in Orange County, California, court asking that Mimi—who joined the 'Bling Empire' cast during Season 2 along with her businessman husband Don Morris— be forced to pay up what she's owed.
In court paperwork exclusively obtained by The Ashley, Taylor states that she worked for Don's Acorn Engineering Group, although her job was actually being a personal assistant to Mimi. (It does not appear that Taylor was ever featured on 'Bling Empire,' which was recently cancelled by Netflix.)
Taylor claims that she was employed as Mimi's personal assistant from December 2021 until April 2022, when she says she was fired for speaking up about labor code violations and missing wages. In her lawsuit, Taylor alleges that Mimi and the company intentionally inflicted emotional distress on her, failed to pay her all of the wages she earned, and refused to give her meal and rest breaks, despite her sometimes working up to 14 hours per shift.
View this post on Instagram
"Defendants routinely required Plaintiff to work upwards of 49 to 60 or more hours per week, but only paid Plaintiff approximately between 40 and 43 hours per week," the complaint states. "Plaintiff worked under Mimi's direction six to seven days per week on a varied schedule. Plaintiff worked between eight and 14 hours per shift depending on Mimi's needs performing various tasks at her homes…and sometimes other locations."
Taylor states that, in early 2022, she went to the company's Human Resources supervisor at least five times to report that there were allegedly hours missing from her paycheck.
Taylor claimed that when Mimi found out about Taylor's claims of missing wages, she instructed Taylor to stop filling out her time sheets. Mimi told her that, going forward, she would be filling out her time sheets, not Taylor.
"[Mimi] reprimanded Plaintiff telling her not to put her full hours on her time records, and further, directed Plaintiff to stop filling out her own time records, and that she, Mimi, would complete Plaintiff's time sheets from then forward."
Taylor states that she continued to complain about her missing wages and alleged labor code violations that were being committed during her employment as Mimi's personal assistant. Eventually, Taylor says, Mimi and the other defendants fired her for speaking up.
"Clearly, Plaintiff was terminated for complaining to her superiors of Defendants' unlawful practice of failing to correctly pay her earned wages," the court paperwork states.
Taylor goes on to claim that Mimi & Co. failed to pay her at least minimum wage for all of the hours she worked. She also states that she didn't earn overtime or double overtime pay, even though she sometimes worked up to 14 hours a day for Mimi. Taylor states that Mimi also failed to give her legally required meal and rest periods, as well as itemized wage statements.
View this post on Instagram
In addition, Taylor argued that she was forced to use her personal cellphone and personal car to complete tasks for Mimi, but was not compensated or reimbursed for it. Taylor says, because of this, she was forced to "shoulder the burden" of Mimi's cost of doing business.
Taylor states that Mimi & Co. fired her as a way of retaliating against her for calling out their alleged shady labor code violations.
Taylor is alleging that Mimi's treatment of her during her employment as her personal assistant was "intentional, malicious, despicable, extreme and outrageous, without substantial justification, unprivileged, and was of the type and variety known to create severe emotional and mental distress.
"Defendants' conduct was a substantial factor in causing Plaintiff's severe emotional distress," the court docs state, adding that Taylor believes that she was not given a paycheck statement (showing her rate of pay, hours, deductions, etc.) because the Defendants didn't want to pay her for the actual amount of hours she worked.
View this post on Instagram
"Plaintiff is informed, and believes that Defendants willfully and intentionally failed to make and/or keep records which accurately reflect the hours worked by Plaintiff. Specifically, Plaintiff believes that Defendants' records do not accurately reflect where Plaintiff was required to work 'off the clock.'"
Taylor is seeking damages, as well as lawyer fees and court costs. She is also seeking to recover the pay for all her missed meal and rest breaks.
Taylor– through her attorney at AP Law Offices— asks that she be allowed to face off with Mimi and the other defendants at a jury trial.
A case management conference has been set for September 29. Mimi has yet to file an answer to the complaint.
RELATED STORY: Viewers React After Netflix Cancels 'Bling Empire' & 'Bling Empire: New York'
(Photos: Rodin Eckenroth/Getty Images; Instagram)