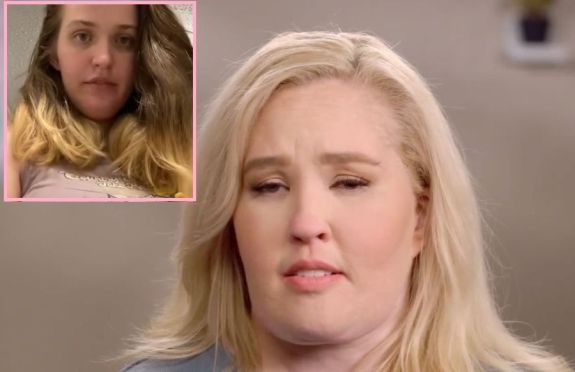 Mama June Shannon is opening up about her oldest daughter Anna "Chickadee" Cardwell's devastating battle with Stage 4 cancer, revealing who has stepped up to care for Anna, and how the family is dealing with what appears to be a possible grim prognosis for Anna.
"As her mom, I've had to have those talks that you don't want to have with your child," the Mama June: Family Crisis star said in an interview with ET on Friday. "We've had those talks as a family, too. But we all know what the end-game is and we all are prepared for that. I mean, you're never prepared for that, but we know what could happen, and her children know that, which is sad because she has a 10- and a seven-year-old.
"Her 10-year-old knows more of it than her seven-year-old does," June added.
News broke in March that 28-year-old Anna— who appeared on her family's first reality show Here Comes Honey Boo Boo— is battling Stage 4 adrenal carcinoma, a rare cancer that had already spread to Anna's liver, kidney and lung by the time it was discovered in January.
View this post on Instagram
According to the American Cancer Society, the five-year survival rate for a person diagnosed with adrenal carcinoma at the stage Anna has it (where it has already spread to distant parts of her body) is 38 percent. According to UCLA Health, if the tumor can't be surgically removed, "the prognosis for adrenal cancers that have spread to nearby or distant organs is much less favorable, with only 10-20 percent surviving five years."
"We don't know what the life expectancy is," June said in an interview with Page Six on Friday. "Her cancer is very rare. Only one in 1 million people get it. There [are] only a few doctors that treat it. And the couple of doctors here in the United States that treat it, I feel like — I'm not trying to be mean — are experimental doctors."
"She has had two rounds of chemo and she has her third round next week," Mama June explained to ET. "She has a scan on Saturday and we get results back on [May] 9th. The second round [of chemo] has been really more rough on her. She lost all of her hair…she sleeps a lot this round. Her appetite is going. She doesn't want to eat some days."
View this post on Instagram
June told Page Six that if the scans show that the chemo is not helping after four rounds, "we go back to the drawing board, and we don't know what the next step is."
In her interview with ET June stated that Anna began experiencing back pain in August 2022 and went to the hospital. A cyst was discovered on her kidney and was removed. A biopsy on the cyst revealed Anna had Stage 2 cancer, but doctors felt that it had all been removed. In January, a spot of cancer was found, prompting Anna to go to a doctor in Atlanta, where it was discovered that she had Stage 4 cancer. (June told Page Six that they got the news just one week after June and her husband Justin Stroud had their beach wedding ceremony— which Anna attended— in February.)
View this post on Instagram
"It happened very quickly," June said. "It's in her lungs, her liver, her kidneys and her spleen, all on the left side. And it has moved very rapidly and grew very rapidly."
June— who, in the past, has had long periods of estrangement from Anna— stated that she, her husband Justin and her other daughters– Pumpkin, Jessica and Alana— have been the ones who have been caring for Anna through her cancer battle.
"[Justin and I] stay with her during chemo, and then Pumpkin and Alana come up one day of the week and then Jessica comes up," June said. "Honestly, it's just been me and Justin, Alana, Pumpkin, Jessica, [Pumpkin's husband] Josh [Efird] and Elridge, which is Anna's boyfriend, that has been there. None of the other family has been around, which is sad because, at the end of the day, when all of this is over with, they have to live with their decisions."
The new season of 'Mama June: Family Crisis' premieres Friday on WEtv. It is unknown if Anna's cancer battle will be included in the show.
RELATED STORY: Mama June Shannon's Husband Justin Stroud Says He Regrets Getting Married in Season Premiere of 'Mama June: Family Crisis'
(Photos: WEtv; Instagram)