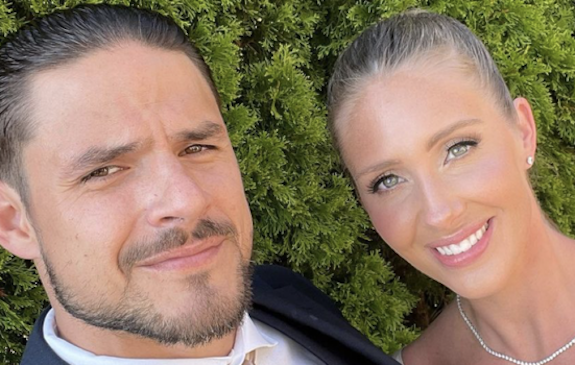 Despite competing on multiple seasons of The Challenge, Zach Nichols is seemingly not up to the challenges–- or responsibilities–- of being a hands-on father.
Fans slammed Zach after he made some cringy comments on this week's episode of The GOHT podcast— bragging that he makes his wife Jenna Compono handle things like diaper duty and all nighttime wake-ups— but Jenna was quick to defend her husband.
Zach and Jenna— who tied the knot in 2021 after meeting on 'The Challenge'— became parents in September 2021 with the arrival of their son, Anthony. The couple welcomed their second child, daughter Liliana Marie, in December 2022.
As Zach, Jenna and podcast host Pierre Bacall began chatting about parenting, it seemed like Zach was going to compliment Jenna. After claiming that, although he can "do anything," one thing he could never do is be a mom. Unfortunately, Zach didn't stop there and proceeded to reveal why he feels this way.
"[Motherhood] is one of the hardest jobs in the world and I'm very lucky that I don't have to wake up at night to do anything," he said.
"If [Jenna is] home, I'm not changing poopy diapers, unless like, I'm in a REALLY good mood or there's two at the same time. If there's two poopy diapers at the same time, I will do the male poopy diaper because I know the plumbing better."
When Pierre asked Jenna to "verify" Zach's chauvinistic archaic SDE comments, she did with no hesitation.
"Oh yeah, absolutely," she said. "He'll let me know when they went to the bathroom, though."
View this post on Instagram
"He'll be like, 'Oh man, he stinks!' so I'm like waiting, maybe Zach will change him [and] he's like, 'He really stinks,'" she continued.
As Jenna willingly co-signed her husband's no-diaper changing stance, Zach cracked a big smile and said he also notifies Jenna that their children need tending to by saying things like, "this diaper is disgusting, you might want to get to this one sooner than later.
"That's the best part about being a dad: you're not the mom!" he said. "You get to do all the fun stuff, and see all these awesome things but at the same time, everyone's like, 'How are the kids doing? Are they sleeping through the night?' and I'm like, 'I don't know.' I get my sleep every night. I get my five hours, that's all I need. And it doesn't get interrupted."
Jenna revealed that Zach often grabs his pillow and blanket and goes downstairs to continue his sleep, "while I'm dealing with two crying, screaming babies!"
"Dude, I'm the worst," Zach said while laughing.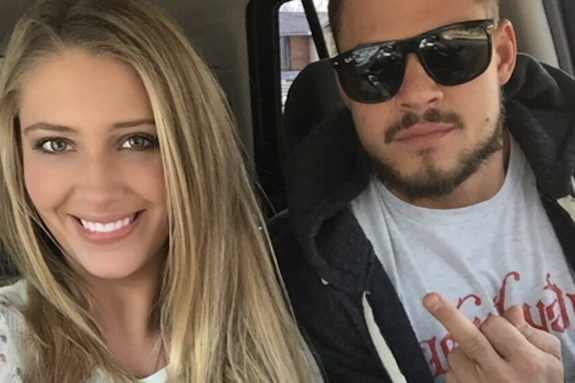 Later in the podcast, Zach talked about how, despite having kids of his own, he still feels like, "I'm still a kid, and I don't really have to do very much.
While Zach's attitude probably doesn't surprise anyone who has watched him on 'The Challenge,' the one-time 'Challenge' champ was still called out on social media for his comments, with one person arguing that Zach could never be a mom because he "can't even be a dad."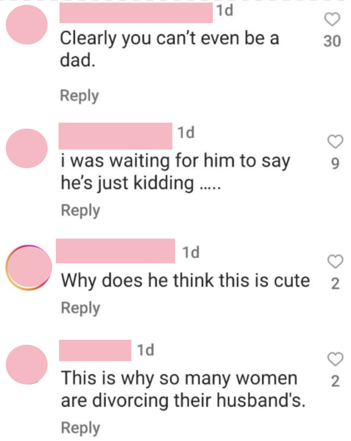 "Why does he think this is cute," one person asked.
"This is why so many women are divorcing their husbands," another wrote.
"Not a flex Zach," someone else wrote. "Jenna deserves better. Change your own child's diaper."
"Even if he doesn't change the diaper the way he's bragging about it and making [you] look stupid in front of everyone shows how disrespectful he is to u," someone wrote, tagging Jenna.
One person commented that Zach's actions didn't indicate he was a bad father, but rather an inconsiderate husband to Jenna.
" … But if Jenna prefers it this way that's on her too," they added.
Naturally, Jenna came to Zach's defense in the comment section, arguing that her and Zach's one-sided approach to parenting is pretty common, "but no one will ever admit it."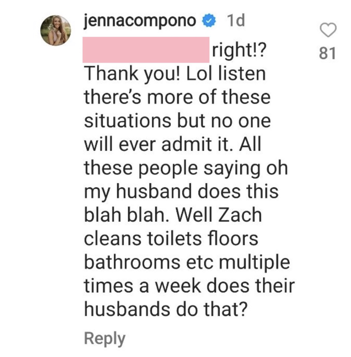 "All these people saying, 'Oh my husband does this blah blah,'" she wrote. "Well Zach cleans toilets, floors, bathrooms etc multiple times a week [do] their husbands do that?"
In another reply, Jenna noted that Zach works full time and she is a stay-at-home mom.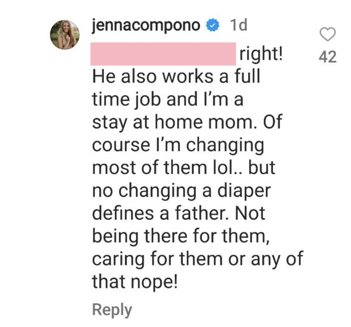 "Of course I'm changing most of them lol.. but changing a diaper defines a father," she wrote. "Not being there for them, caring for them or any of that nope!
"He also wakes up at 3 am for work," she wrote of Zach. "Once again preaching when you know absolutely nothing lol."
Hopefully Jenna enjoys changing diapers, as she has stated in the past that she hopes to have seven kids. On the podcast, she said she is ready to try for Baby No. 3 with Zach.
"Liliana is not even four months yet and I'm like, 'Can we go for another one?'" she said. "He's like, 'Oh my God.'"
Watch Zach and Jenna's full interview on The GOHT podcast below!
RELATED STORY: Robin Hibbard– Former Star of 'The Challenge'– In Jail After Being Arrested For Violating Restraining Order; Looks Unrecognizable In New Mugshot
(Photos: Instagram)