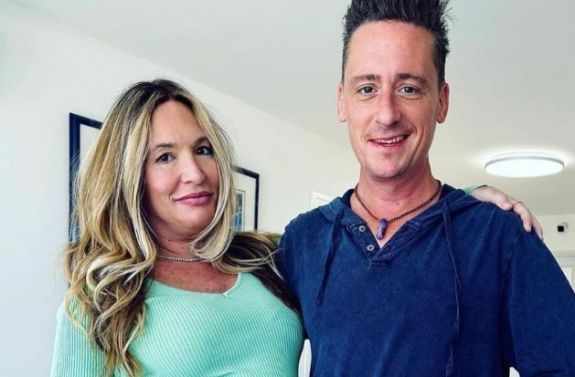 Kate Chastain is the proud new mom of her baby boy, Sullivan Cay and, while Below Deck fans are happy for the chief stew's new addition, many are curious as to who the father of her newborn is.
The 'Below Deck' alum shared the arrival of her son on May 5.
"Hard Launch: Sullivan Cay," she captioned while posting a pic of her and the baby on Instagram.
Fans were quick to speak up about what they feel are physical similarities between the baby and 'Below Deck' star Chef Ben Robinson.
View this post on Instagram
"There is no test result in this world that could convince me that isn't Ben's child," a 'Below Deck' fan replied.
"Why does the baby look like a mini chef Ben lol," another wrote.
After entertaining the speculation that Sullivan's father is her former crewmate, Kate cheekily decided to address the baby daddy issue.
For the record, the only thing this handsome guy has in common with any chef is the tendency to get emotional around meal time," Kate wrote on social media.
The former 'Below Deck' chief stew first announced her pregnancy in December.
"I'm already planning so many birthday theme parties for you," she wrote while showing off her growing bump.
View this post on Instagram
As soon as she announced her pregnancy, fans began chattering about whether Ben was Kate's baby daddy.
"Congratulations Kate – If the baby comes out with a British accent and his first words are … Hello Lovelies #babydaddy," a fan replied. "Chef Ben delivering as always," another quipped. One fan simply asked, "Baby Ben?"
Kate didn't reveal the father of her baby but fans were quick to assume it was Ben, whom she had a brief fling with between Seasons 2 and 3 of 'Below Deck.'
You can not convince me this is not Ben's baby. 😂

Whoever the daddy is, he's absolutely perfect! 🥰#BelowDeck pic.twitter.com/Quwayxw7dc

— SuSu 🍸🌈 (@RealitySusu) May 8, 2023
Since Kate and Ben starred together in 'Below Deck' Season 2, they have had a love/hate relationship with one another, often bickering about work-related issues. However, the two admitted to hooking up ahead of Season 3 and have seemed to form a tight friendship since, even going so far as to live in the same building in Florida.
Ben hasn't addressed the baby daddy speculation; however, he did wish Kate a smooth labor experience before she gave birth.
"Who knew that Kate Chastain and I would be the same weight one day… But to be fair I have been hitting the gym! Please wish my great friend @kate_chastain an easy delivery and a healthy beautiful baby! I am so proud of who you have become and the mother you will soon be," Ben wrote on Instagram.
View this post on Instagram
Ben was linked to Kiara Cabral in 2020 and it's unclear if the two are still an item. Kate has been quiet about her personal life since her very public breakup with Ro Hernandez in 2016 when the two got into a domestic altercation.
Kate was arrested in June 2016 for battery by strangulation and domestic violence after reportedly attacking Ro. The following September, Kate announced that all charges had been dropped.
During a December 2022 appearance on Watch What Happens Live, Kate stated that she is prepared to be a mom.
"I think being a chief stew really trained me for it!" she said.
RELATED STORY: BravoCon 2023 is Heading to Las Vegas: "You Can Bet This Will Be The Best BravoCon Yet"
(Photos: Instagram; Twitter)