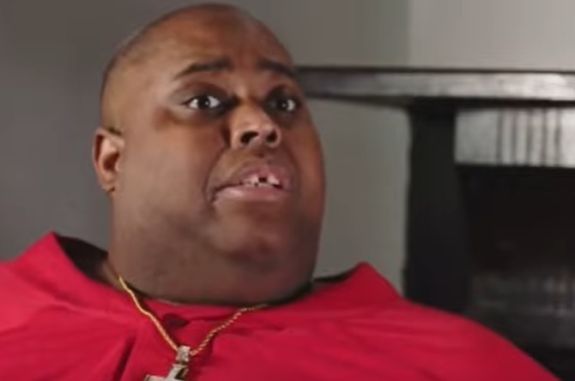 Yet another cast member from TLC's My 600-lb. Life has died.
The Sun confirmed Tuesday that Larry Myers Jr.— better known on "Mr. Buttermilk Biscuits"— died of a heart attack on June 13. He had turned 49 just three days earlier.
Larry appeared on 'My 600-lb. Life' Season 10, with his episode airing in January 2022. At his highest, Larry weighed 940 lbs. He had previously undergone weight loss surgery, and eventually lost almost 700 lbs. Unfortunately, Larry ended up gaining back about 400 lbs. in the five years between his surgery and his appearance on 'My 600-lb. Life.'
"I eat to comfort myself. When I'm cooking, it's the only time I'm happy, besides when I'm eating," he said on the show, later adding, "So it's the time that I like to sing, and I sing gospel. Because the rest of the time, when I'm not eating, most of my thoughts are morbidly depressing."
Larry was a talented gospel singer, who went viral after his early-2000s performance on the show Gospel Today began to recirculate. During his 'My 600-lb. Life' episode, Larry infamously sang about some biscuits he was eating, earning him his nickname "Mr. Buttermilk Biscuit."
Larry continued to post motivation- and weight-related content to his YouTube page, The Buttermilk Biscuit Show. His last video was uploaded two months ago.
After Larry's death, his godsister created a GoFundMe to raise money for Larry's funeral. In the fundraiser's bio, she talked about Larry's love of singing.
"Larry, aka 'Mr. Buttermilk Biscuits,' has used his musical talents to bless others since the age of 10," she wrote. "From a small storefront church in his home town to the big stage of the Apollo theater, Larry always made himself available to sing at special events anytime anyone asked, most of the time free of charge. His struggle with weight gain/loss never dimmed his drive to show love and kindness to all he met. As a family we want to bring our beloved Larry home one more time so we can lay him to rest with dignity and respect. The cost to do so is more than we can handle and we are asking for your help. Thank you in advance for your kindness and your support."
As of press time, the fundraiser has raised $617 of its $35,000 goal.
Larry is the 14th cast member from "My 600-lb. Life' to die. Earlier this year, Season 7 star Angela Gutierrez passed away at the age of 49.
(Photos: TLC)