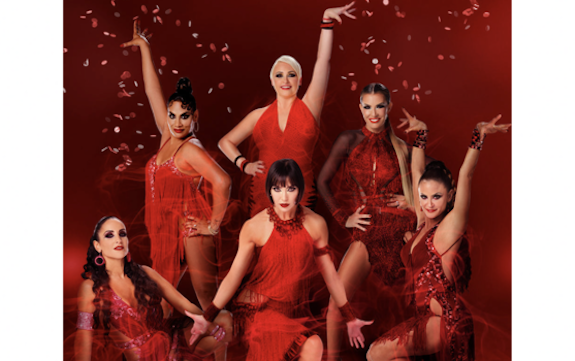 Bravo's new series Dancing Queens is foxtrotting its way up the ratings.
The series, featuring six amateur ballroom dancing friends/frienemies pursuing their passion of competing in Pro-Am World of Dance competitions, brings viewers into the world of dance while revealing all of the practicing, primping and petty arguments that come along with it.
The show's ratings have continued to climb since its premiere on May 9, with the season finale scheduled to air next week.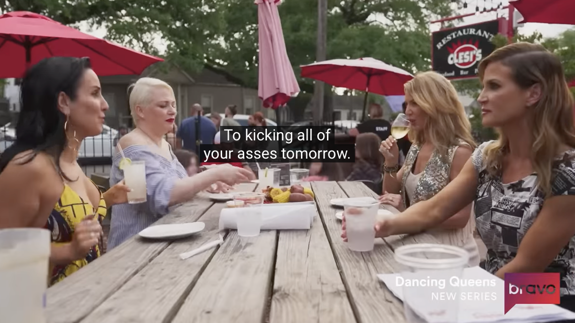 'Dancing Queens' premiered May 9 to 378,000 viewers, with .06 of viewers falling within the coveted 18-49 age demographic, according to TV Deets. While Episodes 2-5 saw a slight decrease in number of viewers, the demographic of those tuning in between the ages of 18-49 has continued to rise.
Ratings for the series ramped back up by June 13 with Episode 6 bringing in 399,000 viewers–- a season high for the Bravo newcomer. As with Episodes 4 and 5, Episode 6 scored a .08 demo rating.
#DancingQueensBravo 💃🏻 S01E06 – 0.399 million viewers (0.08 18-49 demo) *season high* pic.twitter.com/uURsY74V0d

— Bravo Ratings (@RatingsBravo) June 14, 2023
Episode 7 aired this week and while the ratings have yet to be released, it's expected that many dancing fans tuned in to watch Val Chmerkovskiy make his 'Dancing Queens' debut. The Dancing with the Stars pro was on-hand to listen and lend a hand to Donie Burch after the 'Dancing Queens' star dealt with some ballroom dancing missteps.
As the show's premiere season comes to a close, the 'Dancing Queens' are going out with a bang–- one they expect will bring in more viewers.
"Everybody is waiting for my meltdown,…[which is] definitely coming," cast member Sabrina Strasser told Bravo.
"I just think people will want to see more dancing," she added.
Fans on social media seem to agree, with many calling the series "so much fun to watch."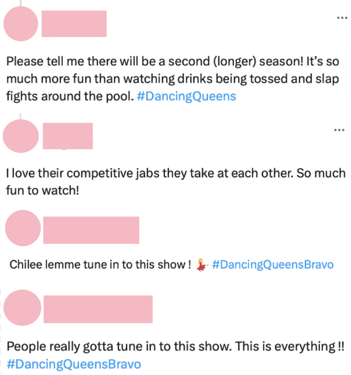 "Please tell me there will be a second (longer) season! It's so much more fun than watching drinks being tossed and slap fights around the pool," one viewer tweeted this week.
"People really gotta tune in to this show. This is everything!!" another wrote.
Bravo has yet to announce if there will be a second season for 'Dancing Queens.'
New episodes of 'Dancing Queens' air Tuesdays on Bravo.
RELATED STORY: New Bravo Reality Series 'Dancing Queens' Will Feature Amateur Ballroom Dancers Willing to Sabotage Friends, Poach Partners & Spend Big to Win
(Photos: Bravo; Instagram; Twitter)