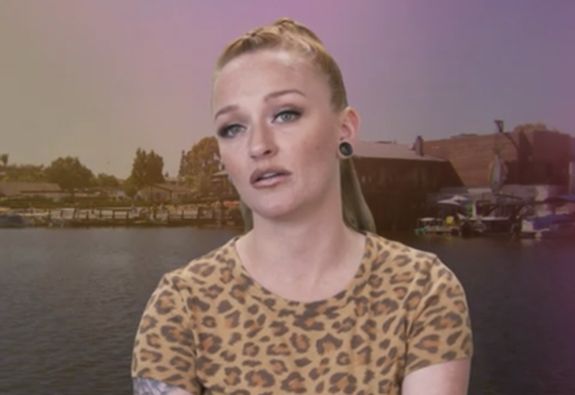 Maci Bookout recently sat down with YouTube vlogger (and her old school pal) Adam Newell of the YouTube channel Up and Adam! to talk about her Teen Mom cash, her ex Ryan Edwards' addiction (and whether or not being on the show contributed to it), the possibility of a Maci-only spin-off show and more!
Here, The Ashley breaks down some of the most-interesting parts of Maci's new interview.
On whether or not she believes being on 'Teen Mom' contributed to Ryan's addiction: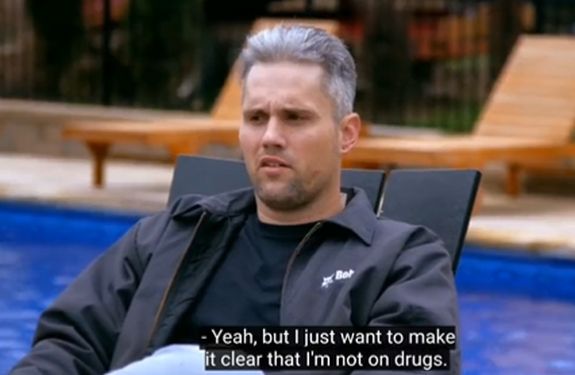 As 'Teen Mom' fans know, Ryan has struggled with drug addiction for years, and Maci discussed how him being on the show may have played a part in addiction. (Although she didn't specifically say it, Maci presumably meant that the money Ryan made from being on the show helped to enable his ability to buy the drugs.)
"I think there were many factors to it," she said of Ryan's addiction. "I think in the beginning [of Ryan's drug use], [being on the show] was one of the main factors. But once you're in active addiction, the factors [that got you started] don't really matter anymore, until you're ready to get help and work through those factors."
On why she didn't want Bentley to have a relationship with Ryan for years:
Bentley and Ryan didn't spend much time together for the majority of Bentley's life, with Maci usually co-parenting with Ryan's parents, Jen and Larry, rather than Ryan. Maci talked about the reasons she didn't want Bentley to spend time alone with Ryan.
"For a while, honestly, it just wasn't safe for Bentley, and I couldn't confidently put Bentley in a situation where I wasn't sure of his safety," she said. "And, also, Bentley didn't really want to be around [Ryan], and mainly because he was using [drugs] constantly. Bentley was just getting older and it was to the point where, like, he knew that he was using, so it just put him in a very uncomfortable position."
On why she talks about Bentley's therapy on the show: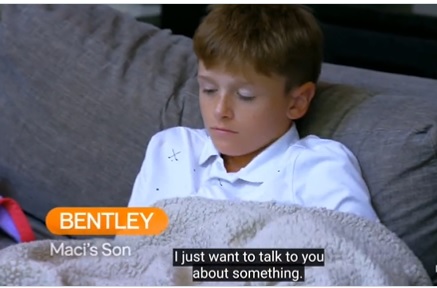 Maci stated that Bentley's been in therapy for three years now, and wants to share how much it's helped him. She said this is why Bentley allows MTV to film about it.
"He's a big advocate for therapy," Maci said. "I'm really proud of him and shocked because he doesn't have to share any of that if he doesn't want to. We don't have to talk about that [on the show]. But he's so big on [it]. Like, him being a white male from the South, there's such a stigma around therapy."
Maci said Bentley wants to show other kids his age that therapy can be a good thing and nothing to be ashamed of. She stated that, during a mother/son therapy session with Bentley last year, Bentley told her that her lack of relationship with Ryan was affecting the relationship— or lack thereof— Bentley had with Ryan.
"Hearing Bentley tell me that made me realize that I needed to change the way I had been thinking about this," Maci said, adding that she did a therapy session with Ryan soon after that to establish how they'd co-parent Bentley going forward.
On the money she's made from 'Teen Mom':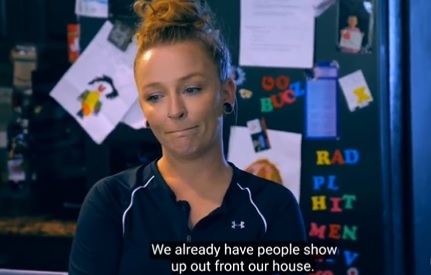 When asked if her giant MTV paycheck is the reason she has remained on 'Teen Mom' for all of these years, Maci admitted that the money is too good to pass up.
"Obviously, the pay is great," she said. "I feel like I've invested very well. Like, if I wasn't on the show tomorrow, it would be like, 'Dang, that's a loss' but we would be totally OK. Like really OK."
Maci said she and the rest of the 'Teen Mom' cast have more security than the casts of other reality shows, such as the ones on Bravo.
"You could be gone, you could be cut so fast [on those shows]. I will say it's a little more comfortable on our show, because, even though it's an ensemble cast, we don't live near each other and see each other all the time," Maci said. "For the most part, everything you see on the show is everything that would have actually happened without the cameras there.
"…for us, it's our our real life, and then when we get together, it might be something fun or special. It might be a little bit of drama, but it's still us just talking about our real lives."
On whether or not she'd do a spinoff show about her family:
"I think it really would depend on the direction of it all," Maci said. "Because, for me, truth be told, the drama that I bring really just has to do with co-parenting and just raising kids. So I'm not sure we would be able to … hold something down on my own, unless people wanted to just see, like, crazy schedules, kids, chaos-type of thing."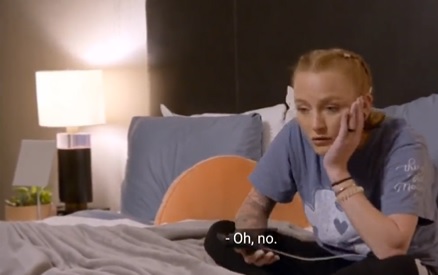 "I wouldn't be against it, but I know sometimes when there's not a lot there, producers have a job [to make a show]," Maci said. "It's one of those [things] where I like to be able to share what I'm going through and not feel like, at the end of the day, the cameras and the production of it have literally started a fire and then bailed. But I still have to live with the fire."
While Maci said "it would be worth a conversation," she doesn't think the people in her life would go for it.
"It's very difficult to do, especially here. No one [I know] is dying to be on the show," Maci said. "My friends really don't film that much, and don't really care to film…no one's really dying to be on a reality TV show…."
You can watch Maci's full interview with Up and Adam! below!
RELATED STORY: 'Teen Mom: The Next Chapter' Star Maci Bookout Reveals Son Bentley's Anger Over His Dad Ryan Edwards' Drug Overdose in April
(Photos: MTV)