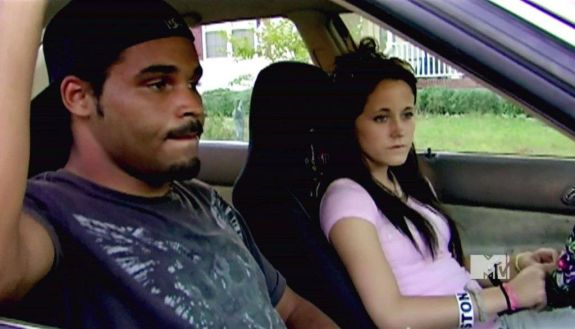 Jenelle Evans of Teen Mom 2 fame has had a hard week.
Jenelle's Week 'o' Horrors started when she found out that her former BFF, Kaylin, sold her out to OK! Magazine. Kaylin apparently told the magazine one of Jenelle's "deepest, darkest secrets"–that the father of Jenelle's baby Jace may not actually be Andrew Lewis, as Jenelle has always claimed!
Kaylin claims Andrew can't be Jace's father because he was actually in rehab when Jenelle got knocked up!
"He went off to rehab, and then he got out and she was pregnant. The whole time he was away, Jenelle was at Stephen Fullwood's house every day," Kaylin told OK!
Jenelle was infuriated and responded in the way anyone would: by making fun of Kaylin's eyebrows, posting a former mugshot of Kaylin and then giving out Kaylin's phone number and encouraging her "fans" to call and harass her. As you do…
Unfortunately for Jenelle, the bad times continued. Later that week, she found out that her boyfriend/soulmate Kieffer Delp also sold her out by talking to the magazine.
(In fact, the Keif-ster was reportedly seen out having drinks with reporters from OK!)
Instead of defending his girlfriend, he actually backed up Kaylin's statements, even adding that he remembers seeing a text on Jenelle's phone that confirms Andrew may not be the baby-daddy.
OK! reports that Kieffer remembers seeing a text message from Andrew on Jenelle's phone that read, "Who else would be man enough to sign that birth certificate after we tried to get you pregnant, and I go away for a month and you pop up pregnant?"
Quite the saint, that Andrew!
"She won't have a DNA test because she doesn't want to know," Kieffer said. "She and Stephen were not an item. She's still a little in love with Andrew. She hopes he's the dad.
Wait, wait, wait. Stop the presses right here. Andrew and Jenelle were trying to get pregnant? They weren't just young and stupid? That makes them even more stupid than I originally thought!
It seems OK! pays pretty well to spill the beans on your 'friends.' Kailyn later told Jenelle (via Facebook comment, naturally)
"I got a check in the mail from another magazine.. a nice ass check.
money talks. and i am only telling the truth."
Kieffer also posted on his Facebook that he's waiting on his big ass check. (Jenelle "disliked" that comment.)
However, they're still together, even spotted shopping at the ol' Wal-Mart together this weekend. (Say 'hi' to AMBO and Gary, ya'll!)
As for Kaylin's baby-daddy claims, Jenelle hasn't exactly denied them. In fact, according to this story, the information Kaylin spilled may actually be the truth.
If I were Andrew, I'd be calling Maury Povich for a DNA test STAT! Obviously, you can't trust what Jenelle tells you, but you can always trust Maury. (Oh God, please let this happen! I'm willing to take a vacation day from work to watch that episode!)
What is going on here?! Is this the Twilight Zone? Your boyfriend sold you out but you are still together?! Jenelle, you need to start making better decisions.