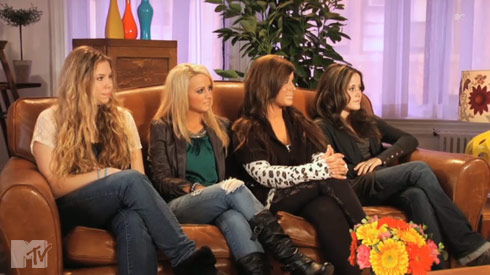 Hey guys,
Be sure to check out this story in the New York Post! It features an interview with yours truly, The Ashley!  The Ashley was kind enough to share some new juicy gossip about the Teen Mom 2 finale with The Post's Sean Daly.
Here's the article if you're too lazy to find it online:
By SEAN DALY
Posted: 10:47 PM, February 21, 2011
The "Teen Mom 2" reunion special — taped last week in LA but not set to air until next month — could easily have been mistaken for an episode of "The Jerry Springer Show," audience members tell The Post.
The special, hosted by Dr. Drew Pinsky, was filled with the trash-talking blowups and accusations of infidelity that viewers have come to expect from the hit MTV series about the difficulties teens have raising the babies they had, in most cases, while still in high school.
Among the revelations that came out of the grueling, 12-hour taping:
"They were talking about how they weren't together for a while, and they hadn't had sex in a long time," says The Ashley of 
TheAshleysRealityRoundup.com.
"All of a sudden, Jo says, 'Why didn't you tell me you had a new boyfriend when you were half naked in my bed?'
"Then Kailyn comes back with, 'But you slept with a 25-year-old while I was pregnant!'
"Dr. Drew and Jo's mom were like, 'Let's not talk about that.' They shut them up real quick."
The couple shares custody of son Isaac, but Kailyn refuses to tell her ex where she lives.
"She has her own apartment, which got funded through some single mom program," The Ashley says.
"Dr. Drew even says, 'Don't you think it would help if he knew where his son is living?' And she was like, 'Nope! Not gonna happen.' "
Last week, Rivera was arrested in rural Pennsylvania for being under the influence of marijuana.
* Teen troublemaker Jenelle Evans learned while in LA that boyfriend Kieffer Delp had cheated on her the night before back in North Carolina.
"Dr. Drew goes into great detail about Kieffer and the stuff he does.
"He's homeless. He does drugs. And he sold her out. He talked to OK magazine while they were still together and got a big check for talking about Jenelle's baby daddy."
Jenelle, who is still fighting mother Barbara to get back custody of her 1-year-old son, also stunned the audience by revealing that she smokes pot almost every day.
"She talked about how she will go drive for an hour and smoke and come back," The Ashley says. "At one point, she stormed off the stage and was like, 'I need to smoke.' "
Jenelle's mother Barbara "looked very grumpy," according to The Ashley. "Even when the cameras aren't rolling they are very volatile and argumentative."
* Newlyweds Corey Simms and Leah Messer did their best to get out of discussing baby Ali's still-undiagnosed health problems.
"She asked the producers several times off camera if there was any way that she didn't have to discuss Ali, and they said, 'You have to, because it is on the show.'"
* It's unlikely TV viewers will see Dr. Drew dropping several F bombs while talking about teen mom Chelsea Houska and her boyfriend Adam Lind.
"I think he was just trying to stir things up and get people more uncomfortable. He was like, 'So, Adam, you were living rent free with Chelsea? You pretty much f- – -ed that up, huh?'"
"I would never expect him to do that," said The Ashley.
****
Don't forget to tell all your friends about The Roundup! They need entertainment too!!! 🙂