After watching this week's episode of Teen Mom 2, The Ashley feels the need to speak out about something that bothered her. (No, it wasn't Chelsea whining to her dad about how she's too busy making out with Adam to finish high school, but that irked me too.)
The Ashley felt so, so bad for poor Kailyn this week. This chick is one of the few Teen Moms that actually seems to have drive, motivation and a good head on her shoulders, despite the crappy life she's been dealt. Her mom's got an abusive boyfriend (I'm assuming, being that she tried to file  for a protection order against him back in January.) Her mother, with her fidgeting and semi-slurring is just one big trailer park mess who has problems with alcohol and her anger.
Then there's ex-boyfriend and baby-daddy Jo (otherwise known as Smokey Jo after being arrested for being high on the Mary Jane a few weeks ago. You can read all about that here. And by the way, The Ashley told you about this long before E!, MSNBC and OK! Magazine did.)
Anyway, Jo treats Kailyn like crap because he's obviously still in love with her, despite the fact that she's ready to move on. Kailyn is smart; she sees that being around Jo means that she will do nothing but fight with him around her son and she's trying to prevent that. However, Jo doesn't want to let her go so he acts like a total crap-nugget to her, cussing her out and treating her like a leper at home.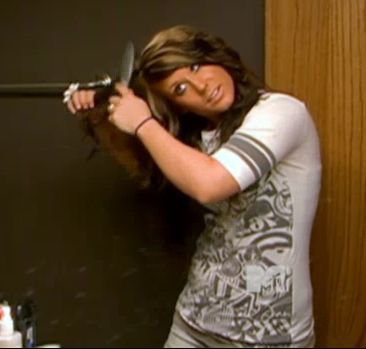 Kailyn is one of the few Teen Moms that seems to be willing to work hard and sacrifice to better her child and herself. A lot of these girls are too lazy to get off their ass and actually put in some hard work to get stuff accomplished, but not Kailyn. She wants to move out of Jo's house so she gets TWO jobs (in addition to going to school) so she can save money.(Most of these girls won't even get one job and instead just mooch off of their parents.)
Kailyn's hard work is commendable. The Ashley worked full-time while going to college and it was hell. She can't even imagine adding a second job and a baby to the mix. Kailyn's awesome.
The whole time, everyone's telling her that she won't be able to hack it on her own, which just seems to light the fire under her to prove them wrong.
Of course, her story line is not nearly as interesting as Jenelle's or even Leah's, so The Ashley rarely talks about her. But she felt to need to clear this up. Kailyn is an amazing girl. I haven't seen someone with her drive in a long time, especially not someone that's on a crappy MTV reality show.
Keep it up, girl. And don't listen to your two-bit hooker mom or your jealous ex-boyfriend or anyone else that tells you that you can't do it.
At the finale, The Ashley was very impressed with Kailyn's drive, as well as the fact that she wanted to bring up birth control options while on camera to help educate viewers. Very cool.