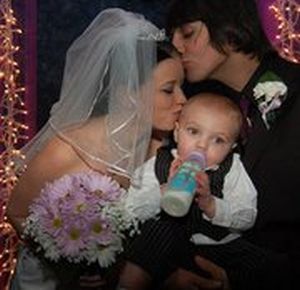 From 16 & Pregnant to 17 & Married…..(I think it's supposed to go the other way though, no?)
Megan McConnell and Nathan Stone from the last season of 16 & Pregnant have tied the knot.
This should work out well for them….just ask fellow 16 & Pregnant alums Aubrey and Christinna how their marriages are doing. (I know, I'm mean and I suck. Oh well.)
If you can't remember who the hell these people are (can't blame you, there's a lot of them to keep track of), The Ashley is happy to refresh your memory. Megan was the girl that had blond and pink hair and had the dad and sister that were in the military and came back from overseas to hear the joyous news that their (painfully immature) daughter/sister was knocked up by Nathan, a video-game obsessed loser with spider bite piercings, a bad attitude and no job. (Unless you count playing Rock Band2 as a career.)
Megan's mom let Nathan and his complete video game console collection move in with them. (Always a good idea.) Megan eventually gave birth to baby Blake.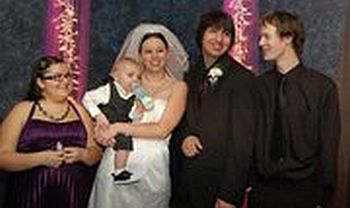 ANYWAY, so they got hitched this week. (I'd love to look at their wedding registry. It probably includes things such as Manic Panic hair dye, Call of Duty 2 and other assorted video games, oh…and maybe a frying pan or something.)
They filed for their marriage license on February 24 in Colorado.
The Ashley hopes for the best for the newlyweds, particularly for Baby Blakes' sake. Nathan seemed like a real winner, so if Megan tolerates him long enough to celebrate their one-year anniversary, The Ashley would be surprised.
The Ashley was able to snag a few of the couple's wedding photos. Enjoy!