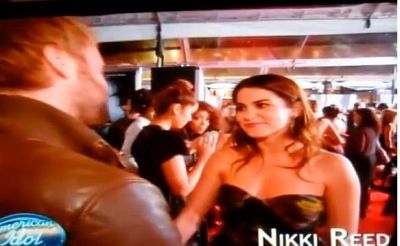 This season's crop of American Idol contestants have experienced a phenomena never before seen on any other season of the show. When you get kicked off, you get a celebrity boyfriend or girlfriend!
Of course, this isn't true of all the 'Idol' rejects (sorry, Ashton.) However, two of the eliminated contestants have already snagged themselves a Hollywood-style romance.
Paul McDonald confirmed in his official eliminated contestant conference call that, yes, the rumors are true, he is dating Twilight's Nikki Reid. (I'm not a Twihard, so I know her as the chick from that movie "13," which scared the hell out of me and made me never want to have kids.)
"Yes, Nikki Reed and me are dating.  It's officially true," he said on the phone call. "Yes.  I mean, yes, she's super cool man; she's a super smart and a really cool girl, so I'm happy with it.  We've been hanging out here and there, you know we're both pretty busy, but it's been fun so far."
Snort. Haha, I'm sure it has, Paul!
The two met at the " Red Riding Hood" premiere.
Paul's not the only 'Idol' to find themselves a celebrity to date. Pia Toscano is reportedly dating Dancing With the Stars' Mark Ballas.
"We both film at CBS so we would bump into each other, and you know, he's just a really sweet guy," Pia told Access Hollywood Live  last Thursday.
Bump into each other, huh? Is that what they're calling it these days?
Anyway, the couple is already making big steps in their relationship. Tonight, Pia will sing "I'll Stand by You" while Mark performs with fellow dance pro Karina Smirnoff.
And that's not all! The rumor is that Pia reportedly also spent Easter with Mark at his mother's house! It sounds like they're much more than friends if they're already dying Easter eggs together!  (Here's another article about their relationship in case you care!)
Normally "Idol" contestants have to wait until after they have a career before they get a celebrity significant other. These Season 10-ers are certainly lucky! I wouldn't be surprised if Casey Abrams managed to snag himself a starlet as well. Girls in Hollywood love furry-faced men!  Or maybe Scotty will get a shot at dating Lindsay Lohan? (Or should I say will need to get a shot after dating Lindsay Lohan?)