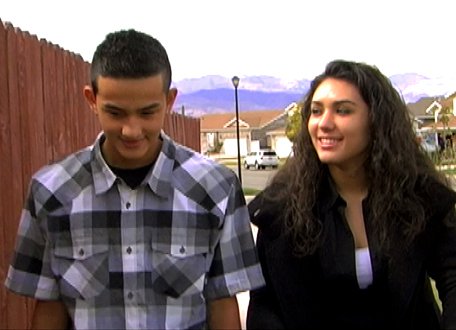 16 & Pregnant Season 3 stars Izabella & Jairo (you know, the ones from last week's episode) are now engaged!
The Ashley is happy for the couple. She's been meaning to go on here and express her love for Jairo as a boyfriend and father. Of all the baby-daddies featured on this season of the show, Jairo is one of the only ones that didn't crawl out of the sewer and act like a general crap goblin to his baby's mother. (The other ones being Jordan Ward's husband Brian and Kayla's boyfriend Mike.)
The Ashley wanted to hug Jairo during some parts of Izabella's episode. He seemed like a really good guy. He stuck by Izabella, took care of his responsibilites and, sure, he lied about being in school but he confessed and seemed like a stand-up guy. So Jairo made The Ashley's "Nice" list.
Anyway, Izabella and Jairo know they have the odds stacked against them in regards to this marriage. Teen marriages in general have pretty crappy odds of making it forever…not to mention the "16 & P Curse." Couples that have previously appeared on this show and then gotten married are notorious for splitting up (see Corey & Leah, Christinna & Isiah, Aubree & Brandon, etc. etc.)
The Ashley hopes that Izabella and Jairo will beat "The Curse" and make it! The seem to have supportive families and both of them seem relatively drama-free (which is good in a relationship but bad in an MTV show! Their episode was kind of boring, no?)
Good luck! I hope MTV pays for their wedding so we all get to watch "A Very Special 16 & Pregnant Wedding."