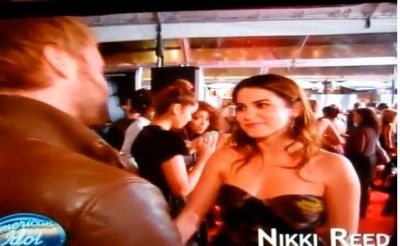 Wow…that was fast! Paul McDonald and actress Nikki Reid are engaged!
I guess if you're a finalist from American Idol who is slowing fading back into obscurity the best thing to do is to find an actress that's super popular right now and get your marriage on!
Or maybe they love each other and want to be together forever…whatever.
According to a story posted on E! Online, Nikki  was wearing a ginormous engagement ring while she walked the red carpet of the MTV Movie Awards with Old McDonald. According to the article,
"I asked her whether she thinks she and her man Paul McDonald will wed. And she had an answer ready. 'He's the one,' she said.  A source confirms that the two are, indeed, engaged."
Anyway, these two have known each other since, what, March?! I think a 16 & Pregnant marriage has a better chance of making it than Paul and Nikki do.
Another question: isn't Paul kind of…um, broke? How the hell did he pay for the giant engagement ring? Maybe he had to sell one of his prized rhinestone cowboy suits?!? (Not the white one, let's hope!)
Still hoping for a Scotty McCreery/Lauren Aliana romance!