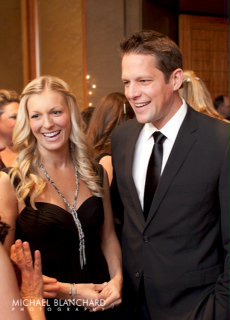 They may not have been chosen the first time they attempted to find love with a Bachelor/Bachelorette castmate, but the second time was the charm for Chris Lambton and Peyton Wright. The pair announced their engagement last week!
Most likely, you best remember Chris as "Chris L." from Ali Fedotowsky's season of the "Bachelorette." Women all over America fell in love with Chris after Ali dumped him in favor of Latin Lover Roberto. Everyone was hoping that he would be chosen as the next Bachelor. However, he declined and instead we got "Second Time's Not the Charm" Brad Womack.
The Ashley told you  a while back why Chris declined to be the Bachelor. He was already dating someone– former 'Bachelor' contestant, Peyton Wright. Peyton was rejected by Bachelor Andy Baldwin a few years back, then appeared on last summer's Bachelor Pad. (Who could forget the way Jesse Beck 'charmed' Peyton by belching and picking her nose on their date?) Luckily, things didn't work out for Peyton and Jesse so she decided to give Chris L. a chance!
"I'm a very lucky man," he told the Cape Code Times. "I met her by chance… and ever since I met her I knew I wanted her in my life."
The couple met at a charity function in North Carolina through a mutual friend ($100 it was someone from the show!)
There are no wedding plans yet; right now the couple is just enjoying their engagement, Chris said, although he said it will definitely not be before December. They recently did an interview with US Weekly.
Will Ali and Roberto be invited? How about Peyton's 'Bachelor Pad' beau, Jesse Beck (who got married last month to a non-'Bachelor' woman!) Probably not. But I'd expect that wedding to be a who's who of the show's past contestants!
Here's a cool video shot by a reporter from the Cape Cod Times right after Chris asked Peyton to marry him!