Recognize this little angel, seen here at about 9 years old in her Catholic school photo? These days, this little girl is all grown up and is definitely a hell-raiser among her group of um…friends. She's also a tabloid darling, being featured in practically every page of the gossip rags each week.
Can you guess who this little girl grew up to be?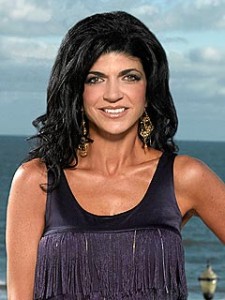 It's Teresa Giudice from The Real Housewives of New Jersey! These days Teresa is very busy writing books, fighting with her castmates and Jersey-ing up the country. She's also the mother of four kids.
She obviously thinks a lot of herself, judging by the biography found on her official website, Fabulicious! (Yes, that's actually what the site is called and, yes, it did hurt me a little to type that.)
(Photos: Perezhilton.com; People)