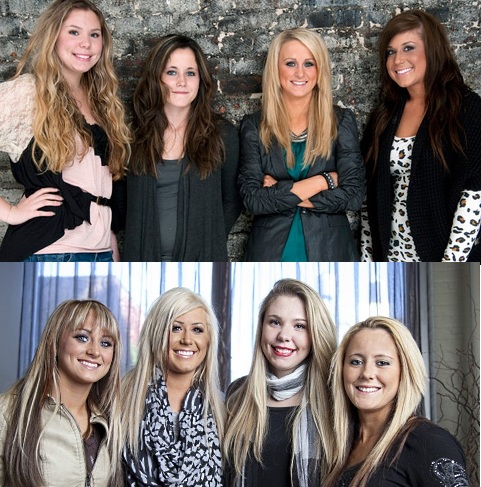 Teen Mom 2 fans rejoice! We will finally have something exciting to watch on Tuesday nights again! The second season of 'Teen Mom 2' starts next Tuesday, December 6 and a lot has happened since we last saw Jenelle, Kail, Leah and Chelsea at the Season 1 reunion. (Catch up with what happened behind-the-scenes at that reunion with The Ashley's post here.)
Anyway, MTV is running a "Catch Up" special tomorrow to help us remember where we left off with the girls, but The Ashley has decided that she can probably do a better job (at least, a more realistic job) of telling you what's happened with the girls since Season 1. The girls are currently filming Season 3 of the show, so some of these updates won't be shown until then. However, The Ashley will try to keep the updates to stuff you'll see this season.
Warning: this post may contain Season 2 spoilers, but if you're a regular Roundup reader, you probably already know most of this. It will also contain a lot of story links. One could say that this post will be a  'link-a-polooza!'
Leah Messer:
When we last left off with Leah, she had just married her baby-daddy, Corey. The two had a beautiful fall wedding in October 2010, complete with daughters Ali and Aleeah as flowergirls. At the reunion, the two seemed to be working through their previous issues and acted like they were really in love.
Obviously, things have changed for Leah Messer since then.
In April, just six months after their wedding, Leah filed for divorce from Corey. There has been a lot of debate as to why the two decided to divorce, including everything from domestic violence to cheating to Corey spending all of Leah's money on a new truck. We will have to wait and see what really happened between them.
After the two split, both Leah and Corey dated multiple people. Corey was seen romancing another teen mom, Amber Scaggs, around Easter, as well as several other girls. Leah was less than pleased to hear that Corey had moved on so quickly, and made sure everyone on her Twitter knew it!
As for Leah, she dated local boy Dusty Haas this summer, but the relationship ended quickly. She has since gotten into a serious relationship with Jeremy Calvert. In fact, she's currently living with Jeremy in a house they rented together in West Virginia! Corey, on the other hand, is rumored to be dating a local girl, but that's unconfirmed. The Ashley can confirm, however, that he is still in love with his camoflauge hat (and in the end, isn't that all that really matters?)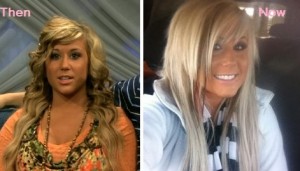 Chelsea Houska:
When we last saw Chelsea at the Season 1 reunion, she was trying to make it work (again!) with her baby-daddy Adam. Viewers were shocked to see that Chelsea had once again gone back to Adam, despite the fact that she had vowed to "quit" him during Season 1. Adam continued to be quite the catch, with his white trash trucker hats and general bad attitude towards everyone, especially Chelsea.
After the reunion taping, Chelsea and Adam broke up (again!) and it seemed that Chelsea had come to her senses. However, throughout the year, Chelsea has continued to be hooked on Adam. (They are like Amber and Gary 2.0, yes?)
Chelsea's look-a-like best friend, Megan, had a baby  since we last saw her, storming out of the apartment she shared with Chelsea and moochy Adam. Chelsea and Megan had a big argument via Twitter during the summer, after Chelsea allegedly said some mean things about Megan's baby (however, this is unconfirmed).
There's not much else going on with Chelsea. We can pretty much sum up her storyline in three words: hair, Adam and Aubree (who continues to get cuter and cuter every day. The Ashley hopes if she ever procreates, her spawn is as cute as Aubree!)
Speaking of hair, Chelsea's hair (er…extensions) has gone through a metamorphosis since we last saw her. From the creepy mermaid looks she was sporting at the Season 1 reunion to brown-and-blond to long blonde extensions, her hair has changed so much that she really needs to wear a name tag so that we can recognize her.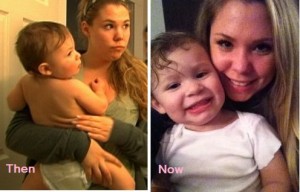 Kail Lowry:
When we last saw Kail she was dating Jordan and the two had a seemingly sturdy relationship. Her relationship with her baby-daddy, Jo, however, was strained at best, with the two shouting at each other at the reunion about cheating and post-breakup sex (much of that didn't make it on the show though!)
Anyway, since the reunion, Kail and Jordan have had their share of ups and downs, breaking up and making up several times, which I believe we will see in the upcoming season. During one of the breakups, Kail dated 17-year-old Mike Lush for a short time. (The kid also hit on Jenelle and Nikkole  of '16 & Pregnant' Season 2. I think that qualifies him as a fame-hungry creeper.)
She has quit working at Sports Authority, which is where she met Jordan, and now works at the Buckle, a clothing store. (I've never heard of this place, it must be an East Coast thing?) She's also still in school, working on a major and a minor.
She continues to have a strained relationship with her mother and doesn't talk to her father (who she met during her 16 & Pregnant episode). However, she has recently gotten in touch and developed relationships with her half-sisters in Texas.
Her relationship with Jo, though still strained at times, has also gotten better since the reunion. They have a custody arrangement that both seem happy with (Jo has Isaac several weekends a month). Since we last saw him, Jo has become a rapper. As you do.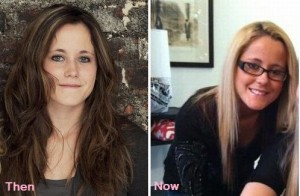 Jenelle Evans:
Oh, Jenelle. You've kept me busy over the last six months, writing about your antics. From fights, arrests and loser boyfriends to having a mom who is just too precious for words, you really are the gift that keeps on giving.
Anyway, when we last saw Jenelle, she had just split with her moocher boyfriend, Creepy Kieffer. She was also having a hard time being in the same room as her mother, Barbara, who called her "unlovable" at the Season 1 reunion. Jenelle and Kieffer had gotten into some trouble at the end of last season for breaking and entering. (Those charges were later dismissed, but she still had marijuana charges to deal with.)
After that arrest, Jenelle was sentenced to probation and community service. Things seemed to be getting better for Jenelle, until she let her anger get the best of her and she beat the beJesus out of her friend, Brittney. The tape of the fight ended up on TMZ (naturally) and it led to Jenelle and a few other girls being arrested. Again. That lead to more court hearings, probation, etc. Most of this legal stuff was filmed for 'Teen Mom 2,' so we will likely see it on the upcoming season.
In May, Jenelle went to California to attend 45 days of rehab. (No word on if that will be part of the show; however some of Amber Portwood's stint in rehab this summer was captured on film, so there's a chance we will see Jenelle's as well.) After returning from rehab, Jenelle was doing well until photos of her smoking the wacky tobaccy ended up on TMZ in July, proving that she had violated her probation. She also tested positive for drugs that month, causing some to think she would be facing some serious jail time. (It turns out she's not, as long as she doesn't violate her probation again.)
Jenelle continued to see Creepy Kieffer as well, despite telling him "F*** You!" during the Season 1 reunion. Their relationship finally ended and Kieffer was sent to jail for various charges. (He's currently chilling in a North Carolina jail!)
There's so much more, but it's not possible to update on everything!
Be sure to watch the Season 2 trailer to see what we can expect to see during the second season of 'Teen Mom 2!'