It's Bachelor time again! Forget cleaning, going out with friends or doing something respectable on Monday nights; from now until the day 'Bachelor' Ben drops to his knobby knee and nervously asked some giggly, fame-hungry girl to be his wife, consider The Ashley's Mondays booked!
In honor of the new season starting tonight (click here to read all about the new gals), The Ashley decided to find out what's happened to the other guys who once handed out red roses as 'The Bachelor.' We all know that none of the couples that met on the show are still together, but what are these people up to today? The Ashley investigated…..
Alex Michel (Season 1):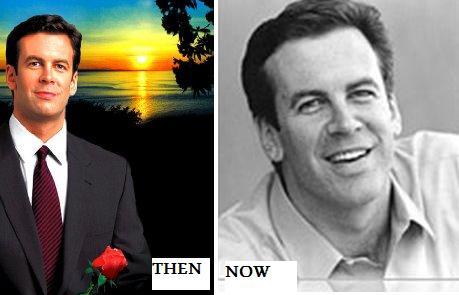 THEN: In 2002, management consultant Alex Michel became the first ever 'Bachelor.' He chose youngin' Amanda Marsh over Trista Rehn (who would go on to become the first 'Bachelorette' and one half of the sickening sweet 'Bachelor' success couple, Trista and Ryan.)
TODAY:After dating Amanda for a year (he didn't propose), the couple broke up. Afterwards, Alex tried to get his foot further into the entertainment door, doing various appearances and reality TV commentary. After that fell flat, Alex became a spokesman for (take a guess) Match.com and is now a relationship expert and spokesperson for Princess Cruises. Here's a good interview in which Alex talks about how he got on the 'Bachelor' and what it was like. As far as I can tell, he is still not married (but is in a serious relationship).
Aaron Buerge (Season 2):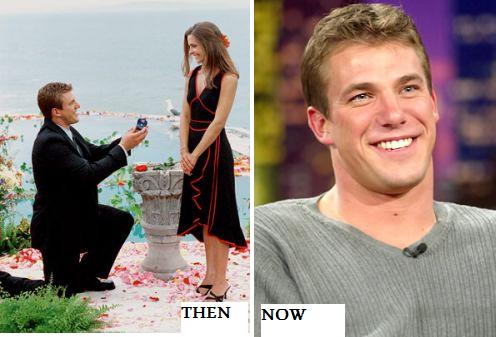 THEN: Banker Aaron became the second 'Bachelor' in 2002. He chose Helene Eksterowicz at the end of his season and proposed. However, they only lasted a few weeks.
TODAY: Aaron is now married to a woman named Angye, who he met in a sports bar in his hometown of Missouri. The couple married in 2009 and now have a two-year-old daughter.
While his home life seems to be going well, things are um…less than rosy for Aaron financially. In early 2011, Aaron filed for personal bankruptcy after a loan he got for his chain of "Trolley" restaurants went kaput. In February his debt was listed as $9.3 million, however, according to this article, he is in control of the situation and working it off.
Andrew Firestone (Season 3):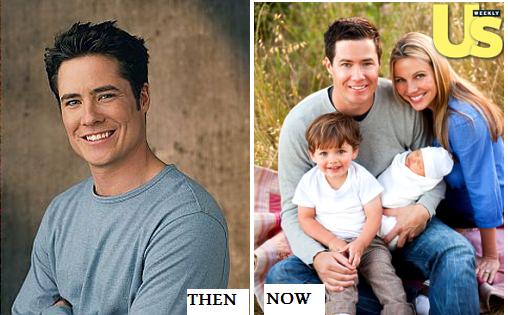 THEN: Andrew was the perfect choice to become 'The Bachelor.' He was in the family wine banking business and was the total package: smart, good-looking and rich. (Yes, he a "Firestone" as in Firestone Tires!) He chose Jen Schefft to be his wife at the end of Season 3; however the couple broke up after dating less than a year.
TODAY: After 'The Bachelor,' Andrew continued to run his family's winery in California. He also appeared on various reality TV shows (including <groan> 'Flava of Love' and VH1's 'Charm School'). He also hosted a show called 'Billionaires Car Club' in 2008, which was basically about being super rich and having super-expensive cars.
In 2008, he married model Ivana Bozilovic (naturally, there was a multi-page 'Wedding Exclusive' spread in US Weekly magazine.) Every time these two pop out another kid (they currently have two), they get another magazine spread.
Bob Guiney(Season 4):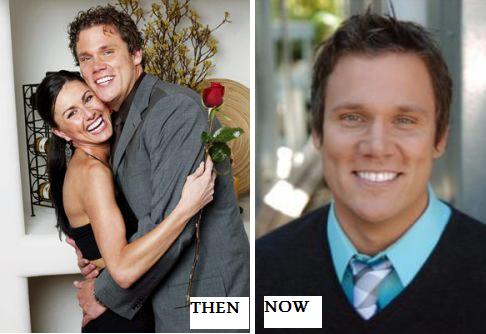 THEN: After being rejected by Meredith Phillips on 'The Bachelorette,' fan favorite Bob became the fourth 'Bachelor' in 2003. He chose Estella Gardinier to be his wife, however, the couple didn't last long. (He attended Trista and Ryan's wedding, ironically.)
TODAY: Bob has been one of the most successful 'Bachelor' stars to date. He published a  book, What a Difference a Year Makes: How Life's Unexpected Setbacks Can Lead to Unexpected Joy, (say that five times fast) in 2003. He met soap actress star Rebecca Budig and married her in 2004. (They split in 2010 after six years of marriage, which is kind of like 50 years in Hollywood.)
Bob currently plays in "The Band From TV" which is made up of former TV and reality TV stars. He is the host of the TLC show 'Date My House.' He is also going to be hosting a show for ABC called 'Worst Audition Ever' in 2012.
Jesse Palmer (Season 5):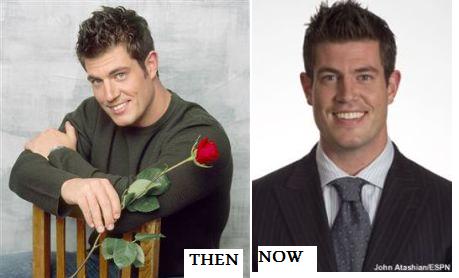 THEN: Jesse was known for playing for several seasons as an NFL quarterback before he was cast as the fifth 'Bachelor' in 2004. He chose Jessica Bowlin (who at the time knew some of the same people that The Ashley knew…weird.) They split almost immediately.
TODAY: After being cut from the New York Giants in 2005, Jesse went to the Canadian Football League, which he retired from in 2007. Jesse is now a sports commentater for college football for ESPN. (The Husband watches these shows and The Ashley always yells "It's the Bachelor!!!" whenever Jesse appears on the screen. The Husband is not fond of this.)
Anyway, it appears that Jesse is still single, although it's hard to tell since he is an incredibly private person (he has even protected his tweets on the Twitter!)
Byron Velvick (Season 6):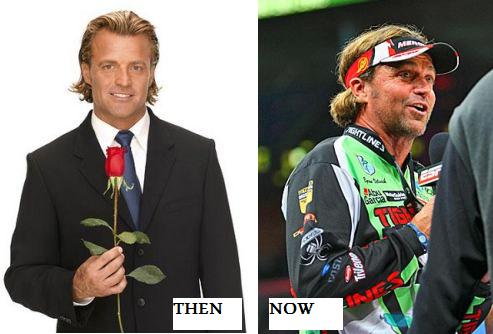 THEN: Season 6 was the season when producers of the show decided that 'The Bachelor' needed to appeal to the older generations and become "more mature." They cast pro bass fisherman and 40-year-old divorcee Byron Velvick to be 'The Bachelor' to be the seasoned 'Bachelor.'  He ended up proposing to Mary Delgado
TODAY: Although Byron's relationship with Mary lasted longer than most 'Bachelor' relationships, it was plagued with weird, violent incidents. In November 2007, Mary was arrested for battery after drunkenly beating up Byron after they taped a segment for a 'Bachelor' reunion show. They broke up in 2009.
These days, Byron is still fishing and appears on various fishing TV shows. He runs (and lives in) a waterfront resort in Lake Amistad in Texas. He had spinal surgery in 2010 but is now ready to fish professionally for the 2012 season.
Charlie O'Connell (Season 7):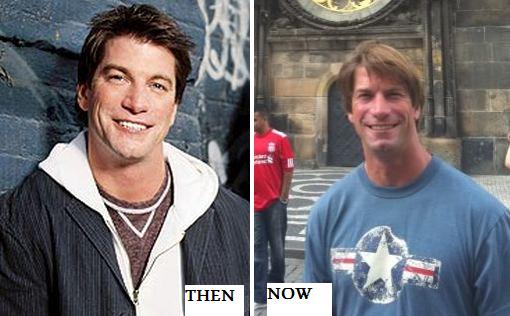 THEN: Charlie is the brother of movie star Jerry O'Connell and was cast as the seventh 'Bachelor' in 2005. He chose Sarah Brice to be his wife and the couple lasted until 2007, splitting after two years (his drinking problem was said to be one of the main reasons for the split.) They got back together in late 2008, only to break up again in 2010.
TODAY: Charlie is still sober, and is now about to star in a horror adaption of "The Three Little Pigs." (You can read more about the movie here.) He is still single.
Dr. Travis Stork (Season 8):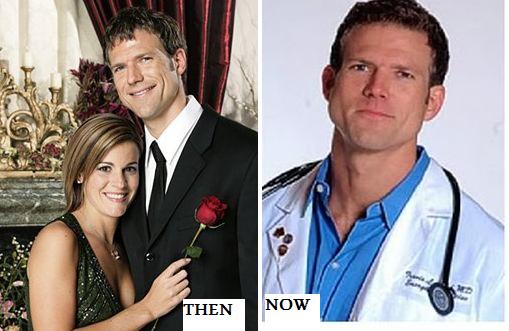 THEN: Travis was working as an emergency room doctor when he was cast as 'The Bachelor' in 2006. He chose Sarah Stone at the end of his season (but did not propose). She was a teacher who lived only a few blocks from Travis' house. They ended up breaking up shortly after the show.
TODAY: Travis is in high demand these days, starring as the lead doctor on the ABC show "The Doctors." He and three other doctors discuss health issues and answer questions from the audience about health stuff. He makes the old ladies from Indiana swoon on a daily basis while discussing bowel movements and hernias. He is also the spokesperson for Simply Saline nose spray.
He has a house in Nashville and became engaged to Charlotte Brown, a doctor from Nashville, in May 2011.
Prince Lorenzo Borghese (Season 9):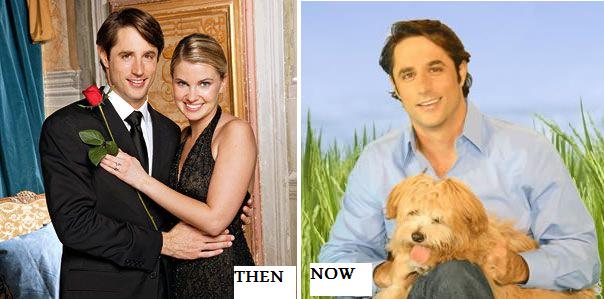 THEN: In The Ashley's opinion, Season 9 of 'The Bachelor' was pretty much a joke. They found a guy that was supposed to be an Italian prince, but actually lived most of his life in New Jersey, but, hey, a prince is a prince. He ended up choosing Jennifer Wilson during the finale, but did not propose. They broke up after a few months.
TODAY: Today, the "Prince" lives in New York City and is the owner of Royal Treatment Italian Pet Spa, a high-end bath, body and skin care line for pets. He also runs a pet shopping site called the Royal Pet Club. He also helps run the family television production company. In 2010, he released a fiction book called The Princess of Nowhere, which is supposedly based off of his family's royal history.
He is rumored to be dating socialite Anna Rothschild. (They threw a huge New Years Eve party a few days ago for the chic and sassy in New York.) This isn't confirmed, however, but honestly, who even cares at this point? He should have chosen Erica Rose.
Dr. Andy Baldwin (Season 9):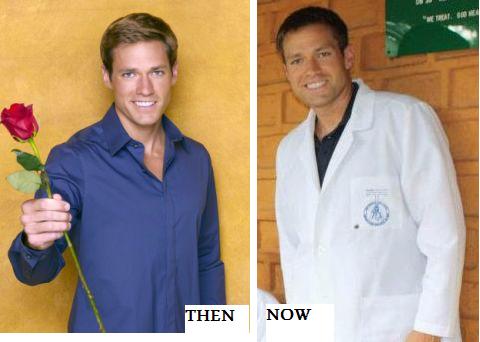 THEN: Andy was The Ashley's favorite 'Bachelor' ever. He was super hot, very smart and was U.S. Naval doctor. (Not to mention that his body was absolutely perfect, thanks to being an Ironman triathlete.) Andy ended up choosing Tessa Horst to be his wife; however they called off their engagement shortly after the show aired but continued to date. They broke up in late 2007 after about six months together.
TODAY: Andy is all about doing good things. He goes to impoverished countries and helps deliver babies, and is the founder of a the Got Your Back Network, a charity that helps the children of fallen soldiers.
He is also a doctor at Camp Pendleton in San Diego in his "free time," you know, when he's not saving babies and running marathons and stuff. He dated 'Dancing With the Stars' dancer Karina Smirnoff in 2008, but is single now (as far as I know.)
Brad Womack(Seasons 11 &15):
THEN: Brad became America's Jerk after he ditched both DeAnna Pappas and Jenni Croft during the finale of Season 11. He ended up going home alone and hated.
TODAY: After being brought back again for Season 15, Brad once again failed to find lasting love. He chose fan favorite Emily Maynard and the couple lasted a few months, splitting in June 2011. Apparently, Brad is still pining for his former fiance, Emily.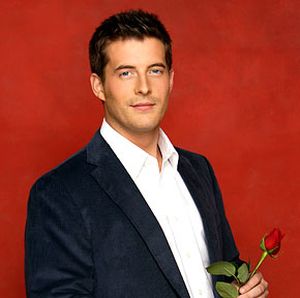 Matt Grant (Season 12):
THEN: Matt was an Englishman transplanted to Los Angeles to become the 12th 'Bachelor' in 2008. He ended up choosing Shayne Lamas, the daughter of actor Lorenzo Lamas. Audiences all over America screamed when he cut poor Chelsea in favor of the obvious fame-seeking Shayne. Not surprisingly, Matt and Shayne broke up as soon as Shayne soaked up all of the publicity she could from the relationship.
TODAY: Matt's attempts to have a Hollywood career after his stint on 'The Bachelor' have fallen flat. He's now working as a photographer in Hollywood, taking photos of premieres and celebrities. He is still single, however in October 2011 he began dating 'Bachelor Pad' winner Natalie Getz, although I'm pretty sure that's over by now.
As for Shayne, she is still a famewhore. (See Exhibit A.)
Jason Mesnick (Season 13):
THEN: Single dad Jason was cast as 'The Bachelor' in 2009 after he was rejected by 'Bachelorette' Jillian Harris. He was responsible for one of the best moments in 'Bachelor' history when, during the After the Final Rose Ceremony, he announced that he had changed his mind and didn't want to be with Melissa Rycroft, the girl he chose during the show's finale. He told Melissa on-air that he really wanted to be with runner-up Molly Malaney!
TODAY: Jason ended up marrying Molly in 2010 (click here for details of their wedding). They live in Seattle with Jason's son, Ty, from a previous relationship. He runs a website called Jason's Place for single parents. Currently, they are one of only three 'Bachelor' related couples that are still together.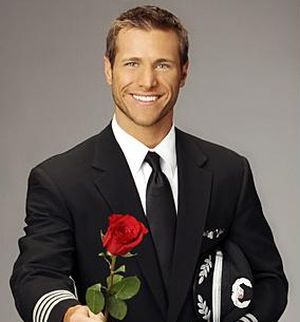 Jake Pavelka (Season 14):
THEN: Jake's "On the Wings of Love" was HIGH-lariously cheesy and one of my favorites. It was filled with drama, fake tears and plenty of Vienna Girardi bashing. He ended up choosing Vienna over America's Sweetheart Tenley at the finale, proposing to her in lavish fanfare. However, 'Bachelor' fans got to watch it all come crashing down when, after their break up in June 2010, the couple had an on-air screaming match in what can be considered "A Very Special Bachelor" episode.
TODAY: After appearing on 'Dancing With the Stars," Jake has continued to stay in the limelight, appearing on whatever reality TV show would take him, including 'Bachelor Pad,' (with Vienna!), 'H8R' and 'Famous Food.' He also appeared on a few episodes of 'The Bold and the Beautiful' as a pilot. Something tells me we have not seen the last of Jake on our television screens.
As for his love life, Jake is currently seeing a brunette named Ashley Ann Vickers.