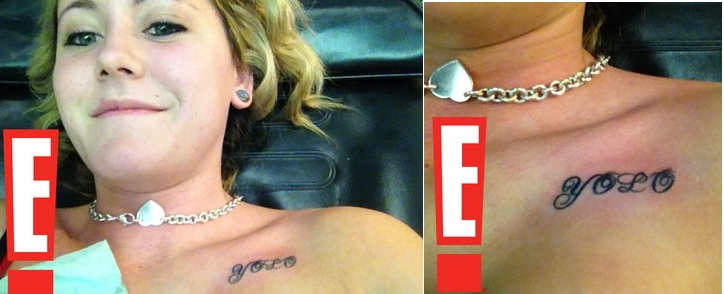 Faithful Roundup readers know that nothing makes The Ashley happier than making fun of bad tattoos, especially if those bad tattoos reside on the bodies of celebrities! For some reason, the stars of the shows Teen Mom and Teen Mom 2 seem to be repeat offenders when it comes to getting bad tattoos!
Who could forget this monstrosity? Or this one?
Jenelle Evans (along with her boyfriend Gary Head) recently got matching tattoos. According to E! Online (and the photo above) Jenelle had "YOLO" tattooed on her collar bone. (Gary had the same tattoo inked onto his Adam's Apple.)
For everyone who is old like me, "YOLO" is from a Drake song and it stands for "You Only Live Once." Yes, I had to Google it. (Shouldn't there be periods in between the letters? Sorry, that's the editor in me speaking!)
The Ashley finds the collar bone a very strange place for someone to get a tattoo (however, as stated above, I'm old, so maybe this is what all the cool kids are doing?) A tattoo placed there would be very hard to hide if you were going on an interview, or if you are trying to look fancy. Plus, do you really want to be staring at a reference to a Drake song for the rest of your life? In 20 years, no one will know who the heck Drake was, but chances are everyone will still be asking Jenelle who the hell "Yolo" is.
Fellow 'Teen Mom 2' star Kail Lowry got a tattoo on her collarbone last year and has since stated that she regrets getting it and wants to have it removed.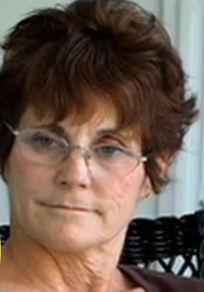 Before ya'll get mad and say that The Ashley hates tattoos, etc., let me just state that this is not the case at all. (I actually think they can be very sexy, especially on hot rocker boys!)
I just think getting tattoos based on current pop culture in very conspicuous locations is a bad idea. But, hey, to each their own. I'd rather see Jenelle making bad tattoo decisions than life decisions that result in her going to court!
She seems to be turning her life around.
"No more drama and no more drugs," her manager told E! in the interview. "Jenelle is focusing on [son] Jace, school and her man, Gary."
(Photos: E! Online)