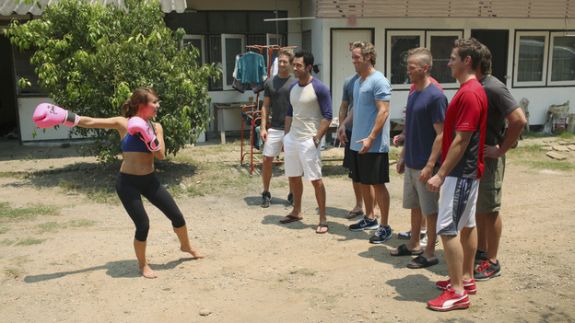 Every year around this time, television actors and producers hold their breaths to see if their shows will survive what The Ashley affectionately calls "The Big Hack," in which the networks decide which shows get canceled and which ones get renewed.
Of course, The Ashley only cares about the fate of her favorite crappy reality shows. If all of them get canceled she's going to have to go out and get herself a life.
Luckily, it seems that most of the reality shows that we love have been renewed for another season. To make it easier for you, The Ashley has compiled this handy-dandy list of shows and their fates.
The Ashley took the liberty of adding in some of the other shows that didn't appear on the "Big 4" lists. If you'd like to see what's happening to all of your favorite non-reality shows, click here.
Here's how our other favorite crappy shows fared:
16 & Pregnant: At least one more season
19 Kids & Counting: Renewed
American Idol: Renewed
America's Next Top Model: Renewed (Just let it die, Tyra!)
The Amazing Race: Renewed
The Bachelor: Renewed
The Bachelorette: Renewed
Bachelor Pad: At least one more season
Bayou Billionaires: Renewed
The Biggest Loser: At least one more season
Braxton Family Values: At least one more season
Celebrity Apprentice: Renewed
Celebrity Wife Swap: Renewed
Dancing With the Stars: Renewed
Downsized: Canceled (Read about that here!)
MTV's The Challenge: At least one more season
Extreme Makeover: Home Edition: Canceled
Face Off: Renewed
Fashion Star:Renewed
Hell's Kitchen: At least three more seasons
Jersey Shore: Renewed
Kitchen Nightmares: Renewed
Long Island Medium: Renewed
Mob Wives: Renewed
Real World: Renewed
Shark Tank: Renewed (YES! Anyone else love this show as much as I do?!)
Shipping Wars: Renewed
The Singing Bee: Renewed
Sister Wives: At least one more season (currently airing)
Survivor: Renewed
Teen Mom: Canceled, final season premieres June 12
Teen Mom 2: At least two more seasons
Top Chef: Renewed
Undercover Boss: Renewed
The Voice: Renewed
The X-Factor: Renewed
(Photo: ABC)