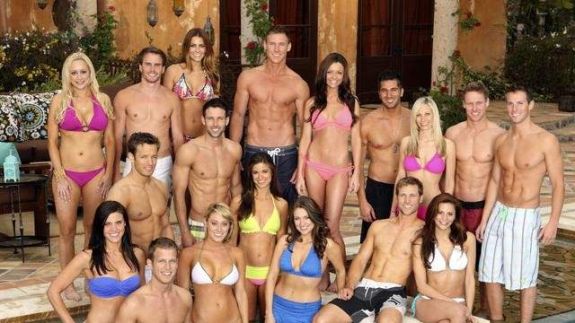 Bachelor Pad is back, which means for the next six-or-so weeks, your Monday nights will be filled with ridiculous D-list celebrity drama, crocodile tears and watching people skank it up on the tele! (Unless, of course, you actually have a life, in which case we don't want your kind over here!)
Anyway, while watching this season's contestants splash around in the STD-filled pool, The Ashley began to wonder whatever happened to the people that appeared on 'Bachelor Pad' last season? We know that Michael Stagliano and Erica Rose are once again back on the show for another shot at money/fame/public disgrace, but what became of the other standout cast members of 'Bachelor Pad 2?'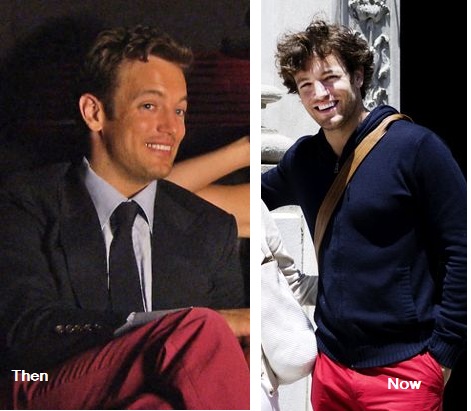 Ames Brown: Ames made all of the ladies in America swoon when he made a split-second decision to quit the show and chase after a limo carrying his new girlfriend, Jackie Gordon, who had just been eliminated from the game. After 'BP2' ended, he and Jackie dated for a little while, eventually broke up.
What's Ames up to these days? He appears to have resumed his world travels, recently exploring Colorado and Wyoming, as well as Japan. He's also changed his appearance up a bit and is now sporting a beard and a grown out 'do. (Don't worry ladies, he still has his trademark red pants, as evident in the current photo!)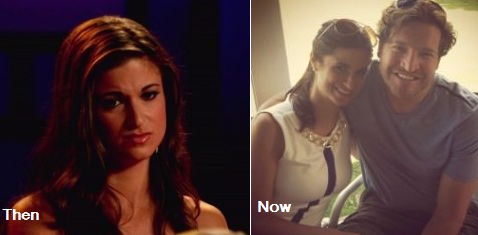 Jackie Gordon: While things with Ames didn't end up working out the first time around, it's rumored that Jackie did  try to rekindle things with him around October of last year. Things apparently didn't work out that time either.
These days, Jackie is living in New York City and recently posed for the men's magazine Maxim, along with other former 'Bachelor' contestants Valishia Savage, Ashleigh Hunt and Gia Allemand. (Click here to watch a video from their photoshoot!)
It also appears that Jackie is now off the market; she's currently dating a man named Marcus. Sorry, Ames.

Holly Durst & Blake Julian: Holly and Blake shocked the 'Bachelor' world (and Holly's poor ex-fiance, Michael Stagliano) when they announced that they were engaged during last season's finale episode. The pair actually did end up getting married on June 2 of this year. (Click here to watch their adorable wedding video!)
Blake and Holly now reside in South Carolina, where Blake is a practicing dentist and Holly is hawking the children's book she published with the help of her 'Bachelor Pad' winnings.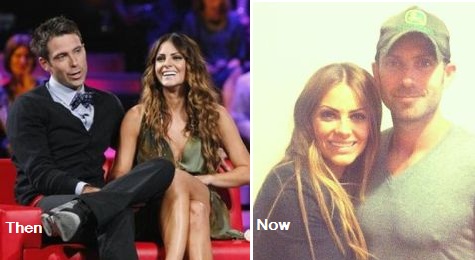 Michelle Money: Michelle came off as creepy and obsessive during her first appearance on 'The Bachelor' (which was Brad's second season). She was able to redeem herself by appearing on 'Bachelor Pad,' and showed the world that she was relatively normal (well, as normal as people on these shows can be!)
"My experience on The Bachelor was really hard because my edit was not consistent with who I really am, and so I got really thick skin, really fast," she told ABC4 a few months ago. (Read the article; it also explains her random connection to 'Bachelorette' winner Jef Holm.)
These days, Michelle and her friend Laura have a YouTube series in which they demonstrate and review beauty products. She is also in the process of filming a new TV show for LookTV called "The Money Show." She recently opened up a hair and makeup salon in Sandy, Utah.
It also appears that she is still with Graham Bunn, who she met on 'Bachelor Pad!'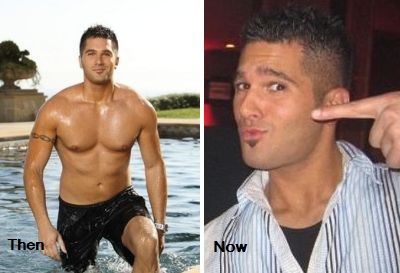 Justin "Rated R" Rego: Justin (a.k.a. "Rated R") was the bad-boy wrestler that was hated just as much by his 'Bachelor Pad 2' co-stars as he was by the viewing audience. (He was eliminated in the first episode!)
Since the show, Justin has been using his 'Bachelor' fame to secure hosting gigs at Canadian clubs and bars. He appears to still be single (shocking, I know), although he does attract a lot of ladies when he goes out at night, apparently.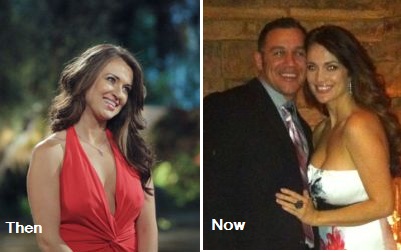 Ella Nolan: Ella was unhappy with her looks after watching herself on 'Bachelor Pad,' so in September she decided to take a little trip to see co-star Erica Rose's plastic surgeon father. She got the works, including a new nose, a new rack and liposuction. (Click here to see her before and after photos!)
She and her son, Ethan, still live in Tennessee, and Ella is currently in a relationship with a non-'Bachelor'-related man.
Gia Allemand: Gia was the only cast member from the original 'Bachelor Pad' season to return for Season 2. However, by episode 2 she was over it and withdrew herself from the competition and went home.
Since her time at the 'Pad, Gia has been dating New Orleans Hornets forward Ryan Anderson. (That's a basketball team, for all you non-sporty folk!) She also took part in the Maxim shoot with Jackie and the other 'Bachelor' girls. She and her boyfriend will soon be moving to New Orleans.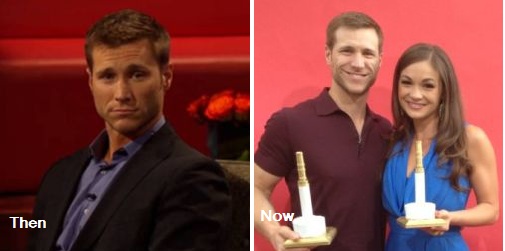 Jake Pavelka: Jake was at the center of last season's drama. Sharing a house with his former fiance (and arch enemy) Vienna Girardi and her new boyfriend Kasey Kahl provided some memorable moments for us viewers. Jake only lasted until the third episode, but managed to be successful at making Vienna look like an immature jerk. (Not a hard mission to accomplish, if you ask me.)
Since the show, Jake became a guest host at Chippendale's, a male strip club in Las Vegas. (Ironically, The Ashley visited Las Vegas during his hosting gig; however no one would go see ol' Jake with me.) His engagement at Chippendale's has since ended,  but he is still available for viewing on the web series "Burning Love," which essentially mocks shows like 'The Bachelor.' He is also on the soap opera 'The Bold and the Beautiful."
Jake is no longer single. He has been dating model Ashley Ann Vickers for over a year!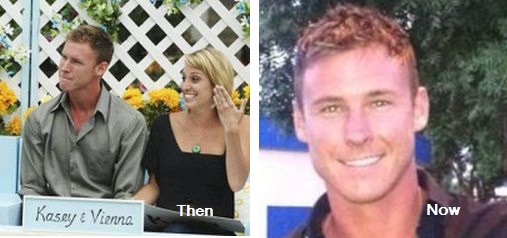 Kasey Kahl: Kasey and Vienna were the heart and soul of the drama on 'Bachelor Pad 2.' They didn't end up winning the final prize, but they did make total douches of themselves pretty much every week the show was on.
After 'Bachelor Pad' ended, the couple's drama continued. In fact, they even appeared on VH-1's "Couples Therapy" in hopes of saving their relationship/keeping their 15 minutes of fame going. However, the couple ended up splitting in November.
Afterwards, Kasey decided to whoop it up in celebration of his unloading of Vienna. Unfortunately, he partied a little too hard and ended getting arrested in January for being "drunk and disorderly" at a Fresno, California, nightclub. (Click here to see his HIGH-larious mugshot!) Kasey is currently single.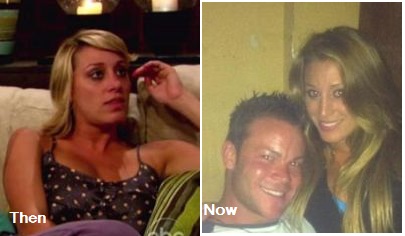 Vienna Girardi: After 'Bachelor Pad,' Vienna got a nose job. After doing 'Couples Therapy' and breaking up with Kasey, Vienna moved back to Florida and opened a  clothing store called Vixen Boutique, which she owns and operates.
She is also a "celebrity date coach" (whatever the hell that means) for the website celebritymatchmakers.net. (I don't know about you, but I don't think I'll be taking any dating advice from this chick.)
However, she has managed to find love again. She began dating a former flame named Lee Smith about eight months ago and it appears to be going well.
Oh yeah, and she was recently called an "abusive man-eater" by former BFF Erica Rose.
(Photos: ABC, Twitter)