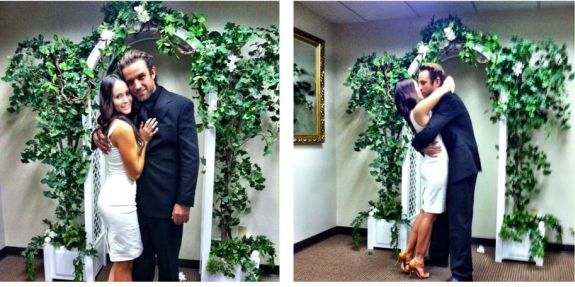 Sorry, ladies; TJ Lavin, host of MTV's The Challenge is officially off the market!
TJ, who in addition to hosting the best/worst reality game show ever to grace cable TV also rides BMX bikes, got hitched on Friday in Las Vegas to his longtime girlfriend, Roxanne Siordia. In town for one of the world's biggest car shows, SEMA, (which The Ashley also attended), TJ found time to squeeze in a trip to city hall to get married.
"Tried to get away but to no avail! roxannesiordia is now Mrs. Lavin.. I'm a lucky guy..!" he tweeted on Friday after the ceremony. (His bride is super-hot, as you can see in this picture. Way to go, TJ!)
As far as The Ashley can tell, none of TJ's 'Challenge' co-stars attended the ceremony.
The couple has been together for eight years. Roxanne, who's a nutritionist and a model, helped nurse TJ back to health after his horrific BMX crash two years ago.
Congrats to the happy couple!