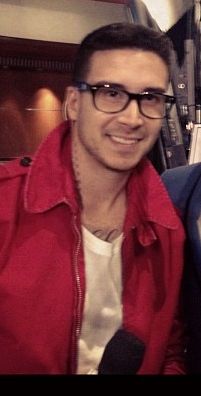 Jersey Shore may be coming to an end, but the show's guido-tastic cast clearly isn't going anywhere!
MTV announced earlier this week that yet another 'Shore' star has landed a spin-off show! Vinny Guadagnino has signed on to host The Show With Vinnie, a new talk show for the network. (All of us that grew up in the 1990s are totally picturing this, only subbing "Vinny" for "Ricki." If you have no idea what I'm talking about here, thanks for making me feel old.)
Anyway, according to the official MTV press release, Vinnie will take his celebrity guests into his family's Staten Island, New York, home "for a chat accented with ziti and Bracioline." (For all you non-Italians out there, Bracioline is a creepy beef cutlet dish my grandma makes on Christmas Eve.)
"The groundbreaking show will mix the reality of Guadagnino's home life with off-the-cuff and unscripted interviews with some of Hollywood's finest," the press release said. "It will also, of course, feature some of the most beloved members of Vinny's extended family, including his…mother Paula and hard-partying uncle Nino throwing in their two cents."
I'm fairly certain they'll also wheel out some of the 'Shore' cast members every once in a while to keep the ratings up.
Although The Ashley has long taken a stand against 'Jersey Shore' and its cast, she has to admit that she has been watching the sixth season and she really likes it. (OK, to be fair, she's kind of obsessed with it.) Vinnie is her favorite. (When he wears those glasses….giiiirl!)
No premiere date has been released, but The Ashley will keep you guys updated on the show!
(Photo: Twitter)