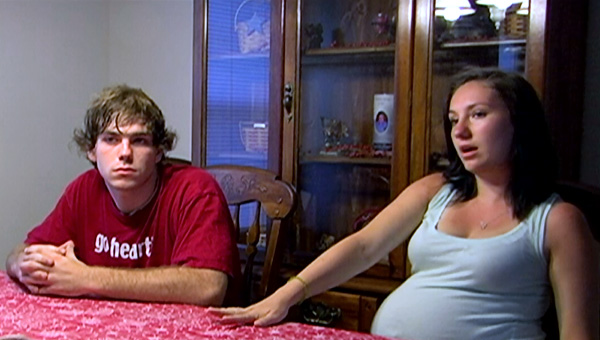 The father of one of the babies that will be featured on the upcoming series Teen Mom 3 is currently the hospital, after he was involved in a serious accident.
Matt McCann, the father of Alexandria Sekella's daughter, Arabella, was out partying with friends last night when the accident occurred. Matt, who has been doing drugs and drinking since Alexandria's episode was taped, has yet to clean up his act in the year since Arabella was born, according to Alex.
According to Alex, Matt and his friends were at a Pennsylvania party spot known as "The Knob" when he walked off a cliff and broke his neck and several bones in his spine as a result of the fall. Later that evening, she said that Matt's friends were involved in a car accident.
"It was a drinking and driving sort of thing," Alexandria confirmed to The Ashley. "They claim they were getting help and hit a tree."
Matt's mother called Alex to inform her of Matt's accident and let her know that he is currently recovering at Lehigh Valley Hospital (which The Ashley has confirmed).
Luckily, Arabella wasn't with Matt at the time in the accident. In fact, according to Alex, he hasn't seen his baby in over eight months!
"She's not allowed anywhere near him," Alex told a fan on Twitter.
UPDATE: Matt was released from the hospital on Friday and is apparently doing pretty well, for someone who fell of a cliff!
"Broken neck, broken back, 80 stitches. I'm A ok though got my family by my side that's all that matters," he posted on his Facebook page on November 28.