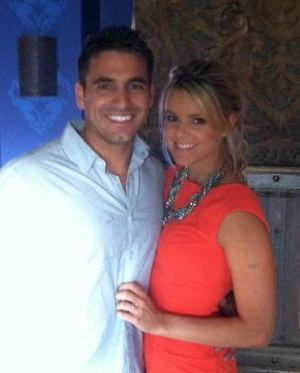 Although they broke up over a year ago, Bachelorette couple Ali Fedotowsky and Roberto Martinez may be considering giving their relationship another chance!
According to numerous reports, the couple was seen getting awfully cozy at Ashley Hebert and JP Rosenbaum's wedding dress rehearsal last Friday. In fact, according to Life & Style, things got downright heated.
"Ali and Roberto hooked up after the rehearsal dinner," a Bachelor insider  told the magazine. "They have been talking recently and have been very amicable. They were very flirtatious with each other all night!"
Ali herself didn't deny the fact that things are still quite "rosy" (pun intended) between her and her former fiance.
"It was so great to see him, honestly," she told Life & Style. "I feel like we are just good friends now. We spent a lot of time together at the wedding and it was a good time. I found real, true love, and I'm grateful that I had that experience. There's no hate. I still love him, and I always will."
Get it, girl! Rekindle that flame!
Of course, Ali then went and told Ok! that she is still enjoying the single life.
"I'm taking care of me, I'm putting myself first and I have a job that I love," she said. "Way back [on] 'The Bachelor,' I left Jake to go back to my job at Facebook because I believed I needed a career to be happy. I think when you find the true love of your life I don't think you need anything — I think love is enough."
Well, love, and the possibility of frequent booty calls with your ex-fiance.
The Ashley is crossing her fingers that these two crazy kids find their way back to each other! She always thought they seemed like they actually enjoyed being around each other, even when the cameras weren't there.
(Photo: Twitter)