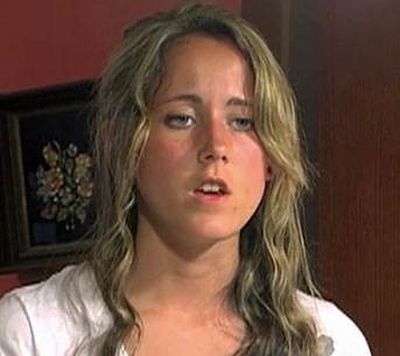 Obviously, file this under rumor but…it seems awfully convincing, considering the past antics of Jenelle Evans, and the proof provided at the bottom.
The mother of Teen Mom 2 star Kieffer Delp (also known as "Kieffa" or "Mr. Disrespectful") revealed some interesting gossip last week regarding her son's ex-girlfriend, Jenelle. According to posts made on Vickie Delp's Twitter account, Jenelle tried to take MTV for a ride by claiming she was pregnant with Kieffer's baby, in hopes of getting some extra cash!
First, Vickie revealed that towards the end of Kieffer and Jenelle's relationship, Jenelle had been trying to get pregnant with Kieffer's baby.

Next, she revealed that Jenelle attempted to convince MTV that she was, in fact, with child.

But wait! Jenelle had a good reason for trying to swindle them into believing she was pregnant, according to Vickie.

How much were they going to pay her, you ask? The answer will shock you.

OK, I just threw up in my mouth a little. Twenty grand to have another baby?!
Apparently, MTV wasn't buying into Jenelle's hi-jinks and demanded proof.

Of course, this could just be a scorned mother talking bad about her son's ex-girlfriend but….she also seemed to know a lot about a certain "incident" that took place between Jenelle, MTV and (our hero) Barbara Evans.
According to Vickie, MTV is aware of Jenelle's "alleged" drug use, and asked Babs to stage an intervention at Vickie's home in New Jersey.

While I was skeptical at first, this story checks out. The Ashley did a little digging and it seems that Babs does, indeed, have a court date scheduled on December 14, for a second-degree trespassing charge filed by a Mr….(wait for it) Kieffer Delp.
If that wasn't enough proof, this phone call pretty much confirms many of the rumors that have been floating around about Jenelle: that she did, in fact, do heroin with Kieffer while in New Jersey (skip to the 8:55 mark, unless you want to listen to Vickie and Babs argue about Kieffer's tools) and Babs did have to go to New Jersey and bust into Kieffer's house to fetch Jenelle.
The Ashley wasn't going to go down Jenelle's drug-encrusted rabbit hole, but this was just too crazy not to write about!
Who do you think is lying– Kieffer's mom or Jenelle?
(Photos: MTV, Twitter)