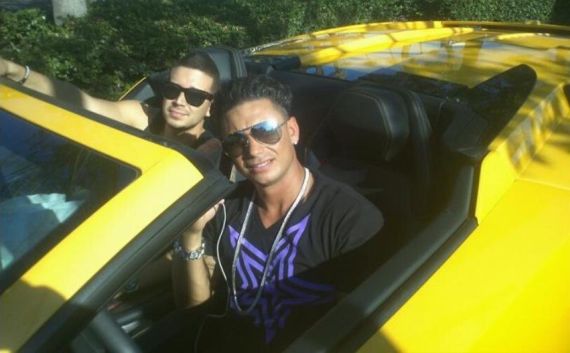 It's no secret that Vinnie Guadagnino and the rest of the Jersey Shore knuckleheads pull in big bucks for their Seaside Heights hi-jinks, so it's only appropriate that they would be driving ridiculously expensive cars!
In a recent interview with Dub magazine, Vinnie revealed that he and his 'Shore' buddies are all owners of entire fleets of luxury cars.
"Right now I have a Mercedes-Benz E550 and just purchased a Lamborghini Gallardo and bought my mother a Jeep for her birthday," he told the magazine. "[My Lamborghini is] the first white 2013 model in the country.  I definitely had some debates over the Ferrari or Lamborghini."
Don't you hate it when you can't decide between a Ferrari or a Lambo?
The Lamborghini that Vinnie owns retails for around $220,000. (Wanna know something sad? He only had to film about three episodes of 'Jersey Shore' to pay for that car. His salary for the sixth season came to $90,000 per episode.)
Vinnie isn't the only 'Shore' kid to roll in style.
"Pauly's game is really up there and has been into cars his whole life, so his has quite a collection of bikes and cars," Vinnie said in the article. "Ronnie is more of a BMW guy and likes those driver's cars. And Mike already has a Lambo and a Ferrari."
It's amazing to think that just a few years back, these kids were broke and had no idea what they were getting into when they signed up to be on the show.
"They didn't supply a lot of information to us," Vinnie said in regards to filming the first season. "We knew we were filming something at the Shore and then were told we'd film every day for a couple of months. After that we left and didn't know what it was going to be or if it would even be a show. But it just took off from there."
And now everyone has a Lambo.
On a side note…how sexy does Vinnie look in those Dub magazine photos? Yum!
(Photo: Twitter)