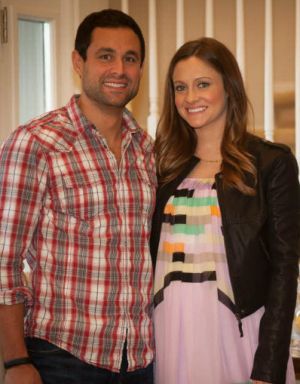 Jason and Molly Mesnick are about to welcome their first child together, with Molly due to give birth in about a month and a half! The baby will be the third child that's a direct result of the Bachelor franchise. (Trista and Ryan Sutter, who met on the first season of The Bachelorette, have two children.)
Molly who is stepmom to Ty, Jason's son from a previous relationship, said that she and Jason have decided not to find out the gender of their child until Molly gives birth.
"We haven't found out if [it's a] boy or a girl," Molly told The Ashley earlier this month during a cocktail party at the Bachelor Mansion. "Obviously, it would be really good for Ty to have a brother, but then again, it would be awesome to have a little girl so that I'm not outnumbered in the house!  But honestly whatever it is I'll be happy."
Molly and Jason are in full baby-planning mode, with fellow 'Bachelor' alum Jillian Harris busy designing the nursery for the lil' Mesnick. Molly recently had her baby shower, which was done in neutral yellows and greens. (Click here to see photos!)
Molly says that she is thrilled to have a baby of her own.
"I love being a part of Ty's life, but we obviously have a different relationship because I'm not his actual mom, so this time I'm excited to be the actual mom!" she told The Ashley.
One thing Molly's not so excited about is the late-night and early-morning wake up calls!
"I do need a lot of sleep, so I'm dreading the fact that that is now over for the rest of my life!" she joked.
(Photo: Twitter)