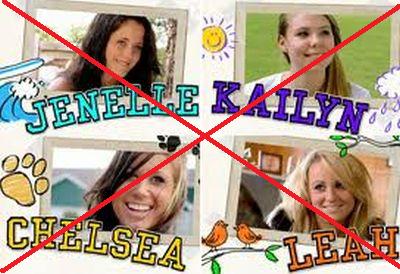 Sorry, kids. If you've been dreaming of ten more Barbara Evans-filled episodes of Teen Mom 2, it looks like you are mostly likely out of luck!
The show, which is currently in its fourth season, has NOT been picked up for a fifth season at this point (despite what other reports are saying), and, from what The Ashley's sources tell her, there doesn't seem to be much hope of it getting renewed. This morning, another popular MTV reality show, Buckwild was cancelled by the network.
"I'm 90 percent sure it's over," one person close to the cast tells The Ashley in regards to 'Teen Mom 2.'
In fact, Kail Lowry, one of the show's stars, confirmed to The Ashley on The Twitter this morning that the show hadn't yet been picked up.
@theashleysrr We didn't even get a go for another season so it's not like we're one up on them…

— Kailyn Lowry (@KailLowry) April 10, 2013
It's been nearly five months since MTV cameras last filmed the lives of Jenelle Evans, Chelsea Houska, Leah Calvert and Kail for the show. As you faithful Roundup readers know, these girls can cram more into five months than most people cram into their lifetimes! There have been babies born, bitter husband and wife feuds, miscarriages, pregnancies, baby-daddies going to jail, all things that would have made for great TV!
Although another 'Teen Mom 2' source tells The Ashley that some of the show's producers appear to be optimistic that they can pick up where they left off with the girls, it's highly unlikely that the show will continue. However, as The Ashley said before, there is still a chance that they could get the green light for a fifth season.
The Ashley's sources tell her that we can probably expect an official announcement from MTV sometime next month on whether the show will continue or not. It appears that the show's cast would all be open to doing another season. However, given the casts' antics, it's highly unlikely that MTV will pick it up.
There are only four episodes left! Let's hope Babs gives us some stellar quotes, or that MTV finally comes to their senses and just gives her a spin-off show!
If you wanna read more juicy behind-the-scenes gossip (and, I mean, who doesn't?!) might The Ashley suggest you order  a copy of her about-to-be-released book, Teen Mom Confidential: Secrets & Scandals Behind MTV's Most Controversial Shows?!
(Photo: MTV)