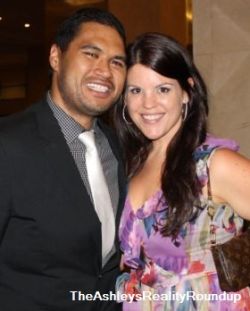 Biggest Loser fans were shocked when Stephanie Anderson made a statement to Us Weekly announcing that her marriage to Sam Poueu, who she met on the show and married last year, was ending. However, the person that was apparently most surprised by Stephanie's statement was Sam himself.
According to The Ashley's sources, Sam is upset that Stephanie decided to go to a tabloid and announce that they were divorcing. He was certainly not blind-sided by the divorce, but was surprised that she chose to make it public. Stephanie, who is seven months pregnant with Sam's child, is apparently the one that wants the divorce.
Neither Stephanie nor Sam have mentioned the split on their social networking sites since the statement came out on Tuesday.
People magazine delivered yet another shock this morning when it released an article in which a source is quoted as saying that Sam's cheating is what broke up the couple! (Oh no he didn't!)
"In one of the counseling sessions, Sam thought he would make it better by confessing," the source told People.  "He [admitted] that he had cheated on her with multiple women throughout the course of their courtship and marriage. He told her everything."
Seriously, some of the things that people have been saying to them on their Facebook fanpages are just horrible:
"Give new meaning to "the biggest losers." Can't even make a marriage work a year! And to bring that poor child into this world? how sad for it!"

"Guess they weren't big news anymore…so now it's a big divorce…SHOCKING!"
Anyway, Stephanie seems to be handling everything pretty well. According to her Twitter, her baby shower is tomorrow. Her due date is July 15.