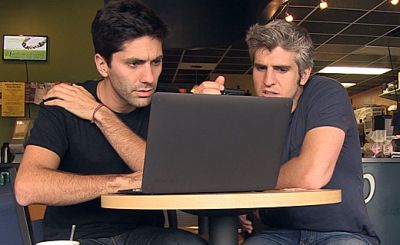 Nev Schulman and his cutie-patootie silver fox sidekick, Max Joseph, will be back on our television screens very soon! The new season of Catfish, MTV's documentary-style show about people who meet their online loves, premieres Tuesday, June 25 at 10/9 c!
MTV was kind enough to give us a sneak peek of what we can expect this season, and, from the looks of it, things are going to get crazy! One Season 2 girl is engaged to a guy she met online, but has never met him! Another guy makes the mistake of sharing his banking information with his online "girlfriend" (really, buddy?!) and Nev and Max have to tell him that he's probably been scammed.
This is going to be good! (Well, maybe not for the guy who got scammed, but for us watching it at home.)
MTV is also planning to run  the "Hooked on Catfish" special on Tuesday, June 17 at 11/10c so be sure to set your DVRs for that!
Watch the 'Catfish' Season 2 trailer below!
(Photo & Video: MTV)