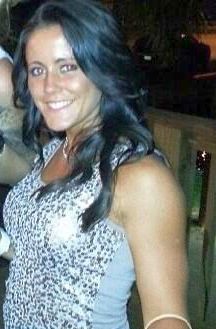 Another day, another court hearing for Teen Mom 2 star Jenelle Evans. The MTV starlet arrived at her home-away-from-home, the Brunswick County Courthouse, yesterday to face just one of the many charges against her for various crimes.
Despite what's being reported around Teen Mom News Land, Jenelle's court date yesterday was not related to the drug charges stemming from her April 2013 heroin arrest. Instead, this court visit was actually to deal with a misdemeanor charge of cyberstalking filed against her by former fiance Gary Head. In May, Jenelle was arrested for missing her court date for these same charges.
And, in true reality TV star form, Jenelle arrived at the courthouse hand-in-hand with her new boyfriend, Nathan Griffith, and her gang of MTV cameramen! (She looked downright soccer mom-ish, dressed in a sensible button-down shirt and fashionable white pants! Her mom, Babs, must have let her raid her closet for her court date!)
The MTV crew was there filming scenes for the upcoming fifth season of 'Teen Mom 2.' (Click here to see photos of Jenelle's snappy court attire!)
So what's the latest news in Jenelle's tangled legal web? The Ashley went straight to Jenelle's lawyer, Dustin Sullivan, to see what happened inside the courtroom and what's next for the MTV star.
"The case was continued to August 12, 2013 to set it on the same date with her other charges," Dustin told The Ashley exclusively. "That will be her final court date and I hope that everything will be completed on that date."
Jenelle will face all of the charges that remain against her on that date. No doubt the MTV crew will be back at the courthouse to capture it all on film for us to feast our eyes on in about 45 months, when it finally makes it on the air for 'Teen Mom 2.'
To be fair, Jenelle has been doing quite well lately. She's managed to stay out of trouble thanks to her new boooooyfriend, Nathan. She's even managed to (for the most part) stay out of trouble on the Internet, and hasn't had a Twitter feud with anyone in weeks! This is probably the healthiest we've seen Jenelle in years. The Ashley pokes a lot of fun at Jenelle (and, well, everyone) but to be honest, she's happy to see her trying to improve her life!
Keep up the good work, kid!