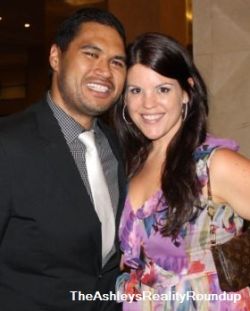 Things may not be going so great in their relationship, but Biggest Loser alums Stephanie Anderson and Sam Poueu recently got some joy into their lives: in the form of an 8 lb. bundle! Stephanie delivered a healthy baby boy, who weighed in at 8 1lbs., 10 ounces on July 18.
The couple, who met while filming the ninth season of the show back in 2010, married in April 2012. In May, Stephanie announced via tabloid that she was seeking a divorce from Sam. (Sam was not happy that his wife involved the tabloids in what he felt was a private matter.)
According to The Ashley's sources, Stephanie and Sam named their baby Dillon (although they have not confirmed this yet.) The Ashley's insider sources tells her that the baby has Sam's last name.
Stephanie and Sam, who split after Sam came clean about having cheated on his wife multiple times before and after their marriage, have not officially divorced yet but are currently separated.
Regardless, congratulations to the happy couple!