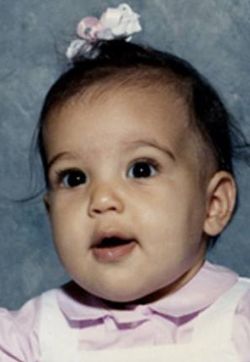 Recognize this diva in the making?  Back in the early 1980s, this gal was more concerned with having enough hair to make a ponytail than being famous but a lot has changed since then! These days, this girl is obsessed with becoming as famous as possible, and has multiple television shows and products, which means we see her mug everywhere we go.
This tot grew up to be worth millions, have a ton of famous boyfriends and now has two ex-husbands! While she's had a lot of plastic surgery, she still has similar features to when this photo was taken if you look close enough.
Can  you guess who this kid grew up to be?
It's Kim Kardashian! Before her sex tape, before banging Kanye West, before baby North was born, Kim was just the adorable baby of Kris and Robert Kardashian. (It's kind of weird to think this baby would eventually end up doing a sex tape, isn't it?) Now that the first photo of North has been released, Kim's baby photos are being pulled out for comparisons.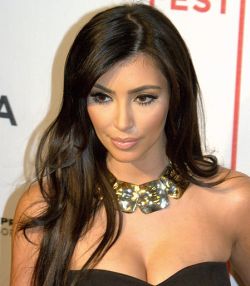 A total sidenote but, um, how funny is Kim Kardashian's page on Wikipedia!? I love that no one has noticed that someone tinkered with it. You have to read the first paragraph! It's hysterical. (Although everything written here is basically true, this is why you don't use Wikipedia for your school projects, kiddies!) Update: Looks like someone finally saw what had been written and fixed it— bummer!
(Bottom Photo: Wikipedia Commons/David Shankbone)