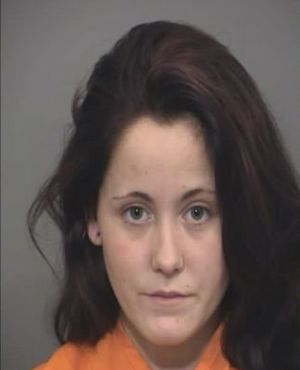 Well JUH-NELLE!
(Boy if I had a dollar for every time I started a story with that phrase…oh, wait, I kind of do…)
Anyway, while The Ashley was on a self-imposed two-day sabbatical,  Teen Mom 2 star Jenelle Evans was arrested. (Well Juh-nelle, ya can't even let The Ashley relax for a day without gettin' arrested!?) Jenelle, who recently confessed that she is pregnant with her second child, seems to be having a bit of trouble in paradise with her boyfriend (and future baby-daddy) Nathan Griffith.
According to county jail records, Jenelle was booked into Horry (too easy) County Jail around 5 p.m. yesterday evening. In Touch Weekly broke the story yesterday that the 'Teen Mom 2' star was arrested, and is now reporting that police had to come to the South Carolina home that Jenelle shares with Nathan twice yesterday, both times to respond to reports of the couple arguing loudly.
The first time the cops arrived, they found Nathan locked out of his house, after a screaming match with Jenelle.
"Evans would not unlock the doors to the residence or speak to law enforcement," the police report read. "While on police were at the scene, Evans sent text messages to Griffith, blaming him for calling the police and stating that she was angry with him for involving law enforcement."
The cops left the couple shortly after, only to return a few hours later! A neighbor called the law once again to report the couple's arguing. By this time, however, Nate had managed to shimmy himself through a window (as you do) and get back into the house.
"She was yelling profanity in a high-pitched voice," a source told In Touch. "The police asked her to keep it down and not swear, to which she replied 'go ahead and arrest me.'"
And they did. Jenelle was hauled into the county jail on charges of breach of peace and domestic disturbance.
Jenelle's trusty lawyer, Dustin Sullivan, tells The Ashley exclusively that he will not be representing Jenelle on this arrest, since the charges are in South Carolina, instead of North Carolina where the rest of her arrests have taken place.
Jenelle was released about an hour after arriving at the jail, and took to her Twitter to explain the arrest.
Dude u can say what u want. The cops r sooooo annoyed by my neighbor constantly calling the cops on our dog and s**t..

— Jenelle Evans (@PBandJenelley_1) December 15, 2013
In other tweets, Jenelle claimed that her neighbor called the cops so that she would be able to sell the story to a tabloid.
To see a fantastical collection of Jenelle's mugshots, created by an Instagram parody account of Jenelle's mother, Barbara, click here. It's truly magical.