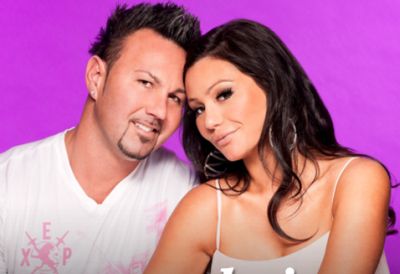 It's a future guidette for Jenni "JWOWW" Farley and her fiance, Roger Mathews. The Snooki & JWOWW star announced today that the child she's carrying is, in fact, a girl.
"I pictured a boy this whole time, so when I saw 'girl' on the paperwork, I was like, 'No way!' But deep down I think I knew," she told Us Weekly. "Lorenzo is gonna have a BFF, and I couldn't be happier!"
Jenni's fiance, Roger (who The Ashley happens to think is hilarious) announced the news in his typical humorous fashion.
"Been 4 years trying to figure out one girls brain. Now I get to try and figure out another one. Grey hair is in my immediate future," he tweeted, adding, "Magic show July 2014 ! Gonna wrap a 6'3″ 250 lb man around a tiny little girls finger ! Eat your heart out David Blaine."
The couple announced their pregnancy on Christmas Day.
Although their reality show has not been renewed for a fourth season, it seems almost imminent that it will get picked up, what with all the baby-related footage they could shoot. Apparently, Jenni is worried that all her Jersey Shore party girl hi-jinks will come back to haunt her.
"I was a teenage girl once, and, boy, do I know how sneaky we can be!" she told the magazine. "Karma is gonna kick me in the butt with her!"
(Photo: MTV)