Last week, The Ashley came face-to-face with Teen Mom Farrah Abraham on the red carpet of the OK! Magazine Pre-Grammy Party. In fact, Farrah even answered a few of The Ashley's questions. (Of course, she did not realize it was The Ashley asking her the questions. Let's just say she's not exactly a fan of the site for various reasons!)
Anyway, since The Ashley had a couple minutes with her favorite 'Back door' Teen Mom, she figured she'd make the most of them and ask about what we can expect from her next. Farrah confirmed The Ashley's exclusive report back in December that the original 'Teen Mom' girls have each filmed individual specials for MTV that will be airing soon.
"That is true," Farrah told The Ashley exclusively. "You are basically going to see where me and Sophia are in our lives right now. It will show us in our journey and show women how to be empowered working moms. I'm really excited for people to see it."
Farrah also confirmed that, as The Ashley told you before, the special will be called "Being Farrah." While Farrah didn't provide a release date for the specials, The Ashley's 'Teen Mom' sources tell her it will likely air at the end of February!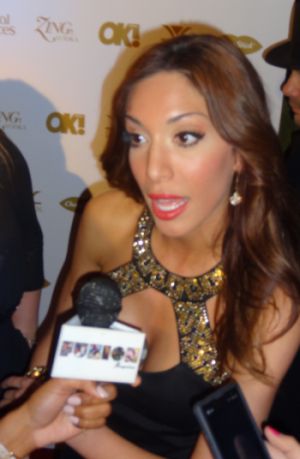 The Ashley also asked about Farrah's dad Michael Abraham. Farrah recently blubbered on Couples Therapy that her father (along with mom Debra) called her names during her childhood. She told show therapist Dr. Jenn Berman, "My mom has called me a wh*re [and] my dad has called me a bitch for no reason."
Um….
The Ashley asked Farrah where her relationship stands with her parents at this time. Although she did not mention mom Debra, she did give an update on her father.
"We are living in Austin, me and Sophia, and actually my dad lives in my guest house," Farrah told The Ashley.
After the episode aired, Farrah's dad defended himself on his Facebook page.
"All I can say is that I have always and do love my daughter Farrah," he wrote. "I'm not perfect and never said I was. I've done the best I could for Farrah and Sophia. I have… tried to be there for my girls and continue to work with Farrah to strengthen our relationship in a healthy manner. My prayer is to improve myself, be the father Farrah needs, and be a positive person for Farrah and Sophia so Farrah does not have to be haunted from negatives in her past and have a happy and healthy future…"
Stay tuned for more of The Ashley's interview with Farrah! 
(All photos are copyrighted images to TheAshleysRealityRoundup.com)