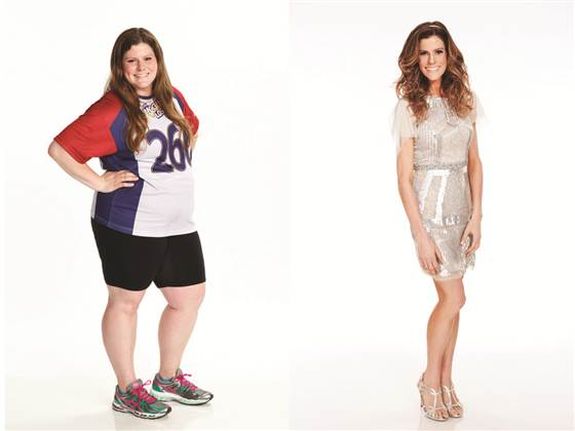 The Ashley attended last night's Biggest Loser finale. Like everyone else, she was shocked and semi-worried when eventual winner Rachel Frederickson emerged to show off her staggering 155 lb. weight loss. Rachel, who lost almost 60 percent of her original body weight, looked frail and unhealthy on TV– but it was even more shocking to see in person.
While The Ashley will be posting more behind-the-scenes photos and tidbits from the finale, the topic everyone is talking about is Rachel's weight loss. Twitter basically exploded last night after Rachel revealed her weight loss, with viewers expressing shock, concern and even outrage at NBC and the show's doctors for not stepping in. A photo has been circulating that shows the reactions of trainers Jillian Michaels and Bob Harper when Rachel came out. (You can see it by clicking here.) They are both obviously more worried than excited about the Rachel's new look.
The Ashley spoke with Rachel, as well as her trainer, Dolvett Quince and host Alison Sweeney about Rachel's shocking weight loss.
Click here to read The Ashley's story about Rachel, and be sure to check back for more 'Biggest Loser' finale goodness!
UPDATE: Bob and Jillian have released  joint statement regarding Rachel's weight loss:
"Jillian and I want to take a moment to congratulate all of the BL contestants on their hard work. We're not comfortable commenting on Rachel's journey because we weren't her trainers and weren't given an opportunity to work with her at any point. Any questions about the contestants on The Biggest Loser should be directed to the show's producers."
(Photo: NBC)