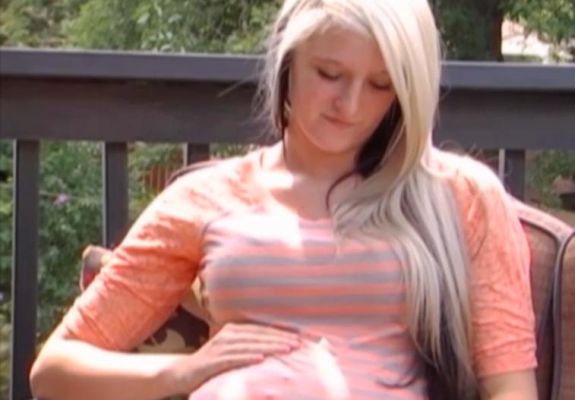 Over the past few months, The Ashley has been introducing you to the girls that will be starring on the upcoming fifth season of 16 and Pregnant. MTV has stayed quiet on everything having to do with the new season and, until now, has not confirmed or denied that what The Ashley has posted is true.
Today, however, MTV finally spoke out about the new season of the show, confirming that it is indeed coming back for a fifth season (duh) and that Maddy Godsey (who The Ashley introduced you to back in October), will be one of the girls featured.
According to a MTV press release that was distributed today, the show will premiere much earlier than we thought: the air date is April 29! (This will start right as Season 5A of Teen Mom 2 ends!) Oddly, MTV has pushed the time that the show airs back an hour: it will now start at 11pm on Tuesdays. The show used to air at 10pm.
We also learned that there will be 12 girls on the new season. The Ashley has already introduced you to five girls: Maddy, Karley, Autumn, Summer  and Aleah.
"This season on '16 and Pregnant,' viewers will be introduced to: the star athlete who gets pregnant after a one night stand and faces the prospect of being forced to move out of her home after the baby is born (Note from The Ashley: This is Maddy) ; a young girl who gives birth to twins and after constant fighting with the father of her children isn't sure he will be there to help her raise them (Karley), a teen mother trying to mend her relationship with her own mother who struggles with addiction; and the popular girl who gets pregnant and ends up homeless. Each story will delve deeply into the unglamorous world of teen pregnancy, as this group of young moms will have to face the ups and downs of teen parenthood," the press release states.
The show's creator, Lauren Dolgen, provided a quote for the media in regard to the new season.
"'16 and Pregnant' has gone above and beyond our expectations in terms of its impact on the decline of teen pregnancy and teen parenthood. We are excited to continue to provide a real and unfiltered look at the joy and pain of becoming a teen parent unexpectedly," she said.
From what The Ashley hears, there has been talk of a Teen Mom 4 using the girls from Season 5 but so far no one has been officially approached for it or signed on.
UPDATE:
MTV has changed the premiere date for Season 5! It will now air on Monday, April 14.
Click here
for details!
MTV has also given us a sneak peek of Maddy's episode! Check it out below!