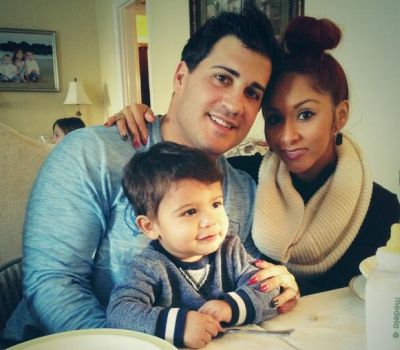 InternetLand started buzzing that Jersey Shore star Nicole "Snooki" Polizzi was pregnant with her second child after a "friend" leaked the news to Page Six recently. The reality star did not comment on the story when it came out, but today confirmed that the news, is indeed true. There will be a new baby meatball coming our way soon, courtesy of Snooki and her fiance, Jionni LaValle.
"Jionni and I are so excited to confirm that we are expecting our second child!" she wrote on her blog. "Now knowing that our test results are good and our baby is healthy, we can finally talk about it!"
Snooki also took the opportunity to address some of the rumors that have been floating around about her, Jionni and her pregnancy.
On the rumor that her wedding, which was scheduled to take place this fall, will be pushed back due to Jionni's wandering eye:
"Jionni and I are VERY happy together," Snooki wrote. "He's my best friend and I'm his. We're sorry that some weirdo had to make up a story to sell to try and ruin us, but honey we are very secure in our relationship and I know and trust my man, he wouldn't hurt me or our family…The wedding is still on as scheduled and it will take the apocalypse to change that."
On the rumor that she only got pregnant again to steal her pregnant best friend, JWOWW's thunder:
"If you knew Jenni & I personally, you would know we always wanted to be pregnant together. I love Jenni like my big sister, she is everything to me, not fame," she wrote. "I would never try to 'outshine' her and like real women, we support each other and always want the best for each other, not beat each other down to see who can be more 'famous.' We have a true friendship that I will cherish forever, and getting pregnant just to outshine my best friend is absolutely absurd and disgusting."
On the rumor that she was hiding this pregnancy because she was worried it would cost her endorsement deals:
"Headlines reading that I'm hiding my pregnancy because I don't want to jeopardize 'appearances' is so far from the truth," Snooki wrote. "Who pulls this s**t out of their ass anyway? Just because I'm pregnant means I can't work? Fail."
Snooki has yet to reveal if she is having a boy or a girl, or when she is due. Congrats to the happy family!
(Photo: Twitter)