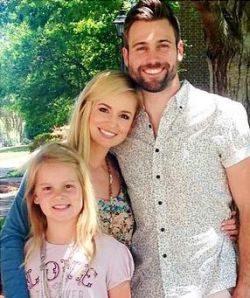 The fourth engagement was the charm for former Bachelorette star Emily Maynard! Emily and her fiance, Tyler Johnson, surprised everyone–including their wedding guests– last night!
According to E! News, Emily and Tyler invited their friends and family to an "engagement party" last night but the guests were soon shocked to find out that they were actually attending Emily and Tyler's wedding, not their engagement party.
Emily and Tyler went to great lengths to keep their nuptials a secret from the prying eyes of the press.
"Guests received an invitation in the form of a viewfinder containing several slides they had to click through to get the picture," E! News reported. "One slide featured the message, 'You're invited to Emily and Tyler's engagement party!' while another was a photograph of Emily's mini-me daughter, Ricki, holding a sign that read, 'Y'all come!'"
Guests boarded shuttles headed to the venue, although they did not know where the shuttles were taking them, as the venue location was kept a secret. The wedding took place on the farm belonging to Tyler's family in Sharon, South Carolina.
People had all the details of the wedding. The magazine reports that Emily wore a pale pink Modern Trousseau gown (and cowboy boots!) and that the couple married at sunset under a large oak tree. Eight-year-old Ricki was Emily's maid of honor.
"It's just as much her day as it is mine because it's a big change for her," Emily told People. "She just adores Tyler and he is so good with her. He loves her as if she was his own daughter. It's been so great to see their relationship grow."
Emily and Tyler got engaged in late 2013. Emily had three engagements prior to becoming engaged to Tyler, the first to the father of her daughter, Ricky Hendrick, who was tragically killed in plane crash in 2004. The second engagement was to Brad Womack, whom she met on his (second) season of The Bachelor. They split and Emily became engaged a third time during her season of The Bachelorette. Her relationship with the guy she said 'yes' to, Jef Holm, lasted only a few months after the show ended.
Emily, who plans to take Tyler's last name, discussed her made-for-TV romances with People.
"For so long I felt so embarrassed and ashamed about that TV stuff," she said. "The grace that my faith has given me to wipe that all away and not find worth in that and find it through God, Tyler has been a great example of that for me."
The Ashley wishes Emily and Tyler a long and happy marriage! (Let's just hope they don't opt to do a "Newlyweds"-type reality show!)
(Photo: Instagram)